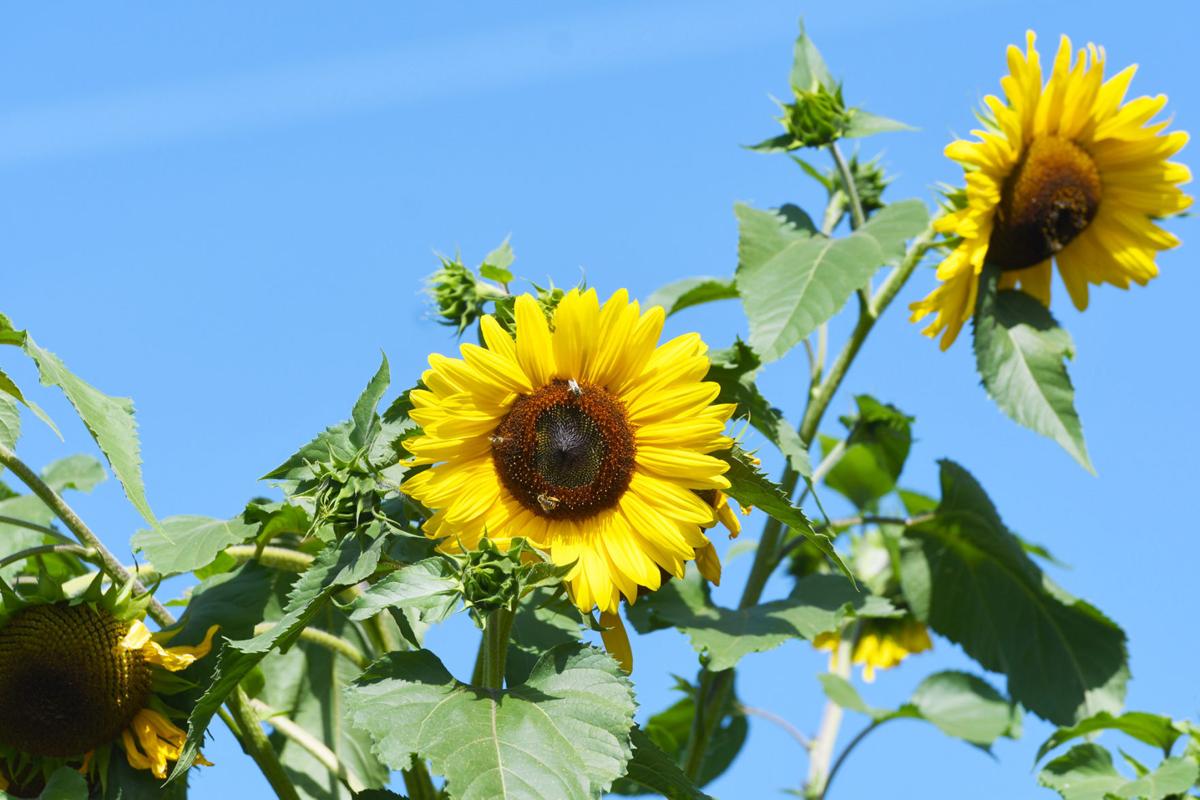 ROSE (roz) n. One of the most beautiful of all flowers, a symbol of fragrance and loveliness. Often given as a sign of appreciation.
RASPBERRY (raz'ber'e) n. A sharp, scornful comment, criticism or rebuke; a derisive, splatting noise, often called the Bronx cheer.
•ROSES to sunflowers. Lately, much of our news coverage has taken a serious tone. Perhaps that's why a modest article about sunflowers in Tuesday's paper seemed like a breath of fresh air for some residents. Or maybe people love sunflowers. Regardless, we shared how Cindy Miller of Corvallis planted some sunflowers in her garden but forgot all about them due to travel plans (which ended up being canceled). The cluster sunflowers now stand as tall as her house, and neighbors and passers-by stop to talk with Miller about them. Miller thinks the sunflowers have brought people together, and she'd love to see them all over Corvallis. Sometimes the little things — and big flowers — can mean a lot. Just a reminder, if you have massive sunflowers, snap a photo and send an email to news@dhonline.com. Please include your name, phone number and address. We're hoping to create an online gallery of sunflower images from our towns to spread the proverbial sunshine.
•RASPBERRIES to bigotry. On Aug. 10, residents at an Albany apartment complex found three cars vandalized with the N-word and swastikas. The car with the racial slur was parked close to a Black family's apartment. One of the cars tagged with the Nazi symbol belonged to an LGBTQ community member. Six days later, three more cars in Albany, whose owners support the Black Lives Matter movement, were vandalized with white paint and the acronym WLM for "white lives matter." This Thursday, an Albany suspect was charged with a hate crime after reportedly calling a Native American man an "Indian punk" and hitting him in the back of the head with a golf club. Just as chilling are the casual racism, homophobia and misogyny shown on Facebook, sometimes apparently by mid-valley residents using their real names. As Albany Police Chief Marcia Harnden explained, "People seem emboldened now to say hateful things and commit hateful crimes, and it's important for law enforcement to take a stand." Her agency is going to pursue the vehicle vandalism as hate crimes, and we applaud the decision. Residents should stand up and speak out if they see bigotry in our communities.
•ROSES to the Oregon Department of Education for making allowances for in-person classes for English language learners, special education students and teens in career technical education courses. These allowances can be made even if schools don't meet county metrics for reopening. We've criticized the ODE a bit lately, but the state deserves credit for recognizing that these groups could benefit from a face-to-face and even hands-on learning environment. It's an important distinction. Districts still have the opportunity to opt out, and Greater Albany Public Schools already has. But schools have another option of choosing what is best for their students.
•ROSES to school administrators and teachers. They've been champs as they've dealt with all the uncertainty about schools reopening. They're stuck between county officials, parents, the ODE and the Oregon Health Authority while trying to do what's best for district employees and students. They contend with local politics, teachers unions, funding that was already endangered and inequities in learning to begin with. These folks have rolled up their sleeves and done the work — even if it's been with social distancing. Just remember, no K-12 teacher wants online learning instead of an environment where children can be in the classroom. Their jobs have become far more difficult with the pandemic.
•ROSES to Eating Rainbow Garden Co-Op. A group of Corvallis residents started this farm stand to provide fresh, organic produce at free or reduced costs. The 2,700-square-foot backyard operation grows about 45 varieties of fruits, vegetables and herbs. Thanks to its location along 45th Street, the co-op is a valuable resource for older residents at Stoneybrook Assisted Living and Stoneybrook Lodge, who may not feel comfortable shopping at large grocery stores. We can't wait to see how this operation grows, so to speak. For more information about Eating Rainbow, go to eatingrainbowgardencoop.com.
Get local news delivered to your inbox!
Subscribe to our Daily Headlines newsletter.