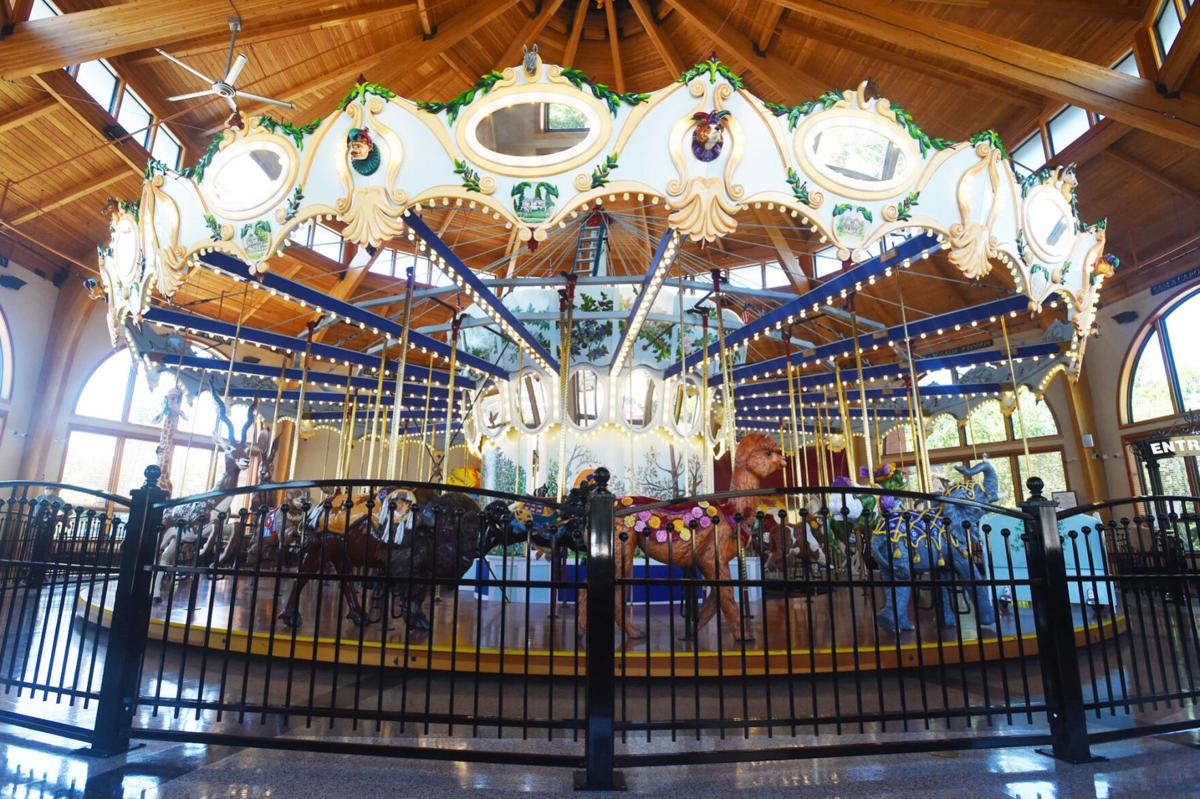 ROSE (roz) n. One of the most beautiful of all flowers, a symbol of fragrance and loveliness. Often given as a sign of appreciation.
RASPBERRY (raz'ber'e) n. A sharp, scornful comment, criticism or rebuke; a derisive, splatting noise, often called the Bronx cheer.
•ROSES to the Albany Historical Carousel & Museum and the facility's third anniversary in August. We realize that the impact of this new attraction has been muted due to the novel coronavirus pandemic. But the carousel and its amazing woodwork is still a showcase for downtown Albany. Whether you're a child or an adult, prepare to be dazzled when you enter this structure.
•ROSES to Jon Sassaman, who joined the Corvallis Police Department in 1988 and rose through the ranks to become the chief of the agency. Sassaman recently retired, but he left the city and Benton County better off thanks to his service, according to Pete Sandrock, former Benton County district attorney. It's hard to argue with that assessment.
•ROSES to Ralph Wyatt, who rose to the rank of colonel during a 28-year career in the U.S. Air Force. He then spent another 28 years as Linn County's administrative officer, making sure directives from county commissioners were put into place efficiently and managing what grew into an operation with almost 700 employees and a $177 million budget. Friday, Wyatt, 81, started a well-earned retirement from public service. Board chairman Roger Nyquist praised Wyatt as "the type of person who makes everybody he works with better." Fellow commissioner Will Tucker said Wyatt is a "steady rock who does not become emotionally invested in the crisis before us" and as someone who "cares deeply for the people we serve." Linn County's 125,000 residents have benefitted greatly from Wyatt's wisdom and leadership
•RASPBERRIES to the ongoing woes of the Oregon Employment Department, which continues to leave out-of-work Oregonians in the lurch. COVID-19 caused a workplace crisis of historic proportions, something unseen since the Great Depression, so we understand that there were going to be problems getting residents assistance given the flood of filings. But we know plenty of residents who haven't received unemployment benefits from months ago.
•ROSES to state Sen. Sara Gelser, state Rep. Shelly Boshart Davis and other legislators who are working tirelessly to help residents get the unemployment checks they're due. It's great to see elected officials taking direct action to assist your friends or even family members. We can't express our thanks enough, because some Oregonians were, and continue to be,  in dire financial straits.
•ROSES to the $500,000 tally for the Linn County Youth Livestock Auction, which was held online only for the first time ever due to the novel coronavirus pandemic. That's an impressive sum, and included $28,000 in add-ons, or extra donations, from booster club members. Even if our society returns to normal next year, online elements of the auction should remain, as they could increase participation from the public, and especially those add-ons for hard-working local youth.
•ROSES to It's On Us Corvallis, a charitable group that is providing food for residents and helping keep local restaurants afloat. The organization has raised about $100,000 to help the public. As of mid-July, It's On Us Corvallis had hosted meals at more than 30 restaurants, bakeries and coffee shops in the city. For more information, go to itsonuscorvallis.org.
•ROSES to the community of Sweet Home, which has rallied around the Maynard family, whose 6-year-old son, Zachary, was killed when an unmanned jet ski struck him at Lewis Creek Park. His friend, Kennedy Swenson, was severely injured. Hundreds of vehicles recently lined Long Street when the Maynard family returned home from OHSU in Portland. The group was led by a fire truck because Zachary wanted to be a firefighter, a long family tradition. A can and bottle drive filled three semi-truck trailers, Little Promises Pre-School is holding a Walk-a-Thon, there is an online auction and on Aug. 4, the movie "Goonies" will be shown at the Rio Theater with proceeds going to help the families. A GoFundMe drive has topped $42,000 and donations are also being accepted at the Holley Christian Church.