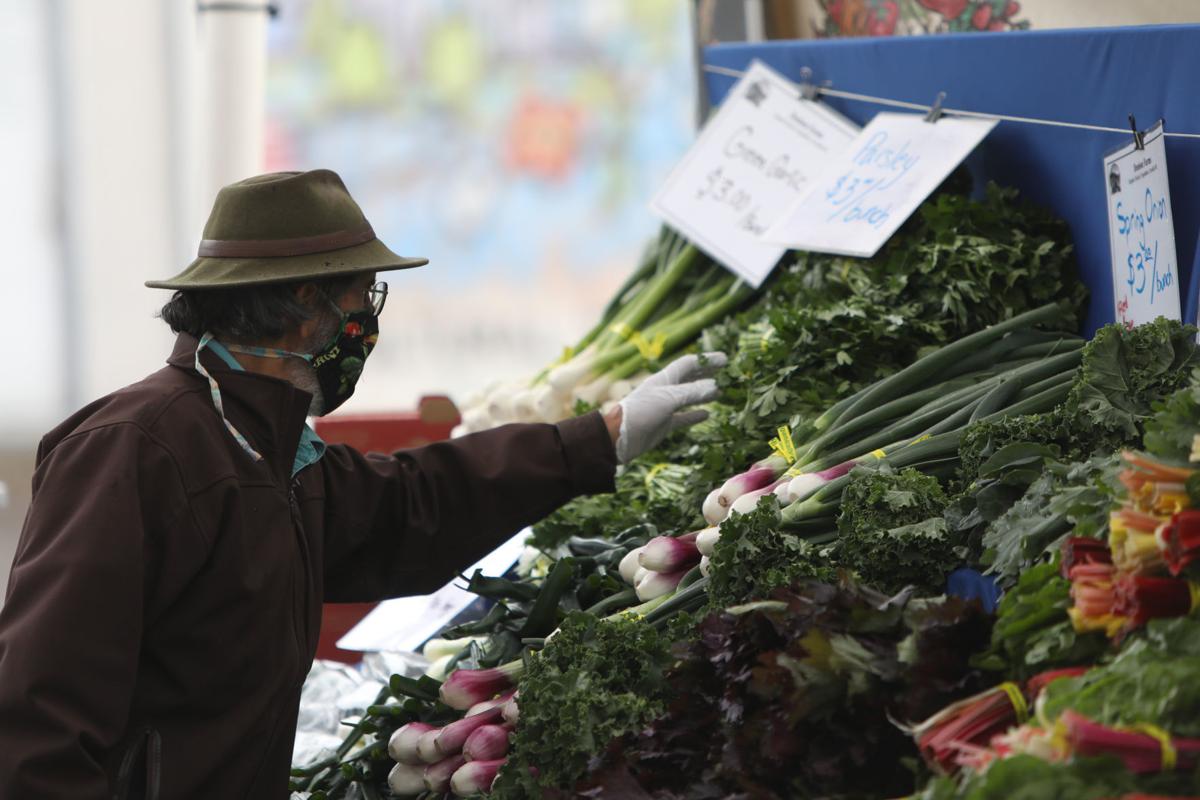 ROSE (roz) n. One of the most beautiful of all flowers, a symbol of fragrance and loveliness. Often given as a sign of appreciation.
RASPBERRY (raz'ber'e) n. A sharp, scornful comment, criticism or rebuke; a derisive, splatting noise, often called the Bronx cheer.
•ROSES to our local farmers markets. These have always been considered healthy places to go shopping for food because the fruits, vegetables, baked goods, cheeses and other items are so fresh.
Some of the best restaurants around the mid-Willamette Valley buy their ingredients from market vendors, after all.
During the novel coronavirus pandemic, these gatherings feel healthy for a far different reason. They may be safer than supermarkets and other large stores.
The Saturday farmers markets in Albany and Corvallis take place in the open air, they're less crowded and people are actually practicing social distancing. Plus, if you look at photos from the opening day of the Albany and Corvallis farmers markets last week, a high percentage of shoppers were wearing masks.
Much of the bounty the mid-Willamette Valley offers isn't available this early, and the social aspect of the markets has largely disappeared this spring. But you can still get vegetable and fruit starts, good food and more. Plus, as a bonus, we regularly spot food trends at markets before they hit the mainstream.
We've always been fans of our local farmers markets, but during these strange times of COVID-19, that feeling of appreciation has been amplified.
•ROSES, as well, to our local farm stands. Many of these rural roadside businesses are just popping up to serve the needs of mid-valley residents.
We expect these businesses to see a surge in popularity this spring because they offer many of the same advantages as the farmers markets, but they can be open more often. Again, during the coronavirus pandemic, people are looking to practice social distancing and limit their trips to crowded spots.
Why not add a nice drive through the countryside as part of your shopping trip, especially when gas is so cheap?
•ROSE-BERRIES to the cancellation of the Lebanon Strawberry Festival and other annual community traditions. We completely understand the need for these cancellations in this era. Stay home, save lives, right?
But we're still sad that we won't get to enjoy a piece of the world's largest strawberry shortcake this June. Or that we won't be able to see youngsters we know tackle every carnival ride like they were getting ready to apply for NASA.
The festival traditionally marks the start of the summer in Lebanon, even though there may be a few days of school left.
This will be the first time since World War II that the event hasn't blessed Lebanon's warm weather schedule. We'll be eagerly awaiting its return.
•ROSE-BERRIES to the delayed opening of the Samaritan Treatment & Recovery Services facility in Lebanon.
We're happy that construction of the facility has been completed, and that it has 16 beds to provide inpatient treatment for those with substance abuse disorders. Clearly, this sort of treatment is much needed in Linn and Benton counties.
But the STARS facility won't open just yet due to COVID-19. If the illness were to gain a foothold in the building, that would endanger both patients and staff members.
For now, Samaritan Health Services is keeping the building in reserve, possibly for medical professionals who may be repeatedly exposed to the novel coronavirus.
We completely understand the rationale behind the decisions Samaritan is making here. Just as with the Strawberry Festival, we can agree that this is the right call. It doesn't make things feel any less crummy, though.
•ROSES to the Corvallis City Council for voting unanimously on Monday to approve 90-day permits for microshelters for the homeless or COVID-19 cases at two Corvallis churches.
City Manager Mark Shepard already had OK'd the placements for 30 days, but council action was required for an additional 90 days. The action is considered a response to the coronavirus emergency and does not constitute a permanent change in city code.
That the council action required just four minutes, a blink of an eye given that many meetings extend beyond four hours, shows that councilors understand the necessity of acting quickly on COVID-19 matters.
Concerned about COVID-19?
Sign up now to get the most recent coronavirus headlines and other important local and national news sent to your email inbox daily.