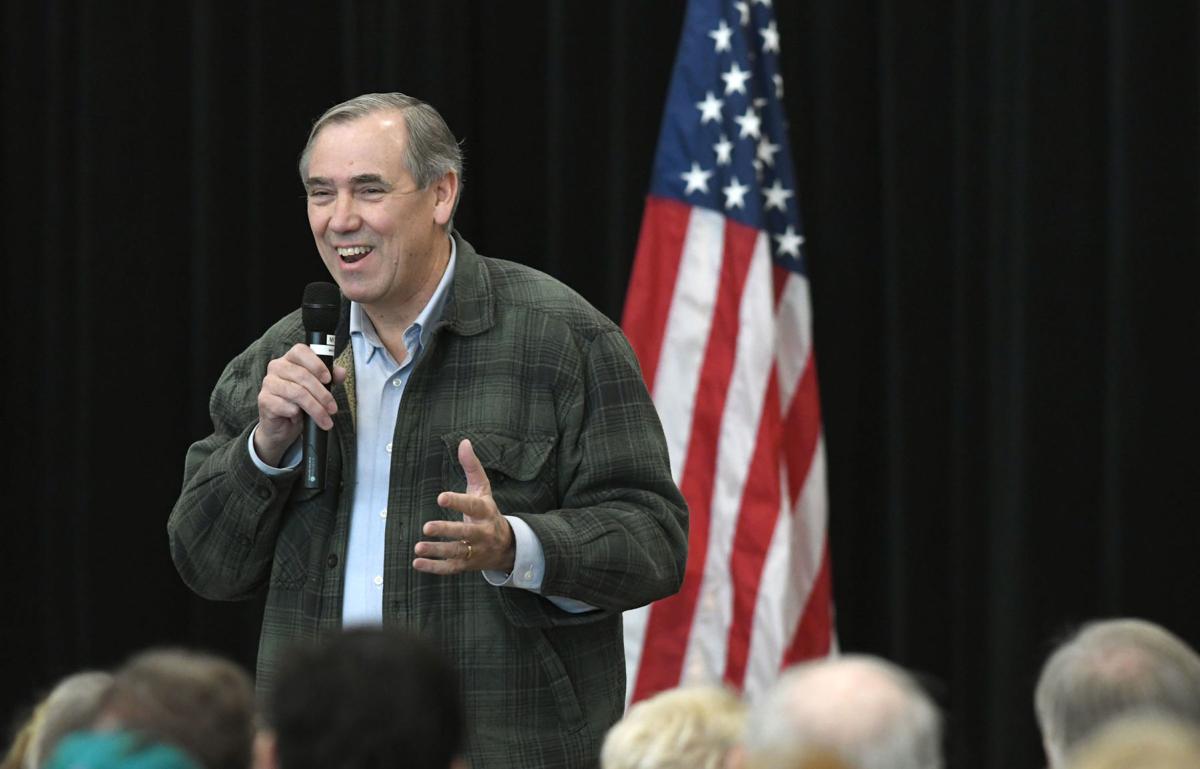 Sometimes seasoned politicians, whether you agree with all of their policies or not, are the best and safest votes to make because you know they can do the job in Washington, D.C., and make decisions that will be beneficial for your hometown.
And so we endorse U.S. Sen. Jeff Merkley and U.S. Rep. Peter DeFazio in their reelection bids. While we may have a few minor reservations about these endorsements, we won't lose any sleep if voters return these public officials to office.
Merkley, the Democratic incumbent, is squaring off against GOP nominee Jo Rae Perkins of Albany and two minor party candidates in the November general election.
He's clearly the best candidate in the race, despite the fact that he has aligned himself with the left wing of the Democratic Party. That may play well in Corvallis and the larger urban centers of the state, but it's out of step with Albany and other more conservative parts of Oregon.
We don't have a problem with many of his policies and stances, and he actually believes in science, which seems to be an odd sticking point for at least one of his opponents. Still, we wish Merkley would have more of an independent streak at times.
To be sure, being a maverick doesn't just mean tilting left, and Merkley has found willing allies at times across the aisle. He even collaborated with Senate Majority Leader Mitch McConnell, of all people, on a hemp farming bill.
Merkley's Republican opponent, Perkins, is not a strong challenger, in part because of her affiliation with QAnon, a far-right group that promotes crackpot conspiracy theories and dabbles in antisemitism. In case you missed it, QAnon has been classified by the FBI as a domestic terrorism threat due to extremists connected to its misinformation.
Perkins' association with this group is troubling.
Also problematic are her stances on the novel coronavirus pandemic and resistance to preventative measures such as mask-wearing.
Perhaps just as bad or even worse, her only relevant government experience is serving on the city of Albany's Human Relations Commission. Perkins has spoken out against this diversity board's goals in disturbing ways, then doubled and tripled down on her comments.
Yet, somehow, Perkins pitched herself to our editorial board as a unifier who would stop divisiveness. It was an unusual and jarring juxtaposition, to say the least.
Ibrahim Taher, the Pacific Green and Progressive Party candidate, also spoke with our editorial board, and talked about how he wants to decentralize the U.S. government. Taher is not a conventional politician and a simple softball question we asked at the start of all of our endorsement interviews — "Why are you running for office?" — was taken as an insult.
Libertarian Party candidate Gary Dye didn't respond to requests for an interview with our editorial board, which is never a good sign.
Quite frankly, Merkley is the only serious candidate for U.S. Senate in the race. He should be reelected in a landslide. Even staunch Republicans should hold their noses and vote for him, given the alternatives.
DeFazio is being challenged by Alek Skarlatos, a genuine all-American hero who is best known for taking swift action to foil a terrorist attack on a train in France.
Though Skarlatos, a Republican, lacks relevant experience, he nevertheless was polished in our interviews and appeared well-coached, with a consistent Libertarian policy position.
We don't necessarily agree that a hands-off approach is the best method for dealing with the novel coronavirus pandemic and other issues, but Skarlatos was consistent, and his small-government stance will have a certain appeal.
He performed particularly well when discussing the need for reducing red tape for the timber industry to help Oregon's economy.
DeFazio excelled when discussing repairing and rebuilding the infrastructure of the United States, increasing broadband access in rural areas, improvements to our nation's ports, and the need for another COVID-19 relief package to ward off a potential depression.
(Skarlatos, while in favor of initial coronavirus relief, is opposed to a new package, believing it no longer necessary.)
DeFazio also spoke about police reforms, such as shifting resources for dealing with mentally ill residents. But Defazio has a rather nuanced position here and is not in favor of defunding law enforcement agencies. If anything, his solutions, such as requiring body cameras and additional training, could lead to much more investment in patrol officers.
This race has featured plenty of attack ads, so we'd just like to take this moment to address two of the larger myths that have developed.
First off, to say Skarlatos is against any minimum wage is far too simplistic. Skarlatos is against the federal minimum wage, but he told our editorial board he believes states should have the ability to set their own standards. Again, we're seeing a Libertarian position here, for better or worse.
Second, Defazio does not live on a yacht, or at least not the type of floating palace you likely think of when you hear that word. His residence in D.C. is indeed a boat, but one with a modest 350 square feet of living space. It's an example of the congressman's frugality, not excess, as it might be the cheapest residential option in the nation's capital. You could find more expensive watercraft any weekend on Green Peter.
Back to our endorsement… Defazio has clout, experience and knowledge on an array of topics. He's a walking encyclopedia if you want to talk politics. While Defazio faces his most serious challenge in years in Skarlatos, he's still the right vote for U.S. House of Representatives in District 4.   
Vote yes on Alsea school bond
The school facility in Alsea isn't exactly a palace, and a $2.1 million bond measure in the November general election won't turn it into one, either.
Alsea residents should vote in favor of the measure knowing that these are important improvements they'd be funding.
Even if you don't have children, the school is the heart of this unincorporated Coast Range community, and the measure would only enhance that.
Among the projects the bond would fund are improvements to the track and weight room, which the community would have access to.
Plus, if the bond measure passes, the state will match it with an additional $1.7 million, so this seems like a great investment for Alsea residents.
Get local news delivered to your inbox!
Subscribe to our Daily Headlines newsletter.