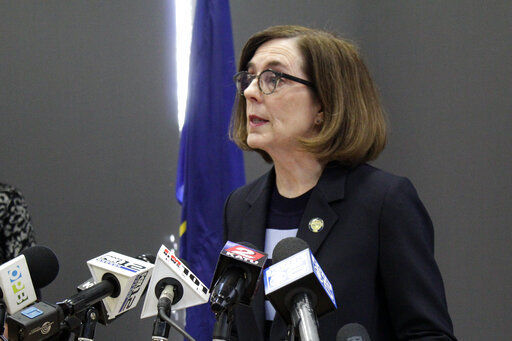 Oregon Gov. Kate Brown hemmed and hawed a bit once again as the coronavirus continued its spread throughout the Beaver State.
Finally, on Monday, after a couple of days of dragging her feet, Brown issued a limited stay-at-home order. Her new rules allow residents to continue to take essential trips, such as to the grocery store, the bank, the pharmacy or to drop off food for elderly relatives or friends.
Brown's directive came after the state's hospitals begged her to issue a stay-at-home order to limit a pandemic that's taking hold in Oregon.
Portland-area leaders also had asked Brown for a stay-at-home order, saying the state's largest metropolis and its suburbs would bear the brunt of the illness's impacts.
And the order came after some Oregonians, once again, showed themselves unable to follow social distancing requests from Brown and other officials.
Despite pleas to isolate themselves, many people went about their regular spring break business in the beautiful weather over the weekend. They flocked to popular beaches and gathered in massive groups. They packed into parking lots and crowded onto forest trails.
Locally, you could find children in city parks, playing spirited games of pickup basketball or climbing around on playground equipment.
(Brown stressed that it's still OK to go outside and exercise in ways that allow for social distancing, such as taking a walk or going for a bike ride, so you don't go stir-crazy. What's not OK is helping the coronavirus spread, so make sure you have at least a 6-foot safety circle.)
The governor's indecision on the stay-at-home order was reminiscent of her indecision last week on whether to close the seating areas of restaurants, bars, cafes and other businesses that serve food.
Brown wanted to keep restaurants' seating areas open for admirable reasons, including the industry's massive impact on Oregon's economy, but ultimately she made the right call.
In the end, she also made the right call on the stay-at-home order. But only after a significant segment of the public showed that they can't follow recommendations well.
As we wrote in this space last week, many people have proved that they are unwilling to protect themselves, their loved ones and their communities from a pandemic illness.
In the interest of public health, we would have preferred to see Brown move days sooner. Decisive action could have saved more lives.
Many people will argue that Brown's order is too draconian, but police agencies we talked to on Monday afternoon say they aren't looking to arrest violators and will try to educate the public instead.
Still, there are significant implications as the order shutters several types of non-essential businesses, including barbershops, fitness studios, gyms, theaters, nail salons, tattoo parlors and more. (To be sure, many of these businesses closed before the order was issued.) Playgrounds, campgrounds, museums and other locations also were part of the closures.
We recognize that the impacts to our economy from coronavirus are going to be writ large. Small businesses operate on tight margins, and some shops and stores that were forced to close will never reopen. That includes certain restaurants that were unable to pivot to takeout orders or deliveries.
The loss of businesses will surely translate into job losses, which is regrettable, especially since unemployment has been extremely low for a few years in Linn and Benton counties.
But we'd still argue that Brown's actions were necessary. The public's health and well-being should take precedence over the economy, as well as a temporary restriction on our freedoms.
After all, Oregon announced 24 new cases of COVID-19 on Sunday. That was followed by 30 new cases on Monday. And there are sure to be more to come on Tuesday as the spread of the illness starts to snowball.
Concerned about COVID-19?
Sign up now to get the most recent coronavirus headlines and other important local and national news sent to your email inbox daily.