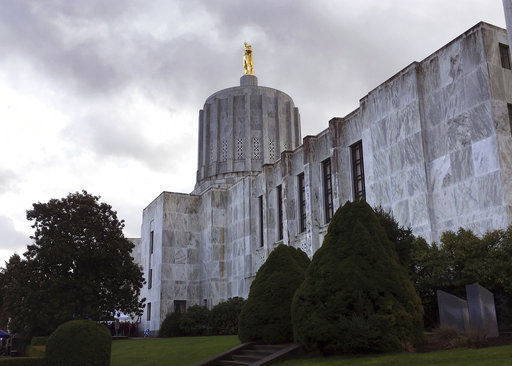 Nationally, Democrats are rallying against gerrymandering, but here in Oregon, that's exactly what they're trying to do. And no one should be surprised.
Welcome to the rough and tumble world of politics, where major parties pursue power and promises are just a string of words that sound pretty.
For residents who missed the news, the Oregon Legislature is in the midst of a bitter redistricting battle.
The person at the center of this storm is Democratic Party gubernatorial hopeful Tina Kotek. The House speaker reneged on a pledge to Republicans, but whether that will hurt her or actually bolster her chances for higher office remains to be seen.
More on that in a bit, but first, we set the stage.
Back in April, Kotek brokered to get Republicans to stop blocking bills with delaying tactics. The carrot, according to the Associated Press: Democrats, who hold overwhelming majorities in the Legislature, would share power as lawmakers redrew political boundaries that will determine how voters pick state representatives, state senators and members of Congress.
Both parties submitted proposals, and, of course, the maps from Democrats seem designed to give the blue party an advantage. For example, a congressional proposal shoves the majority of Republicans in the state, in eastern Oregon and southern Oregon, into one sprawling district. That ensures that a new, sixth seat in Congress would be filled by a Democratic Party member.
Support local news coverage and the people who report it by subscribing to the Corvallis Gazette-Times.
Republicans, of course, sought advantages with their own maps.
Shouting and posturing ensued from both sides. Kotek accused Republicans of negotiating in bad faith and voided her deal. Republicans accused her of lying. For now, a COVID-19 case in the Oregon Capitol has delayed the redistricting process.
In case you forgot, Kotek came under heavy fire from high-ranking Democrats for daring to make a deal with Republicans in the Oregon Legislature. Senators and congressmen blasted her as naïve and foolhardy.
So the idea of Kotek breaking her promise sounds great to many liberals. This move not only helps local progressives, it helps Democrats in Washington, D.C., and therefore it helps the agenda of President Joe Biden in the long run.
After four years under President Donald Trump, a large faction of Oregon Democrats want to stick it to Republicans.
Kotek is a smart and hard-working woman who rose to prominence for a reason. She's surely calculated the odds, and we're guessing that playing hardball on redistricting benefits her aspirations.
The greatest challenge Kotek will face in trying to replace Gov. Kate Brown will be in the Democratic Party primary.
So Kotek scores points by playing to her base rather than giving Republicans equal say in drawing the maps.
And what's the downside for her? If Republicans don't go along and the maps aren't approved by Monday, conservatives face an outcome that could be even worse for them. Progressive Secretary of State Shemia Fagan will redraw the maps.
For our editorial board, Kotek's actions raise concerns about whether she can effectively lead the state or whether we'll have a continued period of squabbling in Salem if she's elected.
We want a governor who can build bridges and work across the aisle. Uniting Oregon is just as important as uniting the country after a long period of dysfunction. But that seems unlikely now.
A more neutral approach to redistricting could have benefitted the state, and not only by making politics more bipartisan.
Some people have floated using a computer program to eliminate all the waste that is part of the process. There's been huge amounts of time and money spent in every redistricting effort in Oregon, which involve public hearings and legislative sessions.
That seems intriguing, though of course, then there would be questions about the biases of those who wrote the computer program, data sets and other matters.
For now, this concept seems as realistic as a fairy tale, as you'd have to convince the party in power to give up a portion of its power.
Fairness isn't what politics is about, whether you're in Washington, D.C. or in Salem. So the shouting and posturing will continue.