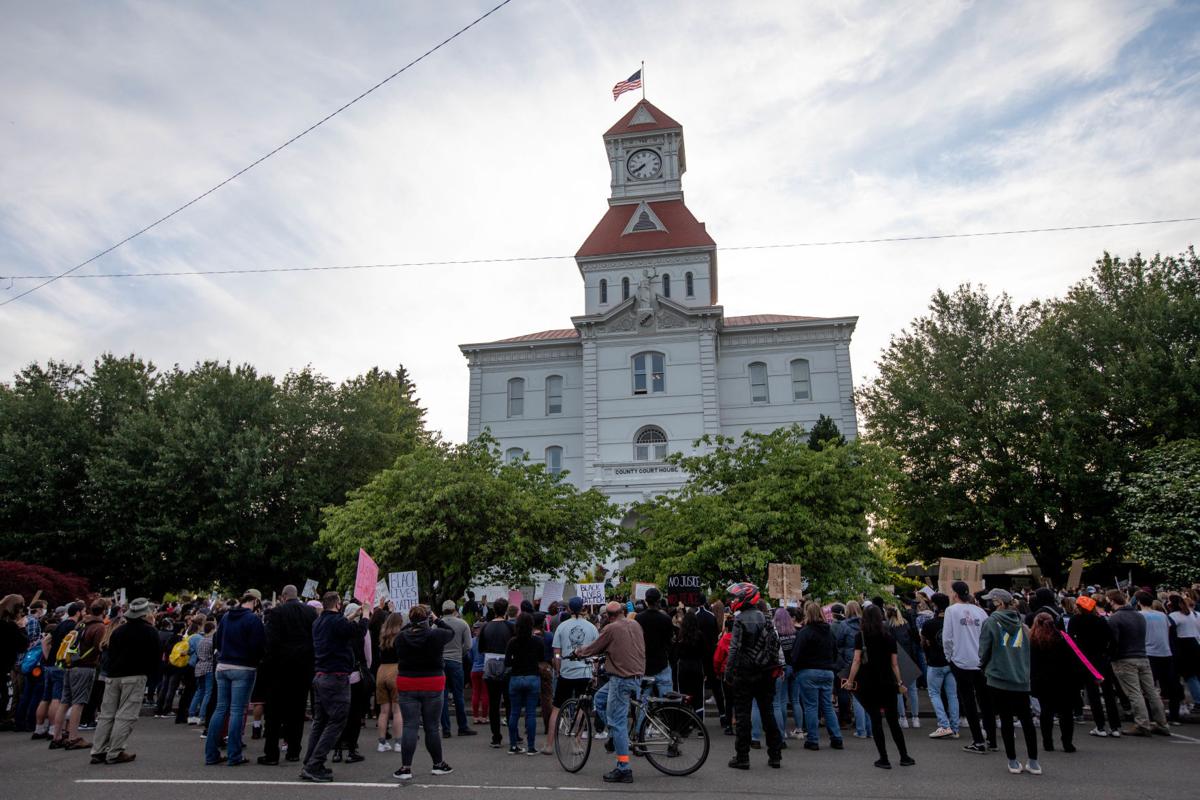 Sometimes your music player knows your mindset all too well when it's on shuffle.
On Saturday night, we scrolled through our social media feeds in a state of despair about the state of our nation.
There's much to dread right now — the novel coronavirus pandemic that has killed more than 100,000 people, more than 40 million job losses in the United States, the killing of an unarmed black man in Minnesota, and demonstrations in response to racial injustice that have sometimes escalated into riots.
Our cellular phone channeled the late soul singer Charles Bradley, who wailed, "The world is going up in flames."
It could have been rappers noting the dangers of being born suspicious or a Marvin Gaye lamentation.
But it was Bradley's spirit, howling with anguish, that drove home what's going on, and that not enough has changed since the 1960s or even the 1990s.
Casual, malicious and systematic racism continue to be a stain on the United States of America. And black people continue to live in fear, and sometimes die, as a result.
Bradley's wails increased our feelings of unease, and it turned out to be a long night with only fitful sleep.
We knew there were going to be local protests. Would there be riots, clashes with police and chaos to diminish the message of racial justice, as we saw in Portland and Eugene and larger cities across the nation?
(Of course, we also knew our worries amounted to nothing compared to the anger many black residents are feeling.)
Most demonstrations in the mid-Willamette Valley are completely free of violence, but there have been notable exceptions, including one recent instance involving neo-Nazis in Corvallis. White supremacists have seemed to target protests at communities with institutions of higher learning in Oregon. So there was reason for worry.
Thankfully, the Sunday night demonstration against racial injustice at the Benton County Courthouse in Corvallis was entirely peaceful, with a crowd of about 2,000. We can't recall a rally of this magnitude in Linn or Benton County, and it shows that locals care deeply about this issue.
Multiple factors could be responsible for the event's overwhelming success.
(The demonstration's only real drawback was that it could have spread COVID-19, as distancing was impossible. Nearly all attendees wore facial coverings, however.)
Some people will note that the crowd was mostly white, and they'd argue that police are less likely to take action against a protest filled with Caucasians. For evidence, they might point to recent demonstrations against stay-at-home orders connected to COVID-19, which sometimes involved white activists carrying AR-15s.
But the Corvallis Police Department seemed eager not to provoke the gathering. In fact, there was no visible police presence whatsoever, despite the rally occurring just one block away from the headquarters of the CPD and the Benton County Sheriff's Office.
It would be folly to believe police weren't monitoring for troublemakers. But trouble, for the most part, didn't occur.
Attendees deserve credit for their determination to remain peaceful.
At least one knucklehead tried to disrupt the protest by chanting "All lives matter" from the fringe of the crowd, perhaps hoping to be assaulted by black demonstrators or white allies to thereby sully the gathering and the reputation of others like it. Other chants of "All lives matter" could be heard elsewhere.
Demonstrators didn't take the bait, and those counterprotest voices were drowned out by repeated chants of "Black lives matter."
The event wasn't widely advertised, which limited the ability of outside agitators to organize mayhem. Authorities in several cities have claimed that infiltrators, including white radicals, deserve some of the blame for looting and other problems.
Motorists who stumbled across the Corvallis rally also deserve kudos, as well, and many honked horns in support. Though the demonstration spilled off the courthouse lawn and blocked a lane of Fourth Street, two lanes remained open. Drivers simply moved over and avoided any potential conflict.
There are other reasons for the demonstration's success, but we're simply grateful the event remained peaceful.
A similar protest in downtown Albany on Tuesday night also was peaceful, and we'll discuss that in detail in this space on Friday.
And as a reminder, we'll defend your right to peaceful protest with our dying breath, because this is the United States of America.
This is a country with high aspirations, such as liberty, equality and justice for all. These are all-American, red, white and blue concepts.
We must begin living up to those ideals if we ever again hope to claim to be a beacon of light for the world.
Concerned about COVID-19?
Sign up now to get the most recent coronavirus headlines and other important local and national news sent to your email inbox daily.