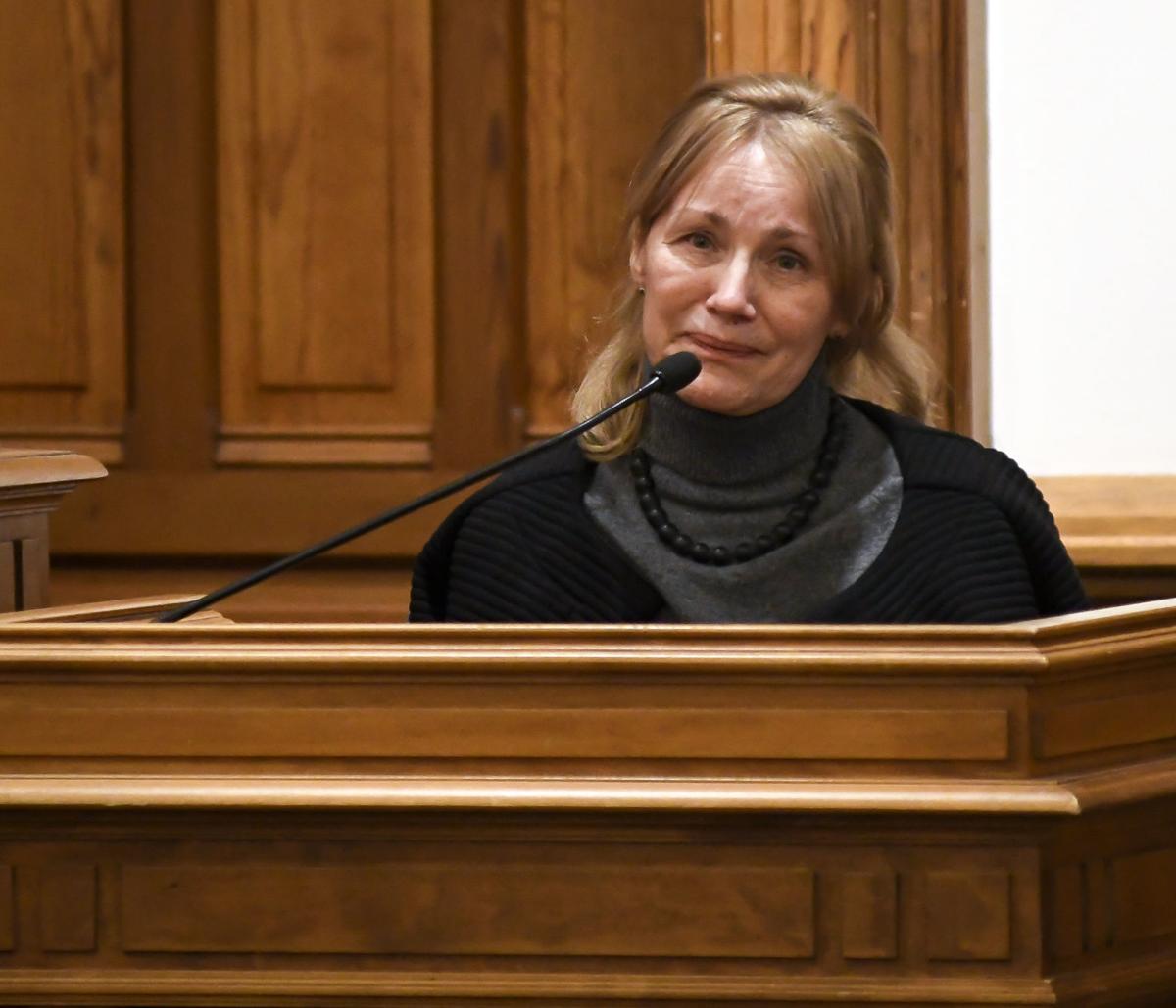 In the crime scene photos, Anna Repkina lies on her back in a clearing in the forest.
She is wearing blue jeans and black running shoes, a gray hoodie and a black jacket.
Her legs are stretched out in front of her and her arms are at her sides, held slightly away from her body, with one finger tangled in her long blond hair.
Her eyes are open, gazing up at an empty sky.
From the jury box, five women and seven men view the images on a large video monitor.
At the back of the courtroom, Repkina's mother sits with her head in her hands, looking down at the floor. She doesn't look at the pictures.
Day 4 of William Hargrove's murder trial in Benton County Circuit Court began with testimony about the crime scene, a small clearing at the end of a logging road in the woods outside Alsea.
The body of Anna Repkina, a 27-year-old Russian woman, was found at the isolated site on April 17, 2017, killed by a single shotgun blast to the head.
Hargrove, 29, was arrested for the crime a few days later and is accused of murdering Repkina to resolve what prosecutors have described as a "problematic love triangle."
The defense contends Hargrove is innocent and that it was Michelle Chavez, his married lover, who pulled the trigger. Chavez has not been charged with any crime.
In court on Tuesday, Benton County Sheriff's Detective Christopher Duffitt, the lead investigator on the case, described being led to the murder scene along with two deputies by the Weyerhaeuser security man who found the body.
It was immediately apparent from the massive gunshot wound to her head that Repkina was dead, Duffitt testified, but he pulled on gloves and checked for a pulse anyway. Finding no signs of life, Duffitt and one of the deputies checked the area for a weapon that the young woman might have used to commit suicide, but no gun was found.
"At this point," Duffitt said, "we determined we were starting a homicide investigation."
By that time it was late in the day, Duffitt said, so he decided to secure the scene and do a preliminary search before nightfall, then return the next morning with more resources and personnel.
Senior Deputy District Attorney Amie Matusko methodically questioned Duffitt for more than an hour about the crime scene and the condition of Repkina's body, illustrating each point with photos displayed on the courtroom video monitor.
Hargrove, dressed in a gray sport coat and slacks with an open-collared plaid shirt, listened from the defense table with his attorney, Mike Flinn.
Duffitt testified that the clearing was strewn with old beer bottles, scraps of paper and other garbage, but there were a few items that stood out as recent discards. Among them were a nearly full Dutch Bros. coffee cup found standing upright a few feet from Repkina's body, a Monster energy drink can and a plastic takeout bag that contained a receipt from a KFC fast food restaurant in Corvallis. Matusko introduced each of these items as exhibits in the prosecution's case, holding up the clear evidence bags so the seven-man, five-woman jury could see their contents.
Investigators also searched Repkina's body, Duffitt said, but found no identification or cellphone. They noted a pair of tattoos on her wrists, one depicting an EKG readout and the other displaying the words "It beats for you" in cursive script.
"We had no idea who she was or who we were looking for at that time," Duffitt stated.
After Duffitt stepped down around midafternoon on Tuesday, the prosecution called a number of other witnesses including three Benton County sheriff's deputies and an Oregon State Police fingerprint expert. Much of their testimony focused on the chain of custody for key pieces of physical evidence in the case.
The most dramatic testimony of the afternoon came from Dr. Karen Gunson, the now-retired state medical examiner who performed the autopsy on Repkina's body. Before she took the stand, however, Judge Matthew Donohue sent the jury out of the courtroom while he conferred with the attorneys for both sides.
Flinn objected to the prosecution's plan to show a large number of photographs from the postmortem exam, saying that would have the effect of "overwhelming the jury with a lot of visceral information" that could be prejudicial to his client.
After 40 minutes of back and forth between Flinn and Matusko, the judge decided to disallow about a half-dozen of the multiple photos the prosecution wanted to show.
Under questioning by Matusko, Gunson gave a detailed description of Repkina's body, including the terrible trauma to her skull from the shotgun blast. She noted that the fatal shot appeared to have been fired from above and behind, from fairly close but not point-blank range.
For the most part on Tuesday, Flinn reserved his right to cross-examine the prosecution's witnesses. But he briefly questioned Gunson on a few points, including whether she found any evidence that Repkina had been raped. Gunson replied that there were no signs of sexual assault.
The trial, which is scheduled to run four weeks, resumes on Wednesday.
Get local news delivered to your inbox!
Subscribe to our Daily Headlines newsletter.