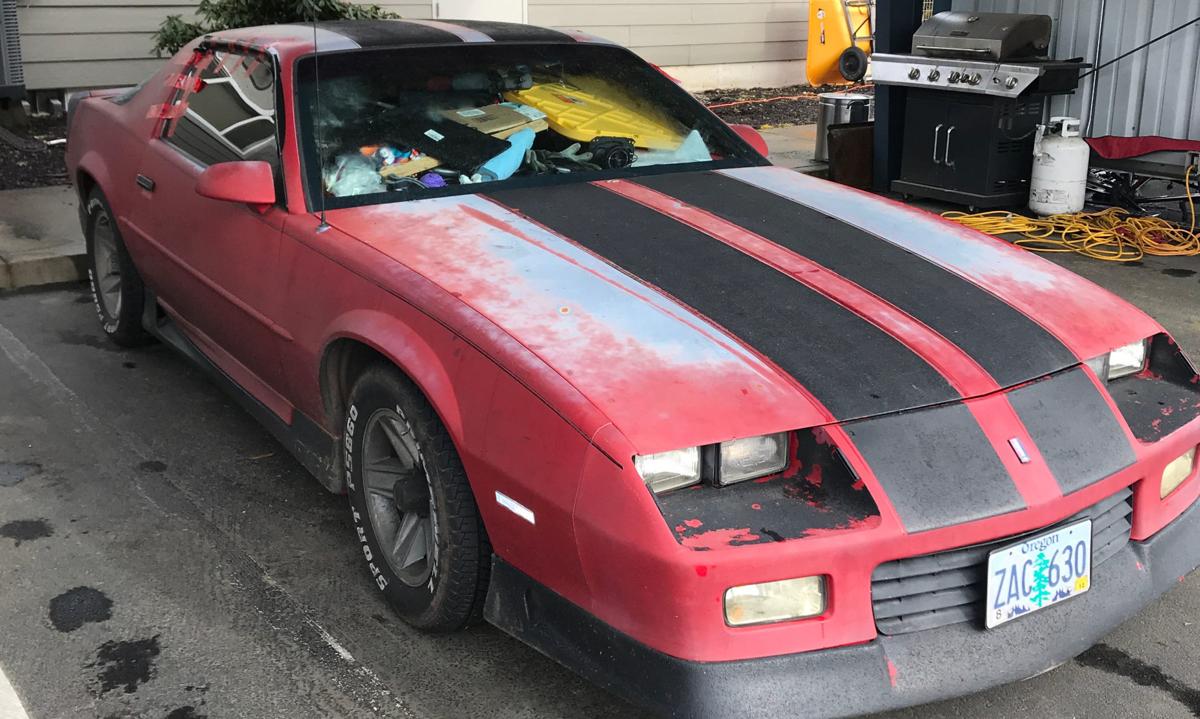 PHILOMATH — Police say a 33-year-old Albany man may have been on his way to kill his estranged wife in Philomath when he was pulled over in downtown Corvallis last weekend with a car full of homemade bombs.
But the case investigators are building against Kenneth Andrew Smelser involves more than speeding and homemade bombs. Police say the suspect has been involved in a series of incidents dating back months.
On Sunday, Corvallis police stopped Smelser at 9:03 p.m. near the corner of Southwest Fourth Street and Madison Avenue for going about 50 mph in a 25 mph zone. Philomath police had been looking for Smelser following alleged stalking incidents that had occurred as far back as last summer and as recently as earlier this month.
Philomath Police Chief Ken Rueben said he believes the arrest prevented a homicide.
"I firmly believe ... and law enforcement agencies we've consulted with believe, based on the information officers gathered, that he was going to try to kill his wife," Rueben said. "That's our current belief right now."
The investigation was to continue into this weekend with Philomath police executing several search warrants in Linn County, where Smelser had been living.
On Monday, Smelser was arraigned in Benton County Circuit Court on eight felony counts of unlawful possession of a destructive device and one count of unlawful possession of a firearm, a misdemeanor.
Smelser pleaded not guilty to all charges. Judge David Connell set bond at $200,000, and as of Friday Smelser remained in the Benton County Jail. Mike Flinn was appointed as his defense attorney.
At the time of his booking, additional charges from Philomath police included felony stalking, second-degree criminal trespassing and littering.
A status hearing on the case is scheduled for Jan. 23.
"This is an interesting case; it's scary, but I think this is one of those cases that the officers both at Corvallis PD and our officers went above and beyond what you would typically do at a traffic stop to get to the bottom of a situation," Rueben said.
Philomath police's involvement with Smelser dates back to June 7 while covering for the Benton County Sheriff's Office. Police responded to a call in a rural part of the county about a stalking incident involving a woman and her estranged husband.
Rueben said Smelser had allegedly showed up at the woman's home early in the morning on a motorcycle and parked "just to be there when she came out to go to work."
But police never could find him because he had been evicted from his Albany home. In the meantime, the victim relocated to Philomath.
Then, on Jan. 5, the victim awoke to find a large pile of Christmas trees arranged in a pattern on her front lawn.
"It was round, with one Christmas tree standing up in the middle," Rueben said. "She received a threatening text message from the suspect ... that we concluded was a threat of harm."
The victim had set up security cameras at the residence.
"We've got him (on video) and his truck and a trailer unloading Christmas trees, so we know it's him," Rueben said.
Rueben declined to disclose exactly how Smelser located the victim at her new address, but he did say, "Based on the investigation, Philomath PD learned that the suspect had employed electronic tracking mechanisms."
The couple do not have children.
Smelser's mother and stepfather, who live in Albany, have called police several times, Rueben said, including on Nov. 27, when someone set their boat on fire. Smelser had allegedly been on the property.
You have free articles remaining.
In that case, Rueben said, someone put an "incendiary device" in the boat that started a fire after a small explosion.
"That happened, and they believe it was Kenneth Smelser that did that," he said.
Since then, the couple has also reported someone setting off fireworks-like devices in front of their home and slashing their cars' tires, Rueben said.
Then came Sunday's incident, when Smelser was pulled over for speeding in his 1992 Chevrolet Camaro. According to a probable cause affidavit signed by a Corvallis police officer, Smelser "told me almost immediately there was a handgun in the center console area of the vehicle." 
The officer secured the handgun, a semiautomatic pistol.
Police learned that Smelser's concealed handgun license had been revoked.
"Upon examining the handgun, I learned it was loaded with 13 rounds in the magazine with one round in the chamber," the officer wrote in the affidavit. "Based on Kenneth possessing a handgun that was concealed and readily accessible to him within his vehicle, and having his CHL previously revoked, I developed probable cause to arrest him for unlawful possession of firearms."
Police searched the Camaro during the arrest and found a backpack behind the driver's seat.
"The backpack contained a large firework mortar tube, multiple mortar fireworks, a container of Sterno FireStarter instant flame gel and a large brown coffee can that contained multiple items that appeared to be homemade explosives," the affidavit reads.
Fuses, tape and a container of nails were also found in the car, according to the affidavit.
While all of this was going on, Philomath police officers made a connection while listening to radio traffic.
"This is where I think really good police work started," Rueben said. "During the stop of the suspect, our two officers that were on duty that night — Jacob Coon and Lucas Sinclair — heard the officer run the name of the suspect, Smelser. At that time, because of the threats and the report we had taken from the victim on the Christmas tree incident, we had probable cause to arrest him for stalking."
In all, seven handguns and one rifle were recovered from the car. Improvised explosive devices, commonly referred to as IEDs, were also discovered, according to police. One of the bombs had tape and nails attached to it, "and those are obviously made to do serious damage to a person," Rueben said.
The Oregon State Police bomb squad arrived on the scene and took possession of the IEDs.
Rueben said that other items found in the car included a bulletproof vest and numerous rounds of ammunition for high-capacity rifles such as an AK-47 or AR-15.
Philomath police wrote search warrants to seize Smelser's vehicle from Corvallis and brought it to the police station Wednesday night. A search ended up creating a dangerous situation, according to Rueben.
"Inside that car we found two additional improvised explosive devices ... that raised the hackles on some of the guys last night," he said.
"Needless to say, either one of those could have done some serious damage to our guys," Rueben said.
Police also found narcotics paraphernalia, methamphetamine and technology-related devices, Rueben said.
Philomath police then searched a storage unit in Albany, where they recovered two shotguns, one rifle and "thousands of rounds of ammunition," according to Sgt. Dave Gurski.
Rueben said a heavy safe was brought back to Philomath. Officers plan to search it Saturday, along with another vehicle. As of Friday, approximately 280 items had been booked into evidence.
Philomath Officer Noah Lochner is serving as the lead investigator on the case. Additional charges could follow as the investigation continues.