In the span of a single week, four people died of fentanyl-related overdoses in Linn County.
Additionally, there were 10 non-fatal overdoses and 13 doses of Narcan administered in that time frame. What happened between March 9-16 is a stark reminder of a growing problem facing Linn County, experts said.
"The DEA did a lot of analysis, and they found that about two in five pills contain two milligrams or more of fentanyl," Linn Interagency Narcotics Enforcement, or LINE, Detective Joe Clausen said. "So 40% of those pills — if not an experienced opiate user — 40% can cause death, or overdose at least.
"It's playing Russian roulette with yourself, basically."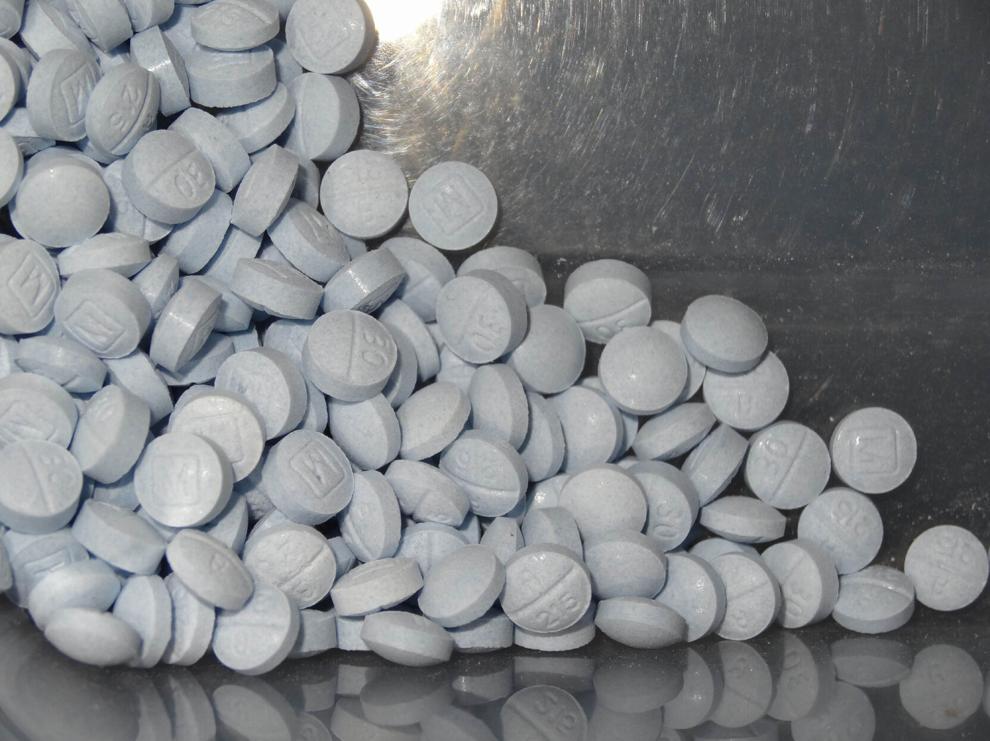 Clausen has been on the LINE task force for around three years. The purpose of LINE is to "disrupt and dismantle drug trafficking organizations." Task force personnel also respond to any suspected overdose death.
According to Albany Police Department numbers, there have been 28 overdoses in the city in 2023 so far. Of those, 24 were fentanyl-related.
In 2022, there were 61 fentanyl-related overdoses for the entire year.
Albany saw nine overdose deaths in 2022, more than the previous three years combined. Overdoses in general went up from 50 to 89. Fentanyl was present in 68.5% of overdoses in 2022.
"I've never seen a drug come on so hard and so fast and be so deadly at the same time," Clausen said.
What is fentanyl?
Fentanyl is a very potent opioid — much stronger than morphine. Clausen said when used responsibly in medical settings, fentanyl is a perfectly safe drug. But that's not what recreational users are doing.
"What we deal with is illicit fentanyl," Clausen said. "It's the same opioid, it's the same drug. It's just a different form."
The two most common forms of the synthetic drug are pills and powder. Many fentanyl pills are designed to look like Oxycodone 30 milligram pills. These are commonly referred to as "M30s."
But the phony painkiller isn't fooling most, according to Clausen.
"I would say the majority of the time it's known what is being used, especially with the blue pills," he said.
The average person could experience a potentially fatal overdose by ingesting just 2 milligrams of fentanyl. However, those who regularly use the substance can handle more.
"They're using and using and using and using, and more likely than not, they're getting more than 2 milligrams," Clausen said. "But your body builds a tolerance, much like with any sort of chemical substance. So then you need more and more to get the feelings that you're hoping to get from that."
How it gets to Linn County
"There's a direct line from Mexico to us and beyond," he said. "All day, every day, there's drugs and contraband coming north and assets, currency going south. And a lot of it stops here."
According to Clausen, fentanyl and the chemicals used to synthesize and make the opioid come from China and India and are transported to the Mexican drug cartels. At this point, the cartels either synthesize the fentanyl themselves, or they get the powder and press it into pills or ship it as powder.
Albany itself is sort of a stop along the way for fentanyl dealers.
"Many times our investigations often take us to Eugene and Salem because they're bigger destinations," Clausen said. "We call them source cities because people with connections down south will be in those higher populated areas, and the drugs will be shipped there and then come back to Albany from Salem or Eugene or Portland."
Overdoses and xylazine 
When law enforcement officials respond to overdoses, they often use naloxone, commonly under the brand name Narcan. It can be administered via injection or nasally. 
Narcan can help restore normal breathing for someone experiencing an overdose. Narcan works by attaching to opioid receptors and reversing and blocking the effects of other opioids. More than one dose may be needed to save someone's life.
"We view it as kind of like an AED," Clausen said, referring to an automated external defibrillator. "Hopefully you never have to use that AED on someone in your hallway. But if you do, having that equipment present could save a life."
But what happens if Narcan doesn't work? Law enforcement is encountering that dilemma all across the country.
Support local news coverage and the people who report it by subscribing to the Albany Democrat-Herald.
It is becoming more common for fentanyl to be mixed with xylazine, an animal sedative known as "tranq." It is a central nervous system depressant that can lead to slower breathing and heart rate. 
The Drug Enforcement Administration issued a public safety report about xylazine and fentanyl, saying the mixture puts users at a higher risk of a fatal overdose. But in this case, Narcan may not be enough to save someone's life.
Because xylazine is not an opioid, Narcan does not reverse its effects.
"We have had cases here where individuals have been taken to the hospital for opiate overdose, and naloxone was administered to them, but it wasn't fixing it. It wasn't helping," Clausen said.
He added that LINE has not tested drugs and found xylazine in them, but there are scenarios that are making detectives believe xylazine may be a factor. Xylazine is not included in a basic drug panel.
Clausen said a dangerous impact of xylazine mixed with fentanyl is that someone may administer Narcan, see that it is not working and then stop administering it, which "gives the opiate a chance to attach the opioid receptors again and continue that overdose." 
Community engagement and education
Education is key when it comes to the growing fentanyl problem, according to Clausen, which is why he often gives fentanyl-related presentations at local schools.
More and more people these days, he said, know someone who has overdosed on fentanyl. 
"Every overdose death, whether they've been a longtime drug user or not, sends ripple effects through the community in some way — through family, through friends, through people that knew them," he said.
Oregon is among the states with the highest percentage of substance use disorders, according to preliminary 2021 data from the Substance Abuse and Mental Health Services Administration, a branch of the U.S. Department of Health and Human Services.
But Clausen said access to treatment is a big issue in Oregon, and law enforcement is not always the best option for intervention.
"We would much rather see them get help than any sort of law enforcement assistance," he said. "We're not going to arrest our way out of substance use disorder."
Multiple agencies working in concert are needed to combat the issue, according to Clausen, and he hopes that lessons on collaboration and communication learned from the pandemic will help organizations come together. 
"Hopefully, we can now pivot and use the relationships that we've made and the resources that we've gained to fight what I believe is our current public health crisis: opiate overdose," he said.
Related stories:
Maddie Pfeifer covers public safety for Mid-Valley Media. She can be contacted at 541-812-6091 or Madison.Pfeifer@lee.net. Follow her on Twitter via @maddiepfeifer_