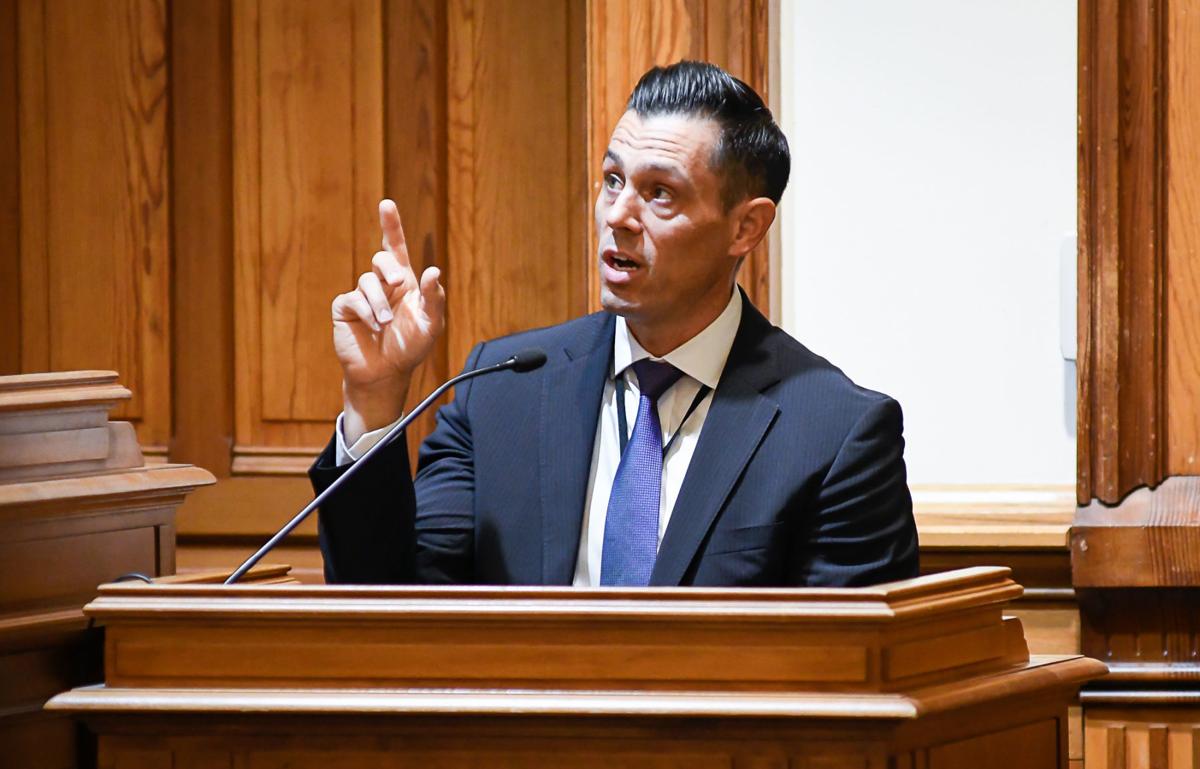 Cell phone location data played a prominent role Tuesday during the final day of the state's case against a man accused of murdering his Russian fiancée near Alsea in April 2017.
William Chase Hargrove is accused of killing 27-year-old Anna Repkina to resolve what prosecutors have called a "problematic love triangle" between the two and Hargrove's married lover, Michelle Chavez. Hargrove's attorney Mike Flinn has argued that it was Chavez who killed Repkina, out of jealousy.
Hargrove, now 30, is facing charges of murder, identity theft and two counts of second-degree theft in an ongoing trial in Benton County Circuit Court that began in late October and is expected to finish Nov. 26.
Chavez, who now lives in Watertown, New York, but lived in Albany at the time of the incident, has not been charged with anything in connection with Repkina's death and denied earlier in the trial that she wanted the woman dead.
FBI cell phone data expert Michael Easter testified Monday about data he analyzed on the locations of phones belonging to Hargrove, Repkina and Chavez. Much of his testimony focused on the phones' locations on April 16, 2017, the day police believe Repkina was killed with a shotgun along a logging road.
Easter testified that he used cell tower data and Google location records, which combines cell tower data with GPS and WiFi location data, to identify the phones' locations. He said cell data can be used to place a phone in an area around cell towers, but the Google data is more precise.
According to Easter, Google GPS data places Hargrove's phone at the location where Repkina's body was found at 4:48 p.m. on April 17, 2017. That data, he added, also shows Chavez's phone traveling out to Alsea shortly afterward.
Chavez said in her October testimony that she met Hargrove in Alsea, where they had an argument and went for a drive, then had sex in his car on a secluded stretch of road.
Easter said that both Hargrove's and Chavez's phones show they were in Mill Creek Park, near Alsea, after 5 p.m.
"Do you have any information that places her closer to the crime scene than Mill Creek Park?" asked Amie Matusko, the senior assistant district attorney who questioned Easter.
Easter testified that there was no data on the location of Chavez's phone from 5:21 to 6:06 p.m. After that, data places her at the Alsea Mercantile. It then shows she returned to Philomath to her mother's house, then later to her home in Albany.
In his cross-examination, Flinn asked if it was possible for someone to move around without his or her phone providing data to a cell tower. Easter said that a user needs to interact with the cell system — sending a text or making a call — to leave a location record.
"So it's entirely possible between 5:21 and 6:06 p.m. (the phone) could have traveled without any data?" Flinn asked.
Easter said yes, but it was unlikely that the phone wouldn't have left any data with Google.
The state concluded its presentation of evidence Monday by recalling Chris Duffitt, the Benton County Sheriff's Office detective who led the investigation into the case. Duffitt has testified on and off throughout the trial.
He presented a giant poster board with a timeline of events in the case, combining that with information about where cell data and surveillance video place people and text messages sent between its major figures.
According to Duffitt, police can link only two people to the crime scene: the victim and the accused. He added that no evidence places Chavez at the scene.
In his cross examination, Flinn asked Duffitt if police had properly investigated Chavez's potential role in the killing and asked if they had collected shoes or clothing from her for forensic examination. Duffitt said no, because they didn't have evidence linking her to the scene.
Flinn also asked if Duffitt had pressed Chavez in interviews regarding story inconsistencies, specifically mentioning the fact that Chavez possessed Repkina's phone for a while and never told police until an interview this year. Flinn pointed to statements in interviews in which Chavez had said Hargrove had given her the phone and she had it for only 10 minutes, then later stated that she had it for an hour. Flinn said Chavez also changed her story about what happened to the phone, first saying she had returned it to Hargrove and then later saying she must have thrown it away.
Duffitt said he did press Chavez on these issues through hours of interviews.
On redirect, Matusko asked Duffitt if the inconsistencies were because of the amount of time that had passed since the events surrounding the murder. Duffitt said it did seem as though Chavez was struggling to recall details about the phone.
The trial is scheduled to continue Tuesday, when the defense will begin calling its witnesses.
Judge Matthew Donohue said Flinn is expected to finish calling witnesses Thursday. The state is expected to spend Friday calling witnesses for redirect, with closing arguments set to start at the beginning of next week.
Anthony Rimel covers education and crime in Benton County and weekend events across the Mid-Valley. He can be reached at anthony.rimel@lee.net or 541-812-6091.
Sign up for our Crime & Courts newsletter
Get the latest in local public safety news with this weekly email.