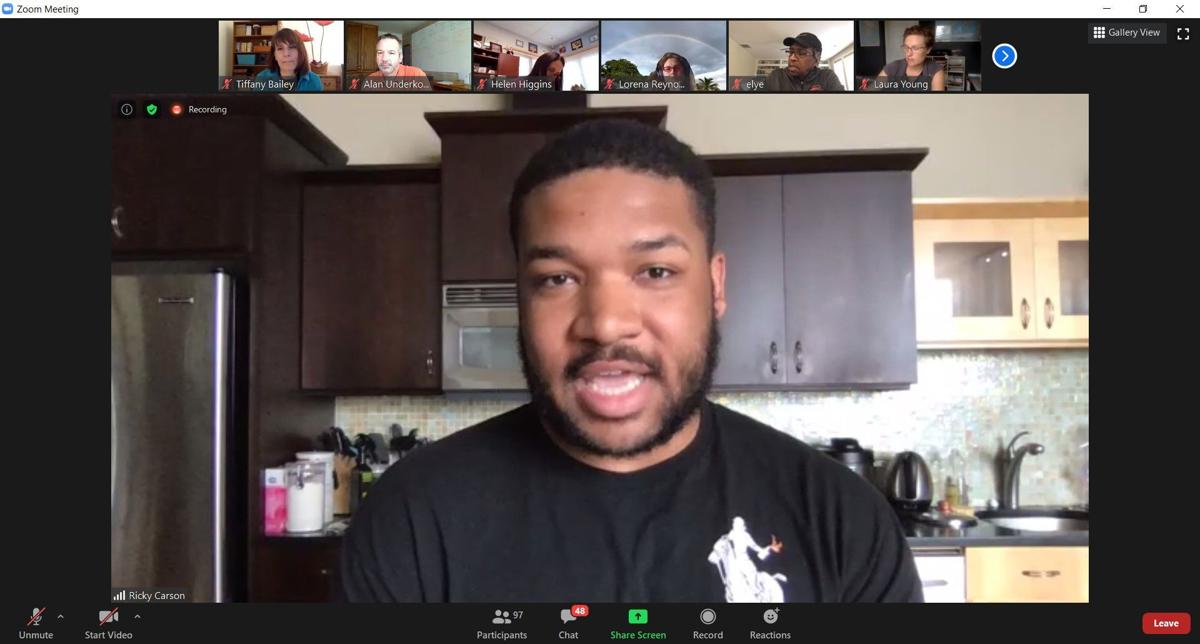 The first time Ricky Carson remembers being called out for being black was in the fifth grade.
"Growing up in Corvallis, I didn't necessarily experience racism," he said. "I experienced this other thing called ignorance."
A white girl in his Hoover Elementary School class told him he'd make more friends if he bleached his skin. She didn't know what she said was racist. Neither did Carson, until years later. But that day, he ran to the bathroom and cried because her words hurt all the same.
Carson, a 2017 College Hill graduate now studying mass media at the University of West London, attended the Rotary Club of Greater Corvallis' Zoom meeting on Friday to share his story as a miseducated black man from the mid-valley.
"I grew up in Corvallis never really understanding why I had this feeling that I didn't belong," Carson said.
Although Oregon — especially the more liberal western side and cities like Portland — has a national reputation for being a more progressive state, Carson said Oregonians still have much to learn and a lot to be reminded of when it comes to the racial history of the U.S. He especially pointed out schooling flaws regarding white supremacy and slavery.
"It was kind of just, 'The United States had slavery. It was bad. We don't have that anymore. Things are good again,'" he said. "And that's basically all I got … Slavery was a real thing. And it's still affecting us to this very day. I did not get that."
He was adopted as an infant by a white lesbian couple and has a light brown complexion — which, he said, has given him the ability to live a more privileged life than some black people.
Carson has protested in Portland in recent days with people of all age groups, races and socioeconomic backgrounds and said he's kept these things in mind.
"I have a very white name," Carson said. "I do have a certain benefit from colorism. And so I feel like the reason why, perhaps, I haven't had as bad experiences with the police … is because of a number of things."
Although he said he's not against police officers generally, Carson said he recognizes that there is a negative cultural perception of police in the black community. He pointed to police responding peacefully to the many white people who, armed with weapons, protested national health guidelines and stay-at-home orders due to the coronavirus outbreak. When Black Lives Matter protests surged, however, the response was much different.
"This country is literally built off of white supremacy and capitalism," he said. "They stole land from Native Americans. They imported labor — slaves — from another continent to then build (on) and cultivate the land. And they created these class systems that were inhumane (and) almost entirely impossible to get out of."
After slavery was outlawed, Carson noted, freedmen had no wealth and the task of navigating slavery's residual racist systems — including police forces whose main jobs were to protect the property (which historically included slaves) of white citizens.
That's why, he said, it's important for non-persons of color to continue reflecting on their privileges and biases.
Rotary Club President Tiffany Bailey made it clear to the nearly 130 Zoom attendees that it is not the job of black people to teach others about their oppression; it should be widely researched.
Carson, she said, "was not invited to preach to the choir, and he was not invited also to provoke shame."
"This is not a one time forum," Bailey said. "We know each other and care about each other and hold a space where we are allowed to disagree with each other. I just want … to reflect that and that we can grow old together in navigating these spaces."
Ways that Carson suggested people can start educating themselves and supporting movements like Black Lives Matter include reading up on the history of African slavery and donating to historic organizations like the NAACP.
He also urged school districts to hire more diverse teachers and offer more training to those who are non-black. Carson suggested more police officers receive similar training and build connections with the communities they monitor.
"The only person of color that was my teacher (were) a couple of people from the Latinx community," he said. "There was no one throughout my entire education … close to looking like me — no one close to understanding that, 'Hey, this kid is growing up in a society that's going to want to knock him down."
Carson's reflections brought club member Dave Henderer, a white man with an adopted black son, to tears.
"The thought of him suffering just tears me up and makes me angry," Henderer said of his son. "I think people are waking up. There's hope. People love you (and) you are wanted."
The next time a non-black person finds themselves racially profiling someone else, judging someone for their financial situation, or even rapping the N-word in songs, Carson said, they should consider that the community would be better off if these discriminatory actions are addressed.
"If you treat people like human beings, then you can build a bigger and stronger community," he said. "And, in turn, our community will then prosper."
Get local news delivered to your inbox!
Subscribe to our Daily Headlines newsletter.