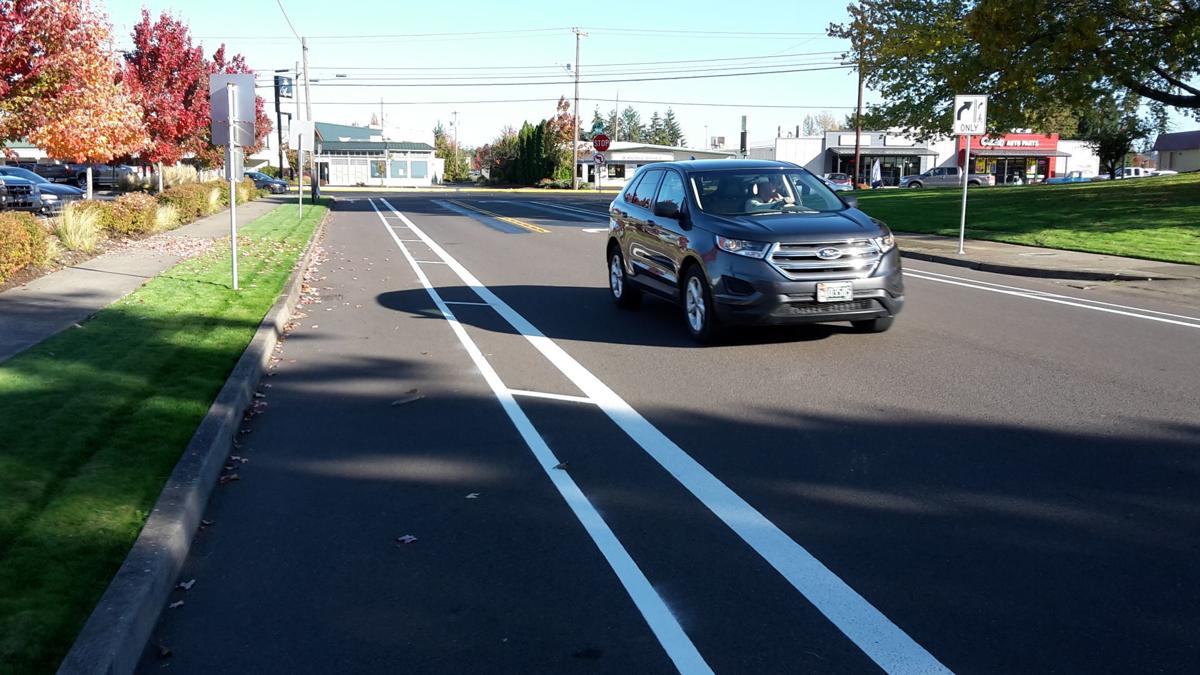 Corvallis has its first set of buffered bike lanes.
Construction crews installed the lanes on Northwest Spruce Avenue as part of Public Works street work that was completed this summer and fall on the Ninth Street corridor south of Circle Boulevard.
Buffered bike lanes are conventional bicycle lanes paired with a designated buffer space separating the bicycle lane from the adjacent motor vehicle travel lane or parking lane. The design on Spruce follows guidelines from the National Association of City Transportation Officials Urban Street Design Guide, which calls for a 6-foot bike lane alongside a 2-foot buffer.
"What you'll immediately notice is how much more comfortable the riding environment is with a small buffer between you and motor vehicles," said Josh Capps, active transportation program specialist for the city of Corvallis. "That feeling is backed by real data showing that separated bike lanes attracted 2.5 times more users than standard bike lanes."
Advantages of the buffered lanes, city officials said, is that they:
• Provide a greater space for bicycling without making the bike lane appear so wide that it might be mistaken for a travel lane or a parking lane.
• Encourage bicycling by enhancing the comfort and safety of cyclists.
• Appeal to a wider population of bicyclists, including those who might not feel safe riding in mixed-traffic or in conventional bike lanes.
The city's newly adopted transportation system plan calls for buffered bike lanes to gradually replace existing bike lanes throughout Corvallis where appropriate and space allows. City officials say the installation on Spruce Avenue is the first of a number of similar projects outlined in the transportation system plan.
Installing the buffered lanes added about $2,000 to the Ninth Street project, Capps said. The total budget for the city's major summer/fall street work on Kings Boulevard and Ninth was $2.4 million.
The work on Ninth also included sidewalk ramp reconstruction and resurfacing plus some safety improvements in the median. The median work added concrete barriers on Ninth between Circle and Spruce that prevent left turns out of the three businesses on the east side of Ninth (Bi-Mart, Wild Birds Unlimited and The Agrestic north store). In addition, left turns from Spruce onto Ninth are now prohibited.
Josh Bjornstedt, the project manager for the city, said congestion and a history of crashes led to the decision to eliminate the left turns.
Get local news delivered to your inbox!
Subscribe to our Daily Headlines newsletter.