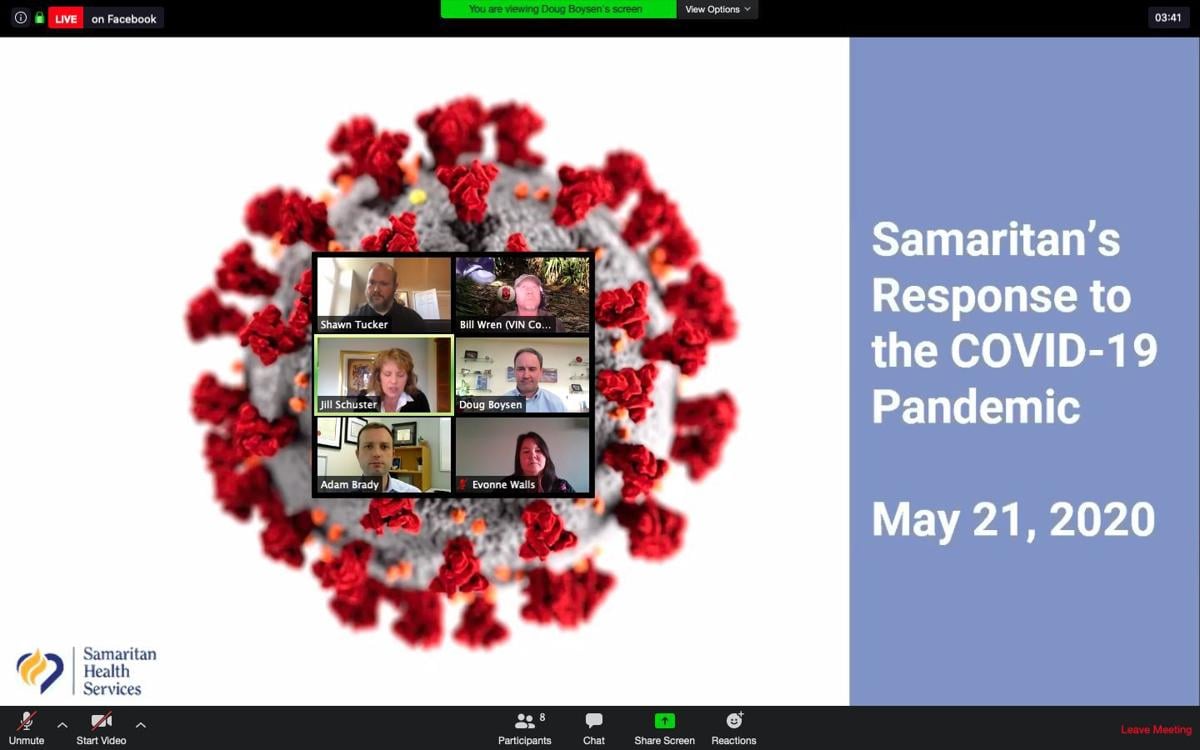 United through a Facebook group, Corvallis residents hosted a webinar Thursday night with local healthcare leaders addressing the mid-valley's response to the COVID-19 pandemic.
Leaders of the Corvallis People private group on the social media platform invited CEO of Samaritan Health Services Doug Boysen and chair of the network's COVID-19 taskforce Dr. Adam Brady to debrief the community on its status and safety during the novel coronavirus outbreak.
Boysen praised Oregonians' response to the outbreak since the first case appeared — which was only the 17th known U.S. case.
"In retrospect I think it was a big advantage for Oregon that we had an early case," Boysen said. "Hand-washing, mask-wearing, all of that has made a difference and we've flattened the curve as of right now. But we haven't avoided it altogether."
The hour-long event took place on a Zoom video chat which was live streamed to the Facebook group. Corvallis People administrators Jill Schuster, Shawn Tucker and Jamie Raffety along with moderator Bill Wren fielded questions from the group's more than 15,000 members.
The stream got more than 600 views while it was live, and the archived video's views have doubled in the last day.
At Samaritan-run centers, Boysen said, they've taken a four-step approach to addressing the pandemic on a local scale: creating a taskforce, planning for a surge in cases, planning the nonprofits finances responsibly and recovering when the threat can be neutralized.
The efforts of that taskforce were points of pride for Boysen, who said Samaritan Health Services has not laid off any employees — rather, instituting "mandatory absences" across the board, including using up vacation time and some employees volunteering to be furloughed to collect unemployment. Samaritan has also been approved to dialed elective surgeries back up to 50% this month.
"We are only going to do this as long as we can prioritize patient and employee safety," he said.
Boysen also thanked individuals and organizations in the mid-valley for their support, from sending in personal protective equipment like masks and gloves, to food for staff.
"We had an outpouring of donations from our community and that was really helpful," he said.
Boysen added that those efforts and more supplemented Samaritan's ability to not run out of crucial supplies during the pandemic so far.
Brady, an infectious disease specialist with Samaritan, has overseen the taskforce for the last few months.
Recently, "despite us sending a whole lot more tests, double or triple on some days," Brady said, the local healthcare system has seen a lot less cases.
The most recent data Brady presented in the webinar showed that out of 4,285 coronavirus tests Samaritan has administered, only 157 positive results have come back — a less than 4% rate.
"We've been in a plateau of sorts since late March," Brady said. But, he cautioned, "We definitely don't recommend that people stop social distancing and think that they're invincible if that test comes back positive."
Certain Samaritan facilities will continue offering testing to anyone showing symptoms of COVID-19, Brady said, and in-house antibody testing will begin within the next two weeks.
Brady also cleared up questions about medications that have been floated by national officials as potential remedies to the coronavirus, like remdesivir and hydroxychloroquine. He confirmed the former is available to Samaritan patients, while they've been hesitant to use the latter because "there hasn't been a clear benefit."
"All medications can cause harm if they're not used appropriately," he said, "and there's evidence that hydroxychloroquine can do harm."
Social distancing and facial coverings, Brady said, should remain a priority moving forward. This is primarily due to the physics of respiratory droplets. Unlike aerosols — which are so tiny that the virus can linger in the air, like with measles — respiratory droplets fall to the ground much more quickly.
"It is really confirmed that COVID-19 is primarily spread through the droplets route," he said. So, he encouraged wearing face masks and covering the mouth when sneezing or coughing.
These and other current physical distancing measures, he said, will continue to reduce virus transmission rates by around 65%. Until more statewide restrictions are relaxed, though, Samaritan will continue to limit the number of visitors, require face coverings, undergo stringent cleaning procedures and more.
"Nobody knows if there's going to be a second wave or not — even seasoned epidemiologists and officials," Brady said, "so we need to be prepared for that."
Concerned about COVID-19?
Sign up now to get the most recent coronavirus headlines and other important local and national news sent to your email inbox daily.