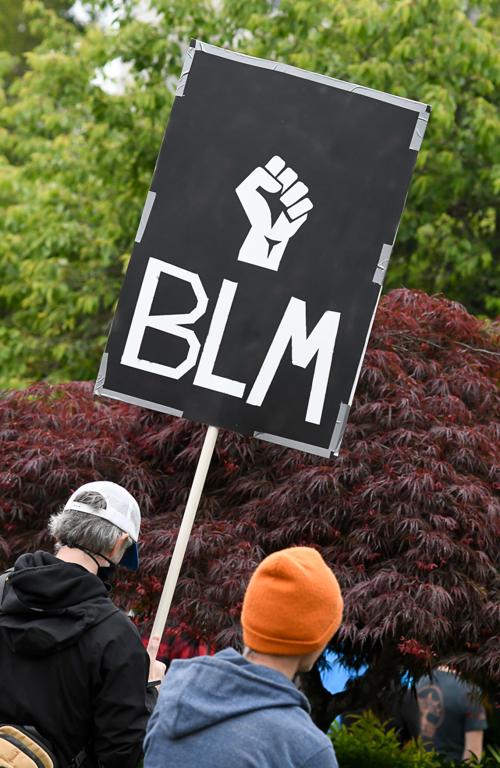 The Corvallis City Council unanimously passed a resolution of support for Black Lives Matter at its Monday meeting.
The 9-0 vote builds on an earlier statement of support for Black Lives Matter, its work and goals, from the Benton County Board of Commissioners.
"This is an important resolution and I will be supporting it and I want to encourage my fellow councilors to do the same," said Ward 8 Councilor Ed Junkins, the lone Black member of the council. "Not all communities will be putting out this sort of resolution."
Ward 5's Charlyn Ellis, who worked on the resolution with Andrew Struthers of Ward 9, said she had researched other resolutions on the matter and "I didn't find any as broad as Benton County's. Councilor Junkins is right that we are one of the few communities who have taken this step and I'm proud that we are doing so."
Black Lives Matter was founded in 2013 in response to the acquittal of Trayvon Martin's killer in Florida. Black Lives Matter Foundation, Inc is a global organization in the US, United Kingdom and Canada, whose mission is "to eradicate white supremacy and build local power to intervene in violence inflicted on Black communities by the state and vigilantes. By combating and countering acts of violence, creating space for Black imagination and innovation, and centering Black joy, we are winning immediate improvements in our lives."
Councilors considered amending the resolution to try to make it clear that the Corvallis Police Department has a "commendable" record in working with communities of color, but they ultimately chose not to rework the resolution.
In other highlights from the two-hour, 12-minute meeting:
• Councilors voted 9-0 on a resolution to support the June 29 order by Gov. Kate Brown that requires facial coverings in indoor spaces in Oregon. The Brown order trumped an earlier Benton County Board of Commissioners resolution that "strongly recommended" mask use.
Several councilors expressed concerns about the lack of mask use in outdoor settings such as parks and the Corvallis Farmers' Market and it seems likely that the council will look at strengthening the resolution at a future meeting.
• Councilors voted 9-0 to restore the community comments section of the twice-a-month meetings effective with the July 20 session. The public testimony period has been absent since March because of the coronavirus pandemic, except for its required use for public hearings.
Comments at public hearings have been taken by phone and that approach also will used for regular council testimony. Community comments at regular sessions will be limited to the first 10 individuals who sign up and those interested need to contact City Recorder Carla Holzworth at carla.holzworth@corvallisoregon.gov by 9 a.m. the morning of the meeting.
• Councilors heard a presentation from the It's On Us Corvallis group, which is raising money to pay restaurants to distribute free meals to community members. The group has received a $20,000 challenge grant, which requires the group to raise the same amount in matching funds. It's On Us is at $9,000 right now and those interested in contributing can go to https://itsonuscorvallis.org/.
• City Manager Mark Shepard noted a series of personnel updates. Public Works Director Mary Steckel will retire at the end of September. City engineer Greg Gescher will be the interim director, with a recruitment to come later. Five candidates are vying for the Parks and Recreation position being vacated at the end of October by Karen Emery. Because of the virus, "meet and greets" with the candidates cannot be held. Instead, short videos of the candidates will be released later this week. Also, Municipal Judge Chris Dunfield will not seek a new term when his current one expires at the end of the December. The City Council will oversee the hiring of Dunfield's replacement.
Concerned about COVID-19?
Sign up now to get the most recent coronavirus headlines and other important local and national news sent to your email inbox daily.