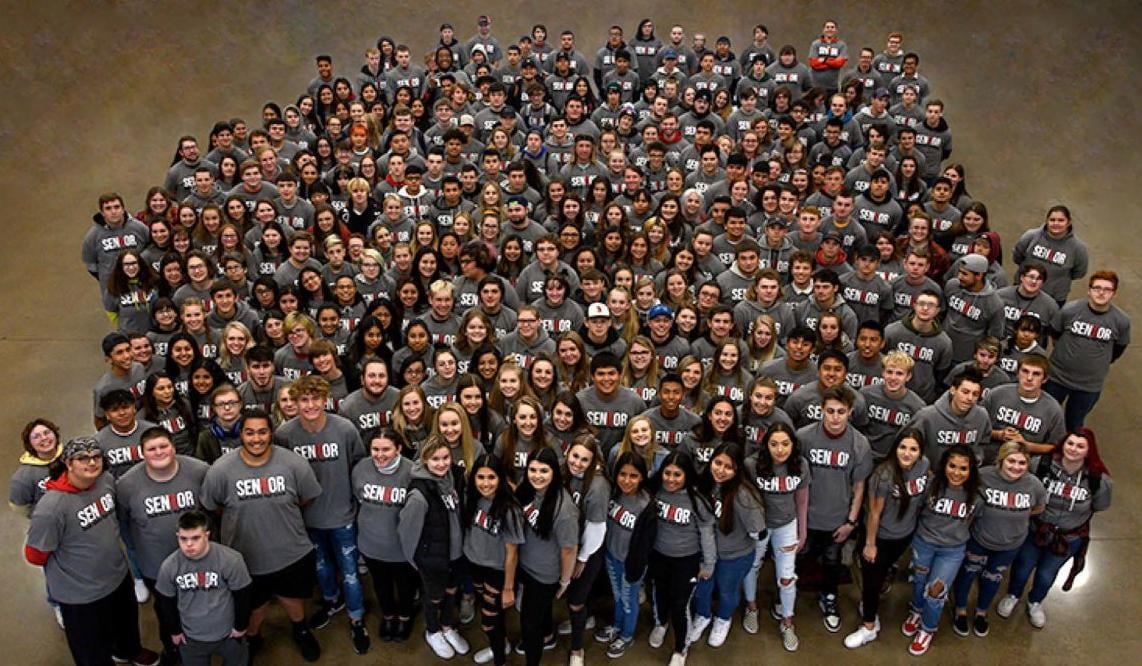 On Aug. 25, South Albany High School students will get the chance to walk across the stage in a graduation ceremony that most resembles what they imagined when they started their senior year.
It won't be the first time the class has lined up collectively to celebrate their senior year. In May, seniors returned to school to collect their caps and gowns and give back textbooks and instruments. The event featured teachers and administrators, music and the school mascot. Seniors were given a copy of the class photo as well.
At the time, South Albany High School Principal Nate Munoz said of the event, "It was wonderful to see our senior students today," he said. "Seeing our students brought so much joy to all of our staff today. Their presence also brought a lot of energy that our campus had been missing. It was wonderful to hand them that class of 2020 lawn sign and congratulate them."
Munoz has since resigned his position and will not be returning to South next year but noted he was grateful seniors will be given the chance at a more traditional graduation.
South Albany High School will hold its graduation ceremony, social distancing regulations permitting, on Aug. 25 beginning at 7 p.m. at RedHawks Stadium.
Candidates
Elijah Alexander Abbott-Vallez, Connor Elijah Adams, Michael Kekaulani Adams, Zurisahi Aguilar, Savannah Makala Marie Meade Alaniz, Paola Alarcon Nuñez, Larrissa Elizabeth Alexander, Irene Alvarado Torres, Jesus Eduardo Alvarado-Velazquez, Megan Nichole Anderson, Claire Christine Angel, Kaydriana Shahaila Marie Argetsinger, Jessica Michele Armfield, Kassidy Morgan Arnold, Deven Encarnacao Arpin, Anthony Arreola Flores, Mary Tere Ayala Velázquez.
Lael Esther Ayers, Jocelyn Geneva Swiers Baker, Katherine Sena Baker, Jeremiah David Balderas, Emma Pauline Bales, Samuel Scott Bangs, Blake Auburn Barbee, Raif Richard Joseph Bartelds, Addelade Mae Bass, Ellen Grace Beasley, Cortni Jaye Bender, Kieley Renée Bentley, Zachary Allen Blackburn, Robert Michael Blair, Logan David Bond, D'Anna Joy Boone, Cierra Lynne Bours, Harmony Hope Boyanovsky, James R Brady III, Taylor Shae McKenzie Ligatich Hannah Adaline Brock.
Lillian Rae Broughton, David James Brown, Deborah Elizabeth Bugge, Emma Kathryn Martinak Jazmin Rene Butler, Carolina Callejas-Gutierrez, Ana Zarina Callejas, Martinez Linda Cangenua, Colton Evan Cardwell, Anna Lee Cox, Christian Kalani Caspino, Marquis Anthony Chambers, Aidan John Chase, Daniela Livier Chavez Garcia, Yuqing Chen, Jaden Dean Christoson, Jason Allan Christoson, Zachary Cristobal Cisneros.
Austin Ray Claunch, Christian Allan Webb, Jordan Edward Claypool, Tasia Marie Clemmer, Andrew Osmond Clinton, Sean Harding Coffey, Collette Rose Conley, Logan Wayne Coon, Elise Joy Cordle, Elvia Teresa Cortes-Nicolas, Alba Daniela Cortez Martinez, Caleb Michael Cosler, Brailey Jaedin Natalie Cramer, Brandon Arthur Crawford, Daric Reynolds Cruse, Daphne Anne De Vaul, Justin Jesus De'Santiago-Martinez.
Josiah Daniel Dedera, Leah Faith DeVyldere, Roque Diaz-Torres Jr., Kristina Louise Duty, Ara Redell Duval, Benjamin Jaimes Engel-Christensen, Juan Carlos Escobar Salazar, Isaiah John Exton, Danielle Luisa Fernanda Fanourakis, Seth Kyler Faulkner, Jazzmyn Jean Ferguson-Gahagan, Alexander Edward Fief, Allison Rose Filley, Itzel Guadalupe Flores, Miranda Ayden Robert Foster, Christian Daniel Fraser, Adriana Evelee Friend.
Alyssia Jewel Fullen, Emanuela Gallotti, Melanie Gamboa Covarrubias, Grace Rene Garber, Lexton Aaron Garber, Bianca Selena Garcia-Ortiz, Justin Froylan Garcia Avalos, Isabella Oriana Garner, Allison Kay Garrish, McKenzee Lee Ghormley, Jacob Sverre Glen, Gabriella Lynn Goodwin, Alyssa Nicole Greene, Zachary Robert Groenig, Valeria Jatzary Guillen Arreola, Megan McKenzie Haile Hunter, Morgan Halstead.
Kaitlyn Rose Hansen, Kimberly Linnette Harless, Caleb Matthew Harrelson, Vanessa Carmille Heffner, Daniel Hernandez-Roman, Evelyn Marie Hersha, Allison Gladah Himebaugh, Alysa Sue Himebaugh, 'Aolani Jenean Hines, Austin Mychael Hines, Natalie Faye Lorene Hogue, Robert Paul Holcomb Jr., Devan Michael Honer, Ashton James Hoover, Pierce Alec Horner, Shiloah Rochelle Hoskins, Rosemarie Rene Howard.
Grace Renee Hubbard, Andrea Velasquez Huerta, Israel Huerta, Carrera Kaylee Reanne Humphries, Cali Makena Hunter, David James Hurst, Fatima Ibarra, Madysen Jaye Jacob, Miranda Jade Jasperson, Jhair Jimenez-Herrera, Abby Lynn Johnson, Gage Rex Jones, Mariana Lisa Wendy Lima Jones, Nathanael Lee Jones, Alisa Kariya, Richard Anthony Kepner, Mason James Kessler, Austin Michael Evans Ketcham.
Triston Xavier Kirk Forrest, Caitlyn Nicole Knautz, Jane Pauline Knecht, Lillian Taylor Koberstein, Gabriel Thomas Krutsinger, Bobby Charles LaDelle III, Jacey Gail Lamb, Karly June Lamere, Grace Christine Larsell, Hans Karl Laufer III, Grace Ann Lawson, HyoLim Lee, Jayce Eugene Lee, Christianna Marie Light, Luz Elena Linarez, Plascencia Michelle Lira Licona, Alexander Brian Lopez, Melia Elena Lopez.
Brissa Isella Lopez-Perez, Sheyla Maggaly Lopez-Perez, Keiri Lopez-Rosel, Sabrina Hailey Luckenbach, Grace Ellianna Luckenbill, Melissa Luis Garcia, Molli Lorena Luke, Anthony Boue Luna, Alaina Paige Lynn, Izayah Marley Marchand, Kara Mae Marks, Kaylee Lynne Marsh, Broklynn Mariya Marshall, Alyssa Etta-Jean Marstall, McKenna Sue Martin, Phoenix Luis Martinez ,Kaedry Justin Mathis.
Victor Cole Maxfield, Morgan Christine Maynard, Brielle Murlyne McCarthy, Kimber Elizabeth McColl, Samantha Marie McCormick, Yvonne Jacqueline McGill, Kenyon Terrell McGlothan, Zachary Stephen Scott McKnight, Destiny Jaide McLaws, Julian Moises Garcia-Medina, Paola Mellia, Chase Damian Mello, Julian Antonio Mendez, Lilith Rose Mendiola, Abigail Santiago Mendoza, Sawyer Otis Mendoza.
Alicia Itahi Mendoza-Ramirez, Aaron Mendoza-Ramirez, Arthur Benjamin Protacio, Mercado Katie Marie Middleton, Cobus Lynn Miller, Cole Davis Miller, Joshua Michael Miller, Megan Marilla Miller, Rose Marie Miller, Josephine Lauryn Mitchell, Sandra Maria Montes, Titus Don Morgan, Emma Elizabeth Morris, Mathew Allyn Lee Morris, Theodore Leroy Moyer, Zachary Wyatt Mrgudich, Trey Nathanial Mulrooney.
Ciarra Raylene Muñoz, Allen Christopher Narvaez, Nestor Miguel Narvaez, Tien Hoang Ngo, Hailey Danielle Nicholson, Logan Matthew Nord, Summer Joy Ohling, Karla Ivette Ortega-Montenegro, Angela Jackelyn Ortiz, Sonia Ortiz Cortez, Leann Xitlaly Ortiz-Salgado ,Ivan Ortiz-Torres, Scarlet Salome Osorio, Hayden Khrysdabyn Page, Fernando Palencia-Rosel, Celeste Palma-Zavala, Joshua Edward Parks.
Chase Matthew Paulhamus, Anthony Daniel Peraza, Raúl Jovanny Pérez, Luis Ernesto Perez-Hernandez, McKenna Lyn Platt, Kashanti Vaunrea Price, Katelynn Ann Prouty, Brithani Ramirez, Corry Allen Ramirez, Sandy Ramirez Alvarado, Harlan Alexander Ramos, Phoebe Kay Reason, Carlos Reyes-Aviles, Carlos Alejandro Reyes-Silva, Hannah Irene Cook-Rezanow, Pippa Josephine Richardson, Kylie Nicole Nixon.
Victor Ivan Aldape-Rios, Jayden Gabriel Taylor-Rodriguez, Parker Kole Romviel, Gabriel Colin Rose, Chiara Marie Roskelley, Shawn Floyd Rowberry, Kaya Harley Rowland, Jordan Kyle Rowlee, Joseph Daniel Ruschiwal, Abby Jane Sadowsky, Maria Tania Salazar-Rivera, Maria De Los Remedios, Chavez Salcedo Makayla Yavonne Samson, Tatiana Lynaé Samson, Courtney Marie Sanders.
Jaime Santos Sanchez, Deagen Jae Schaeffer, Noah Gabriel Schauf, Blake Jordan Schertz, Michael Anthony Schmidt, Drayden Amari Schmidtke, Isaiah Tabyn Schneider, Kyle Jacob Schoonover, Ashlee Nishelle Schroeder, Jack Henry Schuler, Emily Louise Sears, Joseph Manuel Serrano, Grace Elizabeth Sitton, Austin William Smith, Benjamin Scott Snider, Katelyn Aaron Spahn, Merideth Linda Sprinkel, Kenneth Wayne Barney Jr., Kayla Joy Mitchell.
Joseph Tyler Stevenson, Hannah Nicole Stocker, Angelina Rose Mirie Street, Devin Joseph Strehle, Guerrero Parker Owen Strong, Madeline Rochelle Stumpff, Kaylee Elizabeth Sufficool, Kaléo Lé-Imanu Jose Tokuo Sugioka, Willow Linda Liann Swope, Noah Norman Tagen, Brady Westley Tappana, Aaron Stephen Teifel II, Carson Ford Templeton, Kimberly Jane Terrones, Jacob Michael Thompson.
Nadalee Kayanna Thompson, Dakota Patrick Thurman, Ian Patrick Thwing, Ian Robert Todd, Nicole Leigh Todd, Knightin Alexandre João Tomaz, Adriana Torres, Evelyn Torres, Sara Torres-Gallardo, Sequoia Savanna Truesdel, Sean Hikaru Tucker, Skylar James Albert Loyd Tuhy, Coltin James Turner, Francis Sidney Uribe, Anna Marie Vails, Alexis Valencia Sandoval, Ethan Scott VanDelinder.
Michael Justin Varner, Christopher Vega-Deleon, Abelardo Vera Torres, Tiberius Lyn Vergara, Morgan Ashly Marie Walsh, Cordelia Anne Wells, Matthew Scott Wells, John Howard Whitehouse, Trinity Renee Heward, TaraLynn Nicole Williams-Vasilie, Nathan Joshua Witherspoon, Jeremiah Dean Wohlgemuth, Kohl Alexandar Wolf, Alistair Nathraichean Duncan Woods, Preston Michael Woods.
Ty'Barious Contrell Worthen, Adrian James Conner-Yother, Nathaniel James Young, Sariah Michelle Young.
Concerned about COVID-19?
Sign up now to get the most recent coronavirus headlines and other important local and national news sent to your email inbox daily.