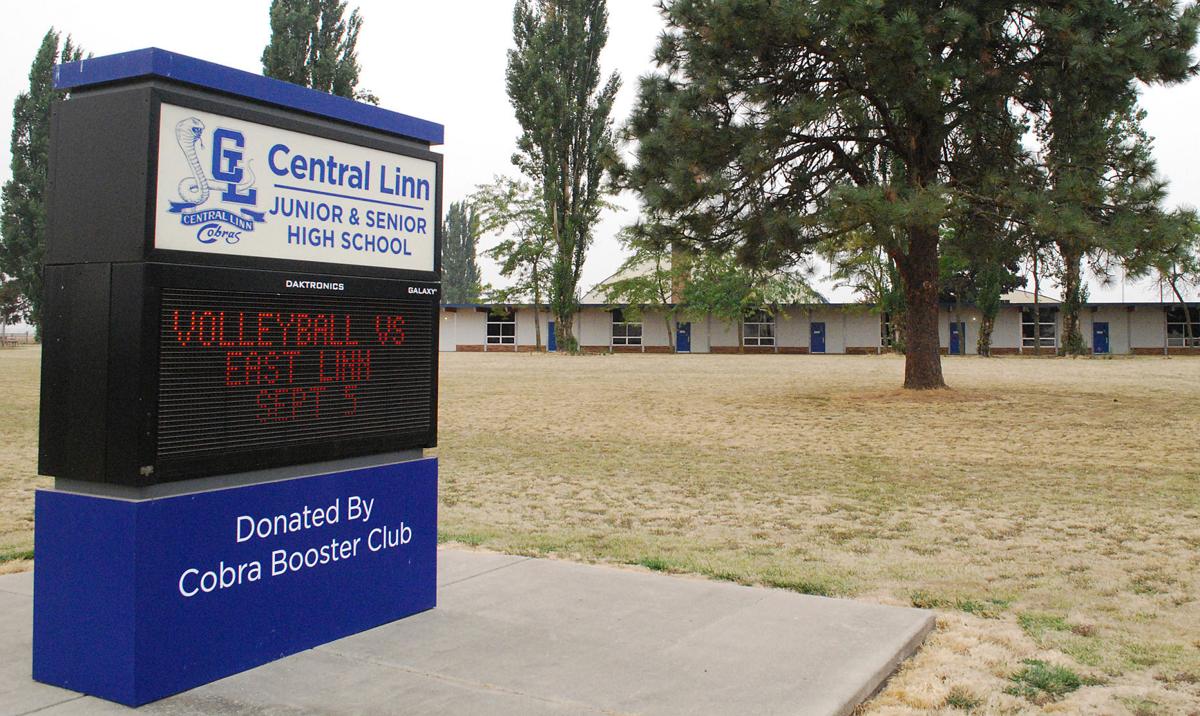 HALSEY — Voters in the Central Linn School District will be asked to approve a $28.95 million bond measure this November to construct three new school buildings on the high school campus.
Measure 22-168, filed earlier this week with the Linn County Courthouse, will go before voters on Nov. 7. If approved, the money would be used to construct three new buildings to house all Central Linn students in one location.
One building would house grades preschool through fifth, one would house grades 6-8 and one would house grades 9-12. The three structures would be separate, although likely would share facilities such as gyms and a library.
Taxpayers would pay an estimated $1.72 per $1,000 of assessed property value. A person with a home valued at $150,000 would pay about $258. The measure is for 30 years.
Stacey Meneses and Brian Tenbusch are co-chairing a political action committee, Yes for Central Linn Schools, in favor of the bond. A website should be live by Monday, Meneses said.
In addition to the new buildings, bond money would be used to replace the current Central Linn High School track and make repairs and improvements to the football field and stadium.
The bond would pay to turn the current Central Linn Elementary School in Halsey into a bus and maintenance facility. If possible, the idea is to save the elementary gym and lobby and keep them open for community use, Meneses said. 
The front facade of the building is a concrete wall and might also be able to be saved, Meneses said, so the "face" of the school could be preserved even if it's no longer used for classes.
It's unclear what, if anything, might be able to be saved at the high school site, Meneses said. Probably not the gym, she said, but maybe the FFA greenhouse.
If voters approve the request, this next year will be spent on planning and permits, with groundbreaking the following year, Meneses said. "Ideally, if everything went smooth sailing, I think they could start summer 2019."
Right now, she said, the plan is to build the three new structures on the northwest corner of the high school's 40-acre site, so classes can continue in the old building during construction. Architectural designs should be available sometime next week.
You have free articles remaining.
Architects working on the plans are from Leland A. Gray Architects of Salt Lake City, Utah. The firm specializes in thin-shelled concrete domes and is the same firm working on plans for the new bond-funded middle school in Jefferson.
Meneses said her own reaction when she heard Central Linn might pursue dome structures for new construction was, "Huh, that's a little bit odd." But people she talks to, she said, are withholding judgment until they see pictures.
Overall, however, she said, the structures are supposed to be more energy-efficient, cost less and safer in cases of strong winds and earthquakes.
Voters turned down a similar bond request for $32.1 million in May 2016. Meneses said she thinks voters didn't have enough information about what was being requested.
"Since that time the school board and the district has done a lot of research, they've done focus group surveys, they've done town hall meetings to say hey, what does the community want and how are we going to solve these problems?" she said. "The biggest cry we found from the community … is, we want more detail."
This time around, she said, supporters have been working for a year and a half to gather information. With an architect on board and designs coming out next week, "We're ready to go," she said.
Parents also said they were unsure about having all grades at one site during the last bond campaign. Some also objected to losing the school in Halsey.
But Meneses said the three age divisions will be kept in separate buildings, for the most part, so kindergartners and high school students won't be sharing hallways. She said she understands the tie to the building in Halsey, but parts will still be open to the community, and the high school campus is only about a 2-mile drive.
Meneses herself has children in first and third grades this year, and a preschooler at home. Even if it means a short drive, she said, she wants to see a school stay in Central Linn — not a guarantee if buildings keep deteriorating.
Central Linn Junior-Senior High was built in 1958 and the elementary school was built in sections between 1938 and 1970. Past studies have indicated problems with roofs, boilers, windows, wiring, heating, plumbing and other physical structures at both.
Voters last agreed to a $2.4 million capital improvement bond measure for the district in 1996. 
"I want to have a school here in our community. I don't want to have to go to another town," Meneses said.