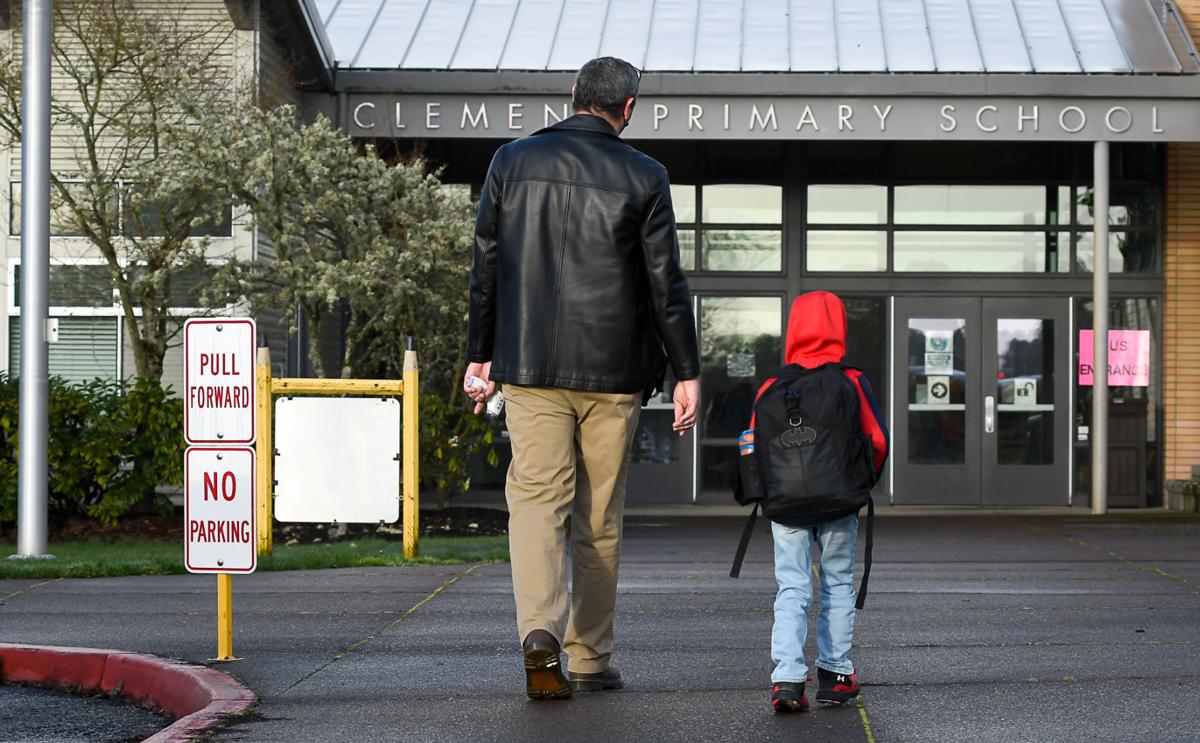 A year after shutting schools down to in-person learning, Gov. Kate Brown announced on Friday that all schools must be open to in-person learning for all students by April 19.
"Whether or not public schools should return kids to the classroom this spring is no longer up for discussion," Brown wrote in a letter to the heads of the Oregon Health Authority and state Department of Education.
The move signaled a stark turnaround from the last about-face by the state, which suddenly ended the compulsory nature of the state metrics guiding reopening in December. At the time, Brown stated: "Moving forward, the decision to resume in-person instruction must be made locally, district by district, school by school."
The letter was released Friday in conjunction with a statement from the governor's office that notes all public schools must have universal access to in-person learning for grades K-5 by the week of March 29. Grades 6-12 must follow by the week of April 19.
According to the state, about 700 schools are currently operating in person but the majority of Oregon schools are still offering only comprehensive distance learning or a combination of both.
But the new directive leaves some important points unclear.
According to the statement released by the state, students can opt into comprehensive distance learning, but the governor's letter says that CDL can only be offered under "defined circumstances." It noted CDL can be offered to individual students if it is necessary for the students' health and safety or if COVID-19 rates in the county rise again. No further guidance was included concerning CDL.
Both OHA and ODE, Brown said, have been directed to release more guidance on the new rules by March 19.
Support local news coverage and the people who report it by subscribing to the Albany Democrat-Herald.
In the mid-valley, schools are either back to operating under an in-person hybrid model or have plans to begin soon under the previous state orders that mandated students be brought back in phases. Much like Brown's December announcement, it is unclear how districts will be impacted, what constitutes compliance and how timelines will be affected by a lack of clarity from the state.
In Corvallis, all students will receive comprehensive distance learning in the morning before students who choose to do so transition to in-person learning.
Superintendent Ryan Noss noted that the governor's announcement allows students with health concerns for themselves or their families to remain in CDL. But in Corvallis, any student who feels more comfortable remaining in CDL will be permitted to do so.
"We had about 1,200 students who were not ready to return to a classroom," Noss said, going on to note that, for the most part, Corvallis' schedule aligns with the governor's.
If the district's plans had not fit so neatly with Friday's announcement, Noss said, "it would have been challenging" to shift the timeline with little notice.
Kindergarteners head back to classrooms on Monday with grades 1-3 following prior to the March 29 deadline. Grades 4 and 5 were set to come back in April, after Brown's March 29 mandate.
Noss said the district will wait for additional guidance from ODE on its timeline and whether or not it will be considered in compliance.
Greater Albany Public Schools' board-approved timeline planned to have students who opted to return to in-person learning go back to classrooms between March 29 and April 19, in line with the new state mandate. However, that plan utilizes a hybrid model that also allows students to stay in CDL if they want.
"Fortunately, in GAPS, our current plans align with the governor's timeline," GAPS Superintendent Melissa Goff said. "We appreciate the ongoing collaboration of our staff as we implement plans for expanding in-person learning for students who choose to come back to our schools. We are thrilled to have them returning so soon."
Citing current science, Brown stated that her decision was based in part on the fact that transmission rates have dropped and teachers have been given the opportunity to be vaccinated.
It was unclear, as of Friday, what additional requirements would exist for students to return to in-person learning or whether existing requirements would remain in place.
"I feel so much hope for Oregon's kids, their parents and their schools as we continue to navigate this pandemic," Brown said.