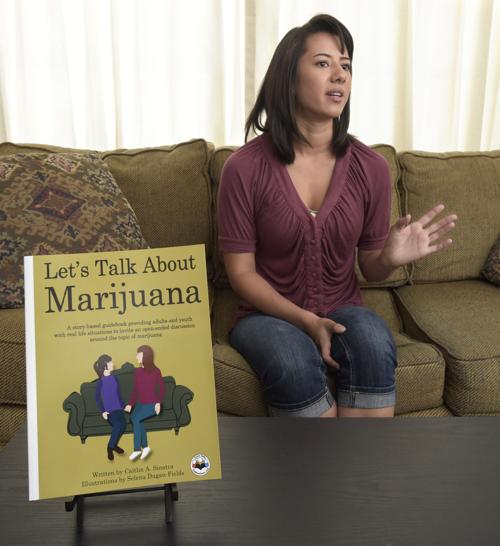 Growing up, Caitlin Sinatra remembers her parents telling her, in no uncertain terms, not to use tobacco or alcohol.
She doesn't remember any kind of similar conversation about marijuana, even though, she later learned, her father used medical marijuana in his battle against kidney cancer. 
"It was as if marijuana didn't exist," the 22-year-old Albany resident said.
With recreational marijuana use now legal in Oregon and school gearing up to start again, Sinatra is trying to make the conversation she never had into a reality for other families.
Her self-published children's book, "Let's Talk About Marijuana," sets the stage for open-ended discussions with children about marijuana, peer pressure and drugs in general. 
Priced at $9.95, the book is available online from Amazon.
The conversations center around the experiences of Mary Jane, who comes home from her first day of sixth grade upset because she has been teased about her name. 
That prompts a talk with her mother about the various nicknames given to marijuana, and leads into a deeper discussion about the drug itself.
Recreational marijuana wasn't legal in Oregon when Sinatra began working on the book, but the central message is the same regardless of the legal status of the substance, she said. 
Sinatra is firm on two particular points: Marijuana should not be used by children or teenagers, and no one should never drive impaired or get into a vehicle with an impaired driver.
Otherwise, however, because readers might be at different ages developmentally and families have different perspectives on marijuana, Sinatra said she was careful to keep her own opinions out of the story.
Instead, she offers "Let's Talk" points, such as, "Developing a safety plan to avoid risky situations," followed by a more specific prompt: "What can you do if you are being peer-pressured into using marijuana or other substances?"
"Ultimately, the goal of this book is to prevent adolescent substance abuse and use," she said.
Sinatra grew up in Bend and just wrapped up her bachelor's degree at the University of Oregon in Family and Human Services.
While at college, she did an internship at a Eugene elementary school. She also volunteered as a reader for the SMART program and worked at a medical marijuana dispensary in Corvallis.
At the dispensary, she often heard from patients who were struggling to talk to their children about marijuana. At the elementary school, she grew familiar with the storytelling rhythm of children's books.
One book in particular, which explored moral dilemmas, gave the reader multiple-choice questions about certain scenarios. Sinatra liked the setup but not the multiple-choice answers. "That, I felt, was so limiting," she said.
Instead, she began thinking about a children's book that would let the adult and child come to their own conclusions. And she figured if she didn't write that book, somebody else would — "and I'll be kicking myself for the rest of my life," she said, laughing.
Sinatra found an illustrator through an online ad and used online programs through Amazon to self-publish her material. It took about 10 months from start to finish.
She plans to pursue a master's degree in social work through Portland State University and, eventually, to write other children's books about potentially taboo topics, such as death and divorce.
To that end, Sinatra has begun a website — www.LetsTalkPublications.com — where parents can share tips and tricks on how they broach tough subjects.
Children's books have the power to prompt those conversations, she added. "Let's create a children's book that will help make the world a safer place."
Get local news delivered to your inbox!
Subscribe to our Daily Headlines newsletter.