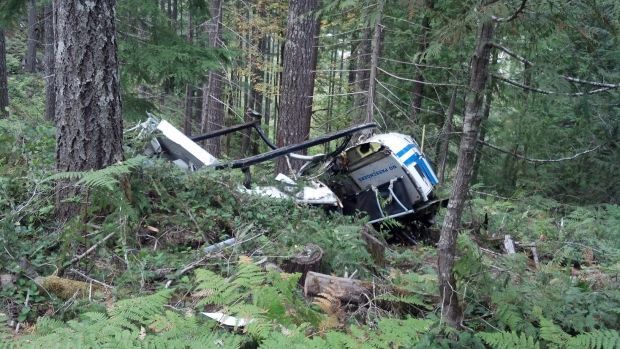 A pilot featured on the television show "Ax Men" was killed in a helicopter crash in east Linn County near Detroit on Monday afternoon, and the wreck is being investigated by the National Transportation Safety Board and the Federal Aviation Administration.
William Bart Colantuono, 54, of Indialantic, Fla. was transporting timber from the cutting area to a log deck in Idanha, according to a Linn County Sheriff's Office news release.
Witnesses heard a snapping sound which was followed by logs hitting the ground. It appeared Colantuono knew of a problem prior to the crash and released the timber electronically.
The news release states that witnesses saw a rotor separate from the helicopter, followed by the aircraft turning upside down and falling to the ground.
Colantuono was the sole occupant of the aircraft and was pronounced dead at the scene.
The incident occurred on national forest land, near Forest Service Road 1003, about two miles from Highway 22. It was reported to the Sheriff's Office at 3:42 p.m.
Linn County deputies had the crash scene secured on Tuesday as the FAA conducted an inspection.
The helicopter was owned by Umatilla Lift Services, also from Indialantic, Fla. Umatilla Lift Services was subcontracted by R&R Conner Aviation from Darby, Mont., to fly logs from the site for Freres Lumber Co. in Mill City.
Colantuona is a former Navy pilot who worked for R&R Conner Aviation and was featured in season two and three of the History Channel show "Ax Men," according to R&R's website.
"Bart sees heli-logging as a not-so-virtual reality game, in which he competes against the weather, the machine and himself," the History Channel website states. 
Colantuona has four children and was engaged to be married, an R&R representative said. The representative declined further comment, saying the company wanted to respect Colantuona's family.
The helicopter crash was the fifth aircraft crash in Linn County in the past 12 months, according to FAA data.
In the last five years, that's nearly half the total of 11 crashes in Linn County, according to the agency.
Only one of the other crashes in the last year was fatal, however. On Nov. 26, 2012, Jeff "Tebo" Kropf, 45, of Halsey, and Timothy Dean Carter, 46, of Portland, were killed when the experimental airplane they were in tumbled from the sky near Crabtree.