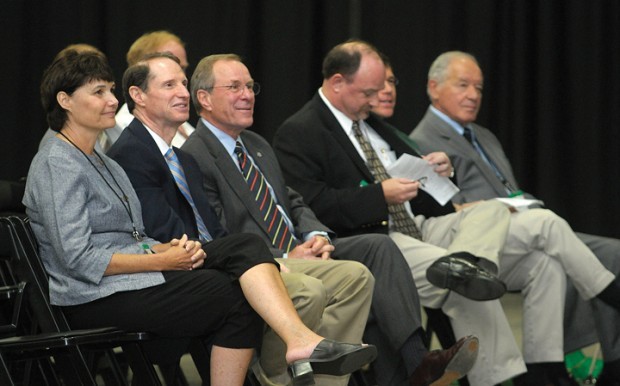 Oregon Freeze Dry President Herb Aschkenasy was envisioning full capacity.
"This will not be an empty building before too long," Aschkenasy told a large crowd of state and local dignitaries Tuesday.
Aschkenasy was speaking to a gathering celebrating the partnership of Oregon Freeze Dry and Seattle-based technology firm EnerG2 at the dedication of the 74,000 square-foot former distribution center.
By 2011 the cavernous hall will house a new manufacturing facility to produce a carbon electrode material providing greater power storage capacity for electric vehicles.
"There have been a lot of hard working people involved in this project," Aschkenasy said. "In succeeding we will help our community, our country and even the world."
Federal stimulus money totaling $21.3 million was instrumental in bringing the project together.
A series of speakers including Gov. Ted Kulongoski, and Sen. Ron Wyden praised the joint efforts of the companies and their collaborative work with the federal government in bringing the project to Albany.
Total cost is expected to be $28.4 million with the two companies pitching in for the additional funding.
"I fully expect this will come in on time and under budget," said Rick Luebbe, CEO of EnerG2. "We have no choice. The budget is firm."
Aschkenasy said the project will broaden the application of Freeze Dry's technology.
Kulongoski called it a prime example of Oregon becoming a pacesetter in green technology.
"Oregon Freeze Dry's expertise is a big reason we're here today," he said. "The innovation these companies bring addresses one of the most serious issues we're facing in our lifetime – energy independence."
The governor called it a blueprint that sets the standard for the electrification of our transportation system.
Mayor Sharon Konopa welcomed the new venture to town.
"We're very proud Oregon Freeze Dry is in Albany and grateful this project is coming to our community," she said. "We need it."
Luebbe predicted 50 construction jobs will be needed to build the facility and the finished project will add 35 full-time jobs. Two managers have already been hired from the local area. He said the two companies have complemented each other.
"We're new to manufacturing and Oregon Freeze Dry knows what they're doing," Luebbe said. "The partnership is very important to us."
Be the first to know
Get local news delivered to your inbox!