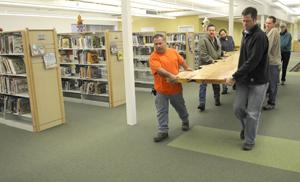 It took eight people Friday to carry into the Albany library the 19-foot, 500-pound Oregon big leaf maple slab that will be part of an Arbor Week display.
"We're putting the slab at the library to show the importance and benefits of trees in the community," said Mark Azevedo, a North Albany resident who helped prepare the piece. The slab will be on display for about a week in the garden room at the library, 2450 14th Ave. S.E.
The maple was donated by Starker Forests Products. It had been destined for a pulp mill but instead ended up at the Kenagy family farm on Nebergall Loop in Albany. There, the tree was allowed to dry for two years.
A board from the tree went to Albany Cabinets for a superficial sanding. Azevedo and the Kenagys then did the finish work.
During Arbor Week, April 5-11, several activities will take place in Albany and Corvallis. Here is a list:
At 2:30 p.m. Sunday, five Oregon white oaks will be planted at Legacy Forest in Lexington Park, 3000 21st Ave. S.E., to celebrate the state's 150th birthday, which was Feb. 14. Azevedo will speak about the Oregon white oak and the pre-pioneer settlement landscape, and historian Jerry Brenneman will talk about the early settlement of Albany.
Mike Doolittle of Logs to Lumber, Inc. will have a portable sawmill at South Albany High School from 8 a.m. to 3:30 p.m. Monday and during the same hours Tuesday at West Albany High School. Hardwood logs will be milled into lumber for woodshop students.
Anyone interested in learning about trees on the Oregon State University campus can take a free bus tour that starts at 10 a.m. Wednesday at the Albany Seni0r Center, 489 Water Ave. N.W. Participants can bring a sack lunch or eat at the Memorial Union.
Tourgoers will return to Albany to board a trolley with Dick Miles of the city's tree commission to visit Albany's Heritage Trees.
Urban Forester Craig Carnagey and Vern Esplin of Buena Vista Arbor Care will present a tree-care workshop along with a tree lottery giveaway from 6:30 to 8:30 p.m. Thursday at the senior center.
Throughout the week, elementary school students will study the watershed features and native plants at Simpson Park, 778 Waverly Drive N.E. in Albany.
For the 15th consecutive year, the Arbor Day Foundation has named Albany a Tree City USA. To qualify, a city must have a tree oversight board, a tree-care ordinance, a comprehensive community forestry program and an Arbor Day observance and tree proclamation.
Oregon State Urban Forester Paul Ries will present the award at 7:15 p.m. Wednesday at the Albany City Council meeting at City Hall.