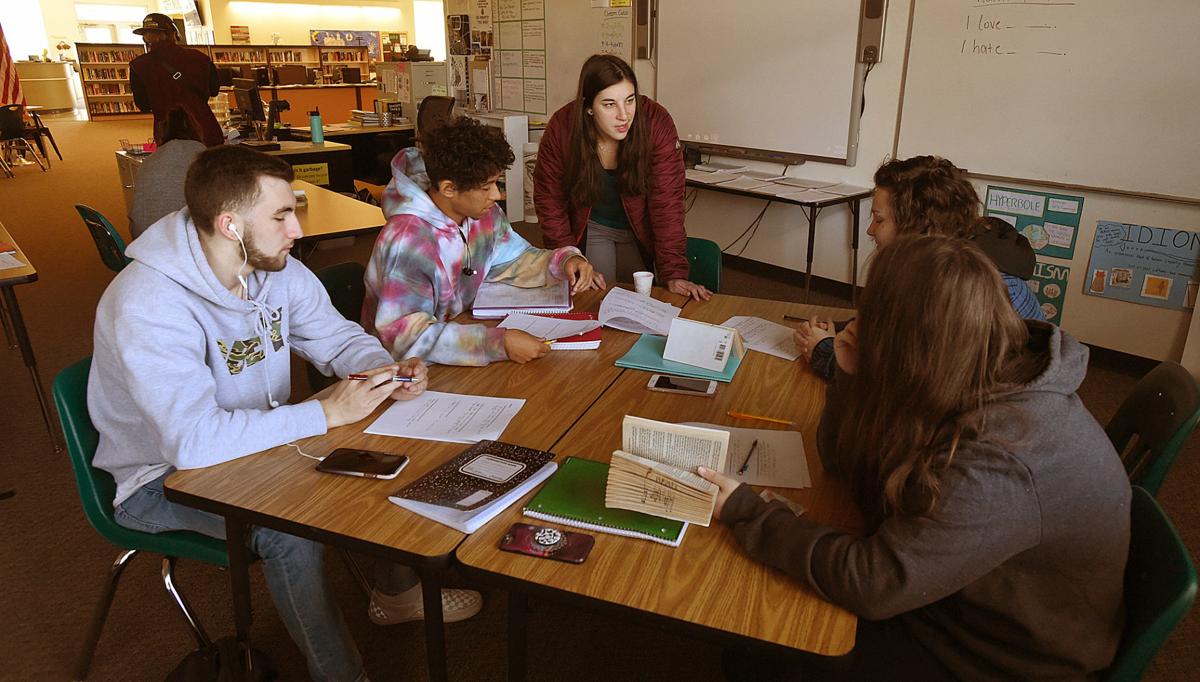 There's something new at Albany Options School. It looks different in every classroom but it's having the same effect for the school overall — a decrease in the number of failing grades.
"It's the least number of F's we've had since we started tracking the data," said AOS counselor Anna Harryman of the school's first six-week grading period this year.
The accomplishment is being attributed, at least in part, to a new framework for teachers called Quality Teaching for English Learners, QTEL.
While correlation doesn't necessarily mean causation, AOS teachers and administrators said QTEL is a big part of why students are passing classes and being more engaged overall.
It works a little differently in each classroom, but the basics stay the same: a group of four students sit together and work through the lessons. Talking is encouraged. So is asking questions.
"Students are working together to make meaning of the content instead of doing it in isolation," said Jessica Dionne, the English Language Learner  school support specialist for AOS.
QTEL is framed for students who speak English as a second language or for students who are still learning the language. At AOS, 30% of the student population identifies Spanish as its first language.
Harryman said QTEL doesn't just help those students, however. "If we're reaching students who English is their second language," she said, "then we're also reaching students who have had trouble with their language skills."
Harryman said the QTEL framework has organically helped with attendance: when students don't want to be called on by the teacher, they sit in the back of the room and hide or avoid class altogether by skipping the lessons. QTEL has eliminated that anxiety.
Students approach a lesson as a group. In some classes that might mean making a poster of key points in a novel. In others, it could mean working through an algebra problem together. Then, with one voice, the group offers its work to the class as a whole.
"There is some ownership of the answer," said teacher Holly Mitchell, who added that the ownership comes without being put on the spot as a single student.
For English Language Learners it means they can practice their language skills in a smaller group before speaking to the larger class. If they opt not to speak to the larger class, then they've still done the class work within their group.
"There's a task for everyone," Dionne said. "It's not like group work, where you get a part and you can space out until your part comes up. Everyone is engaged for every part. There are multiple entry points for them to take part."
QTEL relies on groups of four, she added, because it's not "too many" in a group and the number lends itself to breakout groups of two.
Teachers at the school, including Mitchell, have noticed a difference and AOS has doubled down on the effort. Principal John Hunter has devoted 50% of staff meeting time to QTEL professional development. It comes on the back of a staff trip to San Francisco this summer to learn the framework. During the five-day conference, all of the school's certified staff received training in QTEL.
"We had enough funds to support staff," said Heather Huzefka, the federal program administrator for Greater Albany Public Schools. "We selected AOS because of their previous work. This was the next level of professional development they were ready for. If you really look at the success rate of AOS, that's due to the staff's focus on their students' specific needs."
According to Huzefka, the framework of QTEL is, at its core, about teaching teachers how to reach every student, and she said the way it's been embraced at AOS means greater successes for its students.
"QTEL-ing is a verb around here," said Dionne. "It's not something we have, it's something we do."