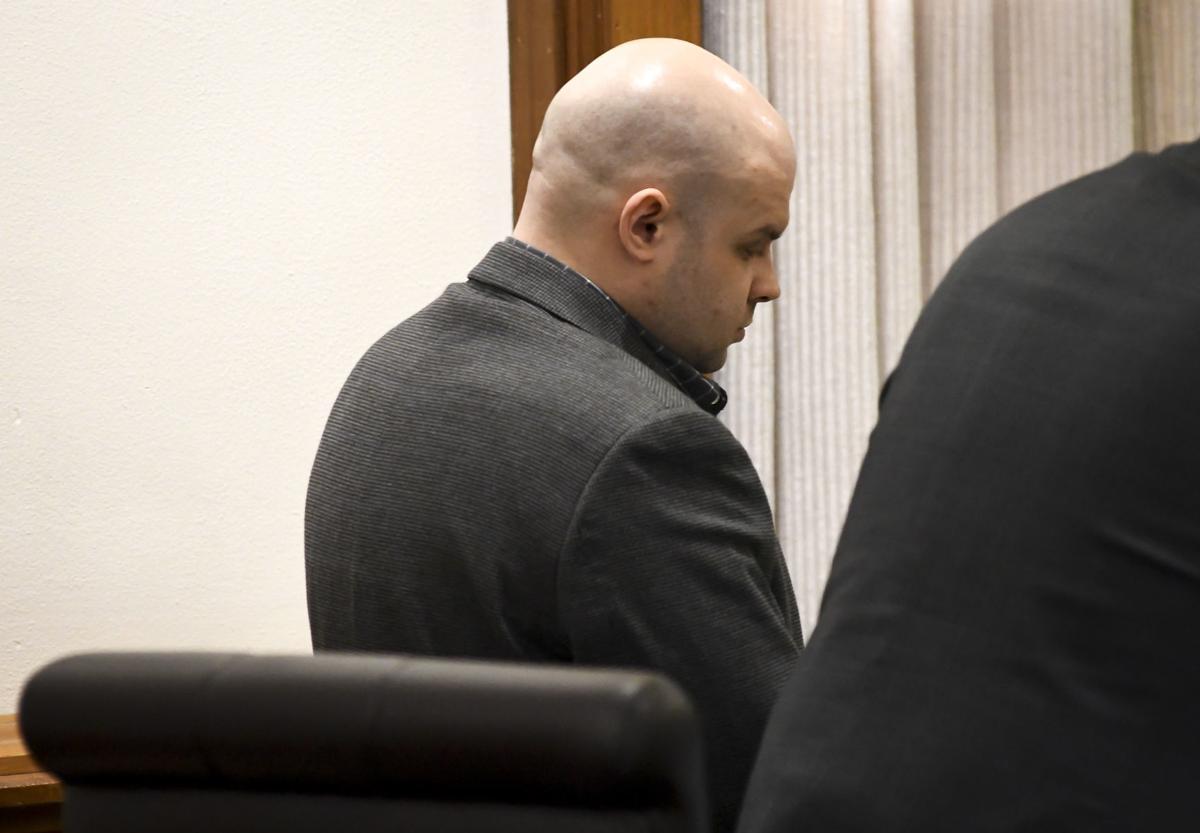 An FBI forensic expert testified in Benton County Circuit Court Friday that the DNA of a man accused of murder was found on a gun in his vehicle.
William Chase Hargrove, 29, is on trial for allegedly murdering his fiancé Anna Repkina, who had moved to Corvallis from Russia in March 2017 to start a life with Hargrove. Less than two months after she came to the United States and moved into an apartment with Hargrove, she was found dead of a shotgun blast to the head along a logging road near Alsea.
Prosecutors said Hargrove killed Repkina to placate his married lover, Michelle Chavez. Hargrove's attorney has argued Chavez is the real killer. Chavez, who moved from Albany to Watertown, New York after Hargrove's arrest, testified in court last week that she asked Hargrove to get rid of Repkina, but she wanted him to send her away, not kill her.
On Thursday, FBI experts described finding a Mossberg Maverick shotgun in Hargrove's Nissan Xterra. On Friday, Brandon McCollum, an FBI forensic examiner, testified about blood and DNA testing he performed on that gun and its case.
McCollum said the gun had two stains on it that tested presumptively positive for blood in initial tests, but he said the stains were so small he had to make a decision to use the stains to perform DNA tests rather than perform testing that would definitively confirm the stains were blood.
He said testing found some DNA, but the amount was so minimal that it couldn't be conclusively matched with any of the DNA samples he compared it to, which included samples from Hargrove, Repkina, Chavez and Kevin Thomas, a friend of Hargrove's who loaned him the shotgun.
McCollum testified that he also did swabs of the grip on the bottom side of the gun and part of the stock of the gun. He said those areas aren't good locations to find fingerprints, but their texture helps them retain DNA. He said that test turned up DNA from three people and his comparisons suggested Hargrove was likely one of the people. McCollum said it was 4.3 million times more likely that the DNA was from Hargrove and two other people than from three random people.
"It is an extremely high likelihood he contributed DNA to the gun," McCollum said.
He added that Chavez was excluded as a possible source for the DNA found on his swabs of the gun.
McCollum said the gun's case had a stain of interest on it, which also tested as presumptively positive for blood. He said again, he chose to do DNA testing rather than consume the material of the stain to confirm it was blood. McCollum said there was DNA from one person found, but the source was inconclusive.
He said he also did a swab of the handle of the gun case and found the DNA of three people. Hargrove, Repkina and Thomas were all likely sources for that DNA, he said, and Chavez was excluded as a source for any of the DNA found by the swab.
In his cross-examination, Mike Flinn, Hargrove's defense attorney, asked if it was possible for someone to handle something without leaving detectable amounts of their DNA on it.
McCollum said that it was possible for someone to handle something and not leave enough DNA on it for forensic tests to be able to detect it.
A forensic firearms expert also testified Friday that five shotgun shells found in Hargrove's car were fired from the Mossberg Maverick also found in the vehicle. Other witnesses Friday included neighbors of Hargrove and Repkina, who testified they were concerned about Repkina because she was often left alone in the apartment.
Judge Matthew Donohue told the jury that he'd recently conferred with the attorneys for both sides in the case to check in on the progress of the trial. He said he wanted to make sure the state and defense both had enough time to present their cases and still leave the jury with enough time to deliberate, which might not be possible by the trial's originally scheduled end date, Nov. 22. He asked jurors if they would be available for the trial to stretch past its originally scheduled end date.
The jurors raised their hands, indicating they were available, so Donohue asked them to be prepared for the trial to stretch until Nov. 25 and 26, the first two days of the week of Thanksgiving.
Anthony Rimel covers education and crime in Benton County and weekend events across the Mid-Valley. He can be reached at anthony.rimel@lee.net or 541-812-6091.
Get local news delivered to your inbox!
Subscribe to our Daily Headlines newsletter.