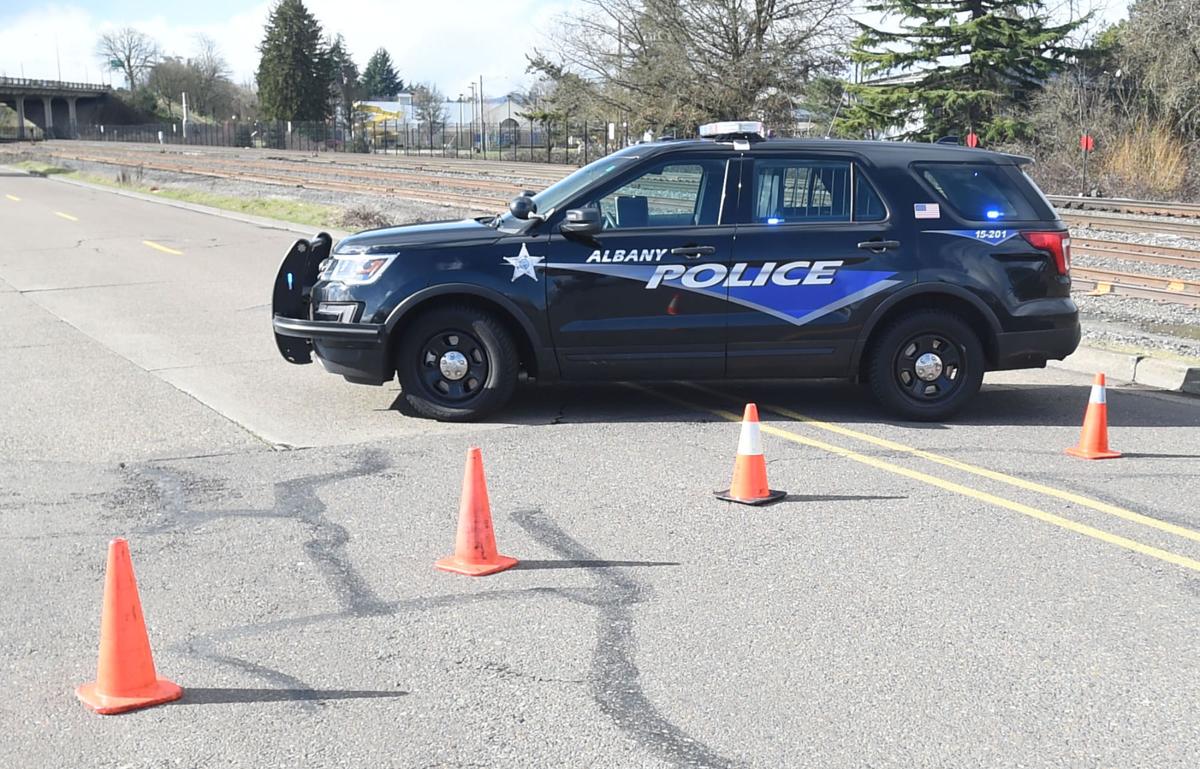 On Monday, the Albany Police Department informed the City Council via email that a bias incident had taken place and an arrest had been made. The email stated that Officer Craig Hooper responded to a neighbor dispute and arrested the suspect, who was later identified as Joshua Grigo and has been charged with disorderly conduct and a second-degree bias crime.
But according to the victim, and his security camera footage, that's not the complete story.
"He (the officer) told me to grow up, basically," said Armando Young, who called 911 on April 9 and told a dispatcher that his neighbor, Grigo, had  threatened his life over a dispute between their children, aged 2, 7 and 9.
On home security video reviewed by Mid-Valley Media, Officer Hooper can be seen approaching Young on April 9. Young states that he has been having a variety of issues with Grigo and says that Grigo threatened his life and his children's lives. He tells Hooper that the incident was caught on camera.
"I just don't know what it is you want me to do," Hooper says.
Young asks that Grigo be told to leave the family alone, inquires about a restraining order and continues to tell Hooper he feels threatened and unsafe.
"I mean, it's going to be hard to get a restraining order because you all are neighbors," Hooper says. "We just all have to act like adults."
Young goes on to repeat that he's being threatened, asking if there's anything that can be done, and a neighbor standing close by notes that a child was threatened as well.
"There's nothing I can do," Hooper says. "I wish there was a point where I could get involved and help you guys, but unfortunately we just have to be adults, right?"
Hooper notes that he understands and respects Young's concern and acknowledges that there has been an argument "over something."
At no point does Hooper ask for details about the incident or ask to see the video.
Hooper tells Young that he himself has had a disagreement with his neighbor about a dog barking. Young tells him this incident was different — Grigo had "gotten in his face" and threatened him.
Hooper informs Young he will speak with Grigo but again notes that all parties need to "be adults" and suggests that if Young doesn't feel safe, he may need to consider his living situation.
Grigo was not arrested on April 9.
"When my husband got home, I told him and he said there's no way, and so we called the police again," Young said. "I just wanted clarification because I looked up harassment and menacing and that's what happened to me, so I wanted to understand why he (Hooper) just blew it off. Was I understanding the definition wrong?"
Young called the department at least two more times. Eventually, he spoke with a sergeant.
"Armando said we were getting an attorney, and then they sent someone back out," said Young's husband, Eli Fernandez.
Hooper returned on April 10.
On home security footage, Hooper can be seen apologizing at least three times.
"I just want to touch on when I was here (yesterday) you kind of just told me you guys were arguing," Hooper is heard saying on the video. "What I thought from what you told me is that you guys were just arguing over the whole issue of the kids not playing with each other. And then when I talked to the other guy (Grigo), he made the comment, 'No, I never threatened him, I just said I didn't like Mexicans.' And that was matching up to what you were telling me, that it was just an argument."
Young, and the security footage captured on April 9, disagree.
"I told you. I told you he threatened me. I told you repeatedly, and on the 911 call I said I was being threatened," Young says.
Hooper eventually reviews the video of the altercation and agrees that it constitutes a bias crime in the state of Oregon because Grigo allegedly makes disparaging remarks about Young's ethnicity and his sexual orientation.
Hooper appears on video again on April 10, apologizing by telling Young and Fernandez that it wasn't his intention to make them feel dismissed the day before.
"I have no problem admitting if I did something wrong. That's why I'm here apologizing," Hooper is heard saying. "If you felt I was trying to brush you guys off yesterday, that wasn't what it was."
Hooper is seen leaving the residence while Young and Fernandez talk among themselves, saying that they tried to tell the police they were being threatened and only received service after threatening to obtain an attorney.
When contacted about the incident, Albany Police Department officials initially said there was no knowledge that Young had been threatened on April 9 and that there was no indication race had been involved. On the April 9 video, however, Young is heard telling Hooper he was threatened no less than five times. Hooper, on the April 10 video, also notes that he was aware on April 9 that the suspect said "I don't like Mexicans" during the confrontation.
After viewing the video, Albany Police Capt. Brad Liles said it was clear Young said he was threatened on April 9.
"At the time, it just appears Officer Hooper is investigating it as a dispute and how can he resolve it as adults," Liles said, noting that on April 9, Young told Hooper he didn't want to "cause any problems" and that he just "wanted to be left alone by Grigo."
Liles also said that the interaction between Young and Hooper was calm and that Young never said Grigo mentioned his race or sexual orientation.
"Officer Hooper talked to other people who said Armando's kids are bullies, but that's not on tape because they don't have (security) doorbells going," Liles said, noting that officers sometimes make mistakes.
"We're not immune, but we go back and fix things because we do try to get it right," Liles said, although he went on to note that he wasn't saying Hooper made a mistake in this instance.
Police Chief Marcia Harnden reached out to Young via email to express her disgust at Grigo's alleged actions and to offer support services.
But Young says he and Fernandez still aren't satisfied with the outcome of the situation.
"If we hadn't called and said we were getting an attorney, he wouldn't have been arrested," Young said of the incident. "Who knows what could have happened? The guy pounded on our door and kicked things over. The police just ignored us and our safety concerns and were still trying to minimize it on the second day."
Young said the family is in the process of contacting an attorney about the possibility of filing a civil rights lawsuit.