Seven adults are dead and multiple others are injured following a multiple-vehicle crash on northbound Interstate 5 Thursday afternoon, May 18. 
Two semitrucks and one passenger van were involved, according to an Oregon State Police news release, and the cause of the crash is under investigation. The agency responded to the three-vehicle crash at around 2:05 p.m. near the Santiam rest area.
Multiple dead bodies, covered in plastic, could be seen in a field where OSP troopers combed through the area. The Marion County Medical Examiner was on scene.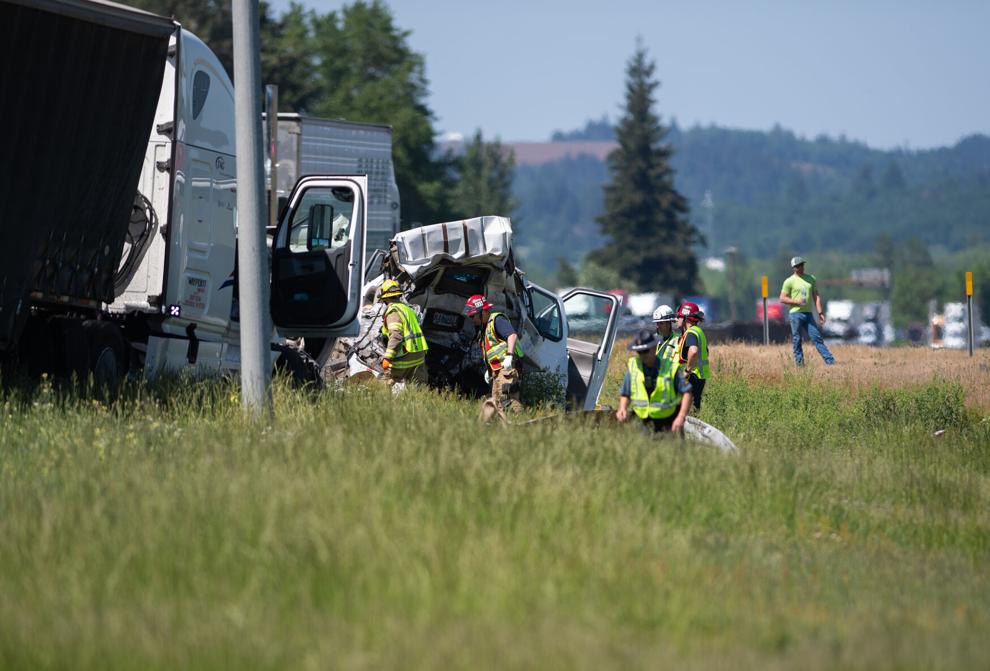 At around 2:45 p.m., a Life Flight helicopter left the scene.
Roger Pike, a Sweet Home man, said his van was stopped on a freeway onramp at the rest area while responders landed an air ambulance helicopter on I-5.
"Ambulances filled it up," Pike said.
Police and fire officials placed a blue tarp on the wrecked van and put up a barrier near the crashed semitruck to block line of sight into the scene of the wreck.
The Oregon Department of Transportation sent a news release around 2:40 p.m. saying the northbound freeway could be closed for several hours at milepost 241 due to the crash. A later news release said a detour would funnel cars via Exit 238 onto Jefferson Highway for the afternoon rush hour. Travelers were warned to expect delays.
Oregon State Police officials at the scene said the shoulder of the freeway would be closed off as crash reconstruction teams work and treat the area as a crime scene.
Joe Shipley, operating a truck for his Carlton-based business Shipley Trucking, was among those standing outside their vehicles near the wreck.
He said police had told drivers parked on a freeway onramp to expect a five-hour delay at the wreck.