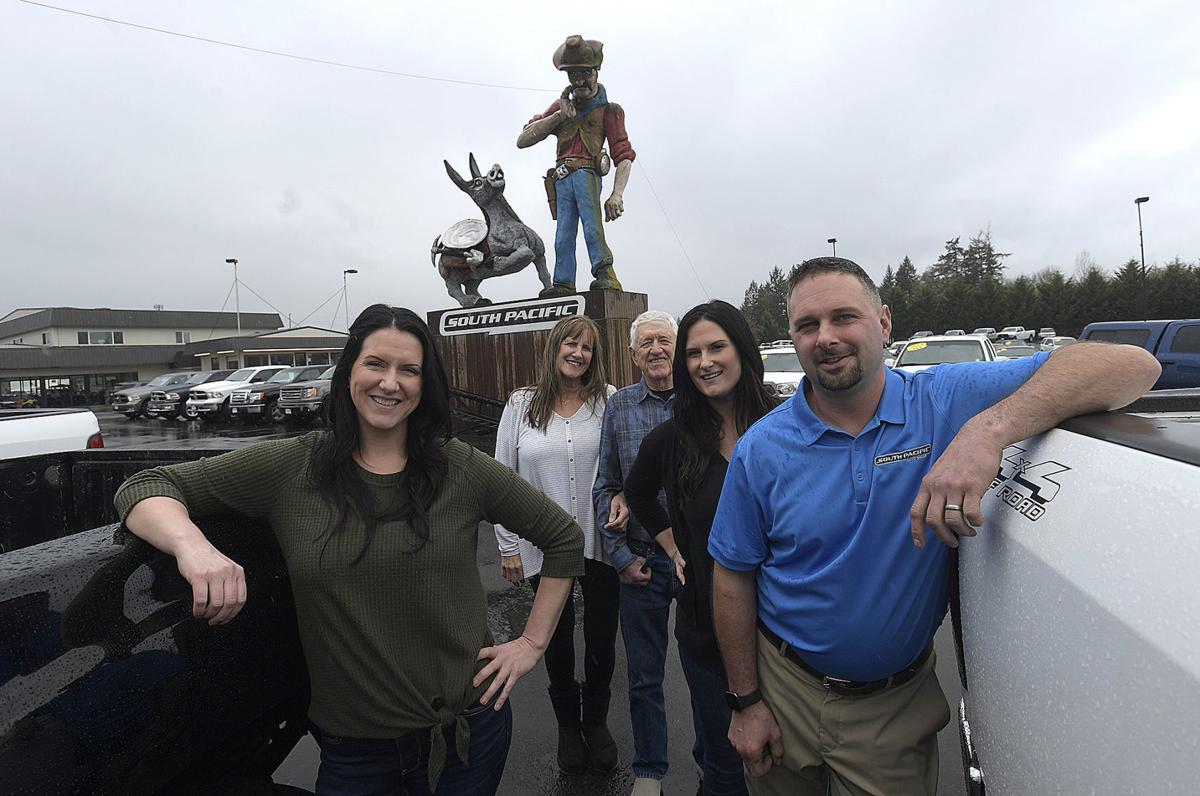 Siblings Stacie Shank, Brady Sell and Allison Swanson all started working for South Pacific Auto Sales when they were in elementary school, washing and detailing cars and doing other tasks at their family's Albany auto dealership.
"Kind of whatever needed to be done here," Sell said.
In January, the trio took over from their parents, Brenda and Russell Sell, who started South Pacific Auto Sales in 1989 as a side business at 5040 Pacific Blvd. S.W.
There are few concerns about the transition. "They grew up here and they did all the different jobs. They know how to do it," Russell Sell said.
His children still call him for advice occasionally, but they already know the answers to business-related questions, he said. "I just listen," he added.
After all, Brenda and Russell Sell had been training their children with this in mind for the last decade.
The change in ownership at South Pacific Auto Sales, from one generation to the next, comes as the business is ramping up its efforts and inventory to sell power sports vehicles, including new Arctic Cat quads and side-by-sides, Suzuki motorcycles and more.
A new power sports showroom is planned, on the site of the old American flag tent, with a groundbreaking set for later this month. The building will be 12,000-square-feet.
The business already does much more than sell used cars. It has approximately 200 vehicles on the lot at any given time, including, E-Z-GO golf carts, RVs and more.
South Pacific Auto Sales also is one of the largest tire sellers in the mid-Willamette Valley, and its service department stays busy with customers from Albany, Lebanon and Corvallis, the owners said.
Through all of the business aspects, the family said they focus on customer service, whether that's vehicle inspections before the sale or follow-up calls afterward.
The customer service is largely thanks to the 50 employees of the business. "We have so many of them that have been with us for so long. They're really such a big part of this. So many of them have grown with Brady, Ali and myself," Shank said.
Things have changed tremendously from three decades ago. The current showroom for the business at that time was a grocery store, and one of 22 locations for Russ' Day N Nite markets. A friend wanted to rent space on the property and put about 10 cars for sale.
After about a year, the friend moved on to other interests, but the Sells continued selling cars there.
At the same time, they also were selling off the Russ' Day N Nite markets. The last market was sold in 1992.
Oddly enough, when the Sells realized they had a big hit with South Pacific Auto Sales, they had to buy back the building that is now the showroom.
The lot footprint of South Pacific Auto Sales and its services have gradually expanded over the years.
That includes Left Coast Motorsports, a race car shop operated by Jeremy Shank, Stacie Shank's husband. Ryan Swanson, Allison Swanson's husband, is the sales manager for South Pacific Auto Sales.
South Pacific Auto Sales also added the "Loaner Ranger and Silverado," Spray Foam statues that have become Albany landmarks.
The 30-foot tall prospector and his 11-foot tall donkey used to stand over a Lebanon dealership in the 1970s and 1980s, but when that closed, Spray Foam took custody of the pair. Russell Sell made a cash offer for the duo in about 1994.
The duo needed some maintenance in 2013 due to wear and tear. It was also discovered that the Loaner Ranger had an infestation of bees in his head that required a temporary decapitation. "We pulled out the honeycomb, ate it too. It was good," Brady Sell recalled.
Shank said the internet and having autos online available for customers was a critical transition for the business to make.
Allison Swanson said she's thankful and proud of what her parents have created.
"I'm just excited for the future," she added.
And that future could include the third generation of the family owned and operated business. There's already talk of passing down South Pacific Auto Sales to the grandchildren of Brenda and Russell Sell.
Get local news delivered to your inbox!
Subscribe to our Daily Headlines newsletter.