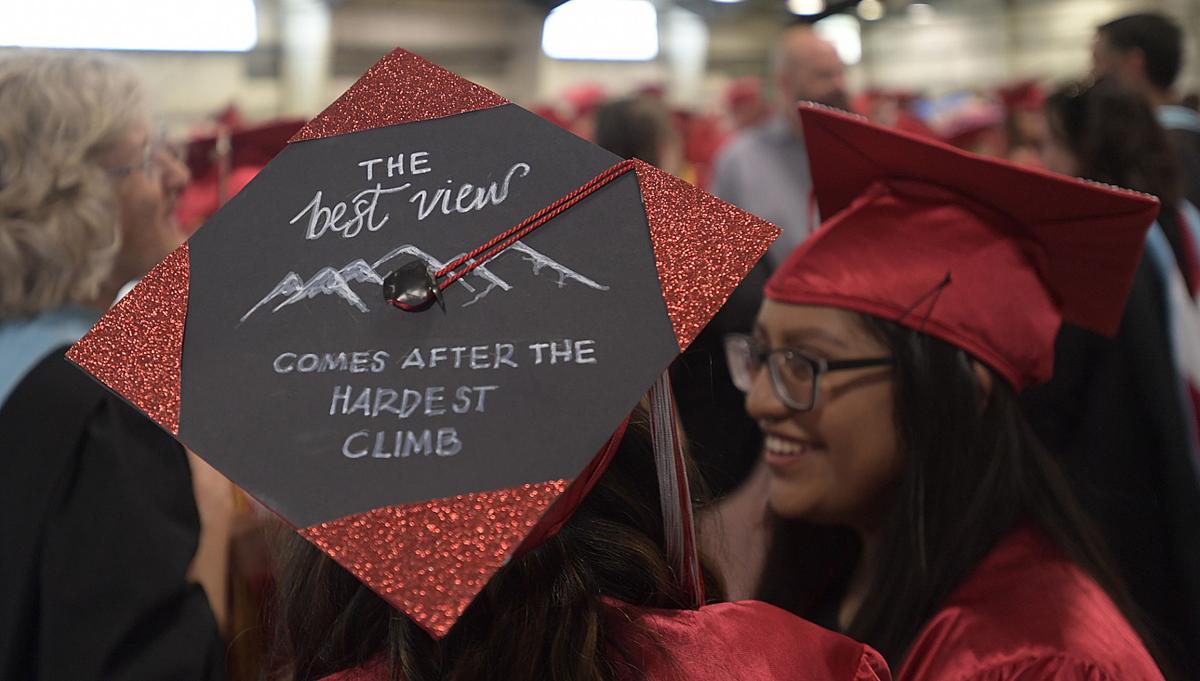 South Albany High School college and career counselor Katelyn Sawyer always starts in the same place: explaining what FAFSA stands for.
The Free Application for Federal Student Aid is a cornerstone of conversations Sawyer has this time of year with students and families as they prepare for college — and look for ways to finance it.
There is no specific deadline for FAFSA applications, but several other scholarships and grants that are dependent on having filed a FAFSA are due between March and April.
"Every student should fill it out, whether you think your family has a high income or not, because you're surprised about what aid you're eligible for," Sawyer said.
The form is not a scholarship application, but it provides information colleges and universities will use to determine what financial awards, grants and loans a student is eligible for. There is no commitment in filling out a FAFSA form, but students under the age of 26 will require parental information.
"The most common reason parents don't want to provide information is that they don't want to give their child their Social Security number or tax information," Sawyer said. "Those are, unfortunately, not reasons FAFSA will accept."
But students who cannot provide parental information still have options. If they are not currently living in their parents' home, they may qualify under FAFSA's homeless definition.
"I always encourage students to look at the definition because Oregon's definition includes a lot more than students think," Sawyer said. "It counts if you're living with another family because you didn't have a stable situation. I encourage them to look at that homeless definition if their parents won't give them their information."
Students can also reach out to their counselors to see if they can make headway.
Support local news coverage and the people who report it by subscribing to the Albany Democrat-Herald.
"Sometimes," Sawyer said, "counselors can explain it to a parent in a way that makes sense."
Students with a Social Security number can still utilize FAFSA even if their parents do not have a Social Security number. They will still need to supply their parents' tax information but can enter zeroes when asked for their Social Security number.
"It will give you an error message," Sawyer said. "You have to click that error message three times before it will go away and submit your FAFSA."
Students without a Social Security number of their own cannot be considered for federal funds like the Pell Grant, but they can access state-specific funds through the Oregon Student Aid Application, or ORSAA.
The Oregon Promise Grant, for instance, is a state award that does not have to be paid back. The grant pays for 90 credits at any Oregon community college for students who have a 2.5 grade point average or better. The grant uses information in a student's FAFSA or ORSAA and only covers tuition, not fees. Additionally, students must start their first term at a college within six months of graduating high school to keep their Oregon Promise Grant.
Oregon Promise will cover tuition for an associate's degree, which can then be transferred to a four-year school. But the deadline for the application is June 1, which means students must have their FAFSA or ORSAA completed and submitted before that.
Students who need help filling out their financial aid forms, Sawyer said, can contact their counselors directly. The language of financial aid can be confusing, she said, but in general, grants do not need to be paid back while loans do.
"Every student should fill one out," Sawyer said. "Colleges need that information to put together your award package from their side. I suggest having all the information when you sit down to complete the application, and if you feel overwhelmed, you can save it and come back to it and contact your school for help."