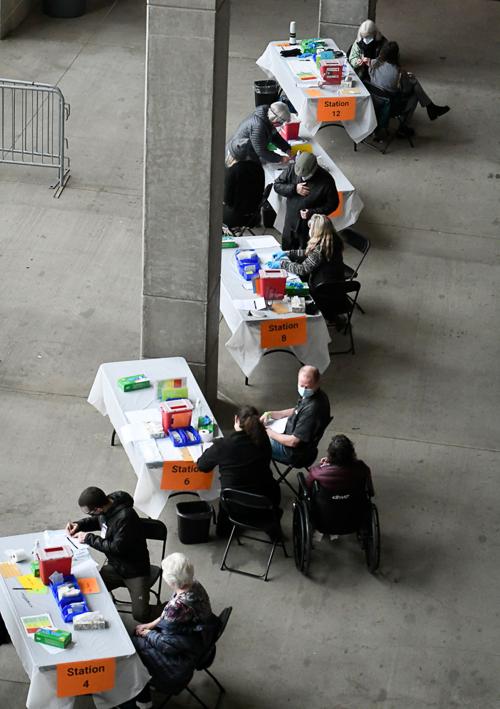 Oregon continued its positive trend in coronavirus numbers with just 336 new confirmed and presumptive cases and two deaths.
According to the Friday report of the Oregon Health Authority, the state's case load is up to 154,878. The death toll is at 2,206. Oregon continues a streak of not having a day above 1,000 new cases since Jan. 15.
The two new fatalities were a 73-year-old man in Douglas County who had underlying medical conditions and a 55-year-old man in Umatilla in whom the presence of underlying conditions is still being confirmed.
Linn County added 12 cases for a total of 3,577 and 66 deaths. Benton County added seven cases and has 2,325 overall and 16 deaths.
The new confirmed and presumptive COVID-19 cases reported were in the following counties, which are listed alphabetically: Baker (2), Clackamas (20), Columbia (5), Coos (15), Curry (8), Deschutes (17), Douglas (19), Harney (1), Hood River (1), Jackson (16), Jefferson (1), Josephine (14), Klamath (9), Lane (28), Malheur (2), Marion (38), Morrow (2), Multnomah (47), Polk (10), Tillamook (2), Umatilla (8), Union (6), Washington (38) and Yamhill (8).
Presumptive cases are people without a positive diagnostic test who have COVID-19-like symptoms and had close contact with a laboratory-confirmed case. Presumptive cases make up about 5% of the total cases, the OHA has said.
In other highlights from the report:
Vaccinations: A total of 30,594 vaccine doses have been added to the state registry. The state total is 911,648 first and second doses out of a total of 1,177,945 that have been delivered across Oregon.
Benton County has administered 15,617 doses or 1,665 per 10,000 residents. Linn has injected 15,547 or 1,228 per 10,000. Nearby counties feature similar numbers: Lane County has issued 51,687 vaccines, or 1,364 per 10,000, Lincoln County is at 7,578 vaccines or 1,570 per 10,000 people.
Hospitalizations: There are 152 individuals hospitalized with COVID in Oregon and just 34 in ICU beds. On Jan. 12, by comparison, 403 individuals were hospitalized and 93 were in intensive care.
Death toll: Multnomah leads Oregon counties with 528 deaths, followed by Marion (285), Washington (212) and Clackamas (175). Wheeler (four), Wallowa (four), Tillamook (two), Gilliam (one), Grant (one) and Sherman (zero) all have less than five.
Only six deaths have occurred in individuals under 30 and only 65 of the 2,206 have been younger than 50.