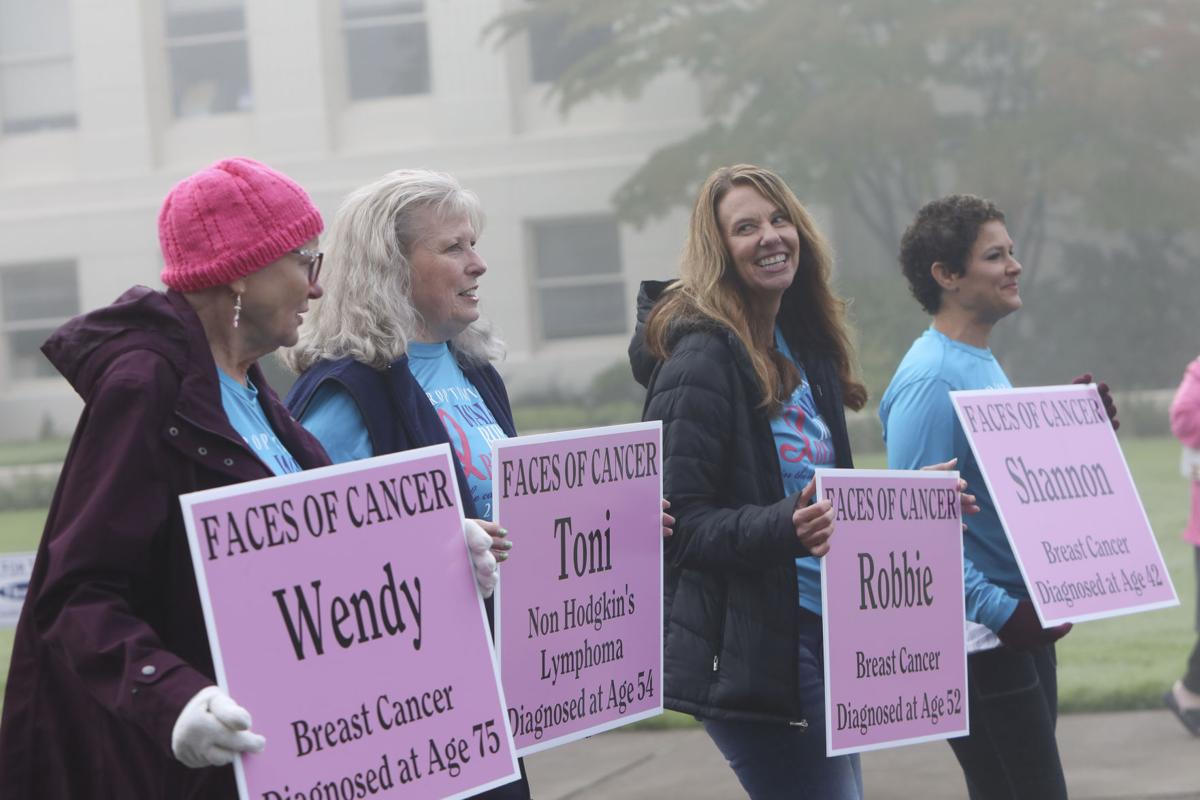 The 25th annual Walk for the Cause is set for Saturday, Oct. 2 in downtown Albany.
The event, put on by Soroptimist International of Albany, will benefit the detection and treatment of breast cancer as well as provide services for other diseases impacting women.
The 5K walk will start at 9 a.m. at the steps of the Linn County Courthouse. Attendees are asked to wear a mask when at the courthouse stairs. There will also be a raffle drawing.
"When you see people gather together to support cancer survivors … it's hard to describe," Laurie Morrical, chair for the walk, said. "It's very meaningful."
The goal of Soroptimist International of Albany is to support women in the community. The group is a local chapter of a larger national nonprofit. The word soroptimist means "best for women" which is the mission of the organization.
The Faces of Cancer program will kick off the walk, allowing community members the chance to hear personal stories from cancer survivors.
Program Manager Peggy Burris said seeing these survivors share their stories helps the community to see that cancer can affect anyone.
"It really hits home that these are our friends and neighbors in our community," Burris said.
One of the event's grand marshals, Mike Donahue, will share his cancer story with the audience.
Donahue is an Albany native and a former anchor, reporter and producer with KOIN. He first served as grand marshal for the walk in 1999. Since then, he has received multiple awards for news reporting.
Dave Johnson, the other grand marshal, was raised in Missoula, Montana, and Corvallis. He is a graduate of Crescent Valley High School and was a grand marshal for the walk in 2010. Johnson won the bronze medal in decathlon at the 1992 summer Olympics and is a four-time USA Track and Field national champion. Today, he works as a school administrator in Stayton.
Burris said she invited all previous grand marshals to come celebrate the 25th anniversary of the walk. Although technically last year was the 25th walk, it was completely virtual and they were unable to celebrate. This time, there will be music, cake and dancing to honor the big event.
According to Morrical, the walk and its programming "puts why we do what we do in focus."
Morrical said she hopes to see around 400 to 500 attendees this year. She added that anyone can register on the day of and that all proceeds stay in the community as opposed to getting donated to larger organizations that can choose how to disperse the funds.
Hearing so many women share their stories of battling cancer has proven impactful, according to Burris. She said she's had women come up to her after the event and say that they wanted to go get a mammogram.
"Seeing all these women who have survived is so powerful," Morrical said. "To see them share their stories is an amazing visual."
Maddie Pfeifer covers public safety for Mid-Valley Media. She can be contacted at 541-812-6091 or Madison.Pfeifer@lee.net. Follow her on Twitter via @maddiepfeifer_