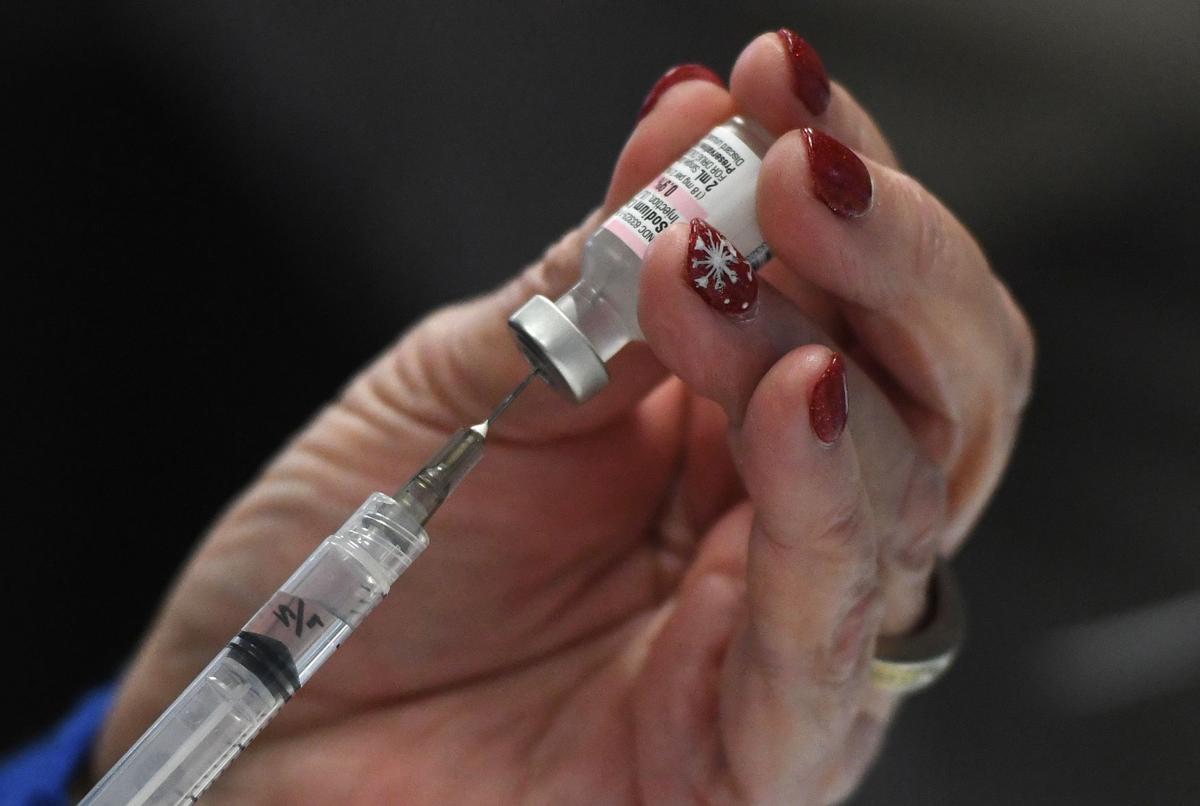 Samaritan Health Services will partner with local governments to conduct COVID-19 vaccination clinics next week for residents of Linn, Benton and Lincoln counties who are in the state's first tier of eligibility.
The clinics will be held Tuesday, Wednesday and Thursday at the Linn County Fair & Expo Center, 3700 Knox Butte Road in Albany.
Linn County Public Health Director Todd Noble said Samaritan is providing 2,000 vaccine doses to go with a "small allotment" the county has received from the state.
Benton County will be providing some of its vaccine allotment for a series of clinics planned for the week of Jan. 25 at Oregon State University's Reser Stadium in Corvallis, which also will be open to eligible residents from the three-county area.
"That also allows us to get a larger allotment of vaccine in the the future, because what the state is looking for is large events," said Benton County spokesperson Alyssa Rash. "It's really about pooling resources to provide a regional response."
The initial clinics will be for people in the state's 1a category, which includes urgent care workers, skilled nursing and memory care facility health care providers and residents, tribal health programs, emergency medical services providers and other first responders, among others.
"Tuesday, things might be a little slow, but ultimately we will have 30 shot stations with 60 vaccinators," Noble said.
Scheduling instructions and eligibility information are available at samhealth.org/GetTheVaccine. This web page also includes forms to be completed before the appointment and other information.
The vaccine has been reported up to 95% effective at preventing COVID-19. Samaritan infectious disease specialists, as well as leadership from Samaritan and the county health departments, highly recommend everyone get the vaccination when it is available to them.
"They will drive up on Knox Butte and be screened," Noble said. "They will then park, fill out the paperwork and at their designated time, walk up to the front of the Expo Center, where they will register and then go inside."
Noble said the plan is to run clinics for weeks or months. Weekly registrations will be based on the number of doses available.
"We didn't want to make this first-come, first-served and have people sleeping in cars overnight to get in line," Noble said.
Noble said Linn County distributed 675 vaccine doses this past week at Samaritan's express clinics.
Noble said the first week's clinics will be conducted by Samaritan Health Services staff. The second week, the Linn County Medical Reserve Corps — which has been a major player in the local COVID-19 testing effort — will fill in locally.
Clinics will be held from 10 a.m.-1 p.m. Tuesday, 9 a.m.-5 p.m. Wednesday and  9 a.m.-6 p.m. Thursday.
Second doses will be administered from 10 .am.-1 p.m. Feb. 9, 9 a.m.-5 p.m. Feb. 10 and 9 a.m.-6 p.m. Feb. 11.
ID will be required and everyone will have to wear a face mask at the vaccination site. Participants should plan to be in line at least 10 minutes before their appointment time.
Noble said people should wear loose-fitting clothing that provides access to their upper arm area.
Anyone with symptoms of COVID-19, or who has been exposed to someone with COVID-19 within 14 days of their appointment, will need to cancel.
"We need to do everything humanly possible to get the most vulnerable to this virus vaccinated," Linn County Board of Commissioners Chair Roger Nyquist said. "We're encouraged about next week. There's still a substantial challenge ahead of us, now that there are 1 million Oregonians on the priority list and the state is receiving only 50,000 doses per week."
Nyquist said that at that rate, it will be months before the initial 1a group is vaccinated and 2022 before the state reaches herd immunity.
Gov. Kate Brown and the Oregon Health Authority had planned to begin opening up vaccinations to senior citizens age 65 and older and to educators and others who work in schools, but announced this week that those populations will have to wait a bit longer because additional vaccine doses expected to come from the federal government are not available after all.
The new plan is to begin vaccinating those 80 and older the week of Feb. 8, and each following week, move to 75 and older, 70 and older and 65 and older. 
The 100,000 educational employees will receive vaccinations beginning Jan. 25, Brown said in a Friday afternoon press conference. 
Brown and OHA Director Patrick Allen said the state has pushed its vaccination rate up to the goal of 12,000 per day and a mass vaccination clinic will soon be held at the Oregon Convention Center, a cooperative effort of several hospital organizations and the Oregon National Guard. 
"Across the state, we continue to vaccinate Oregon's frontline health care workers, individuals with intellectual and developmental disabilities and their caregivers, long-term care residents and staff and more," Brown said.  
Brown said she was "demanding answers from the Trump Administration. I am shocked and appalled that they have set an expectation on which they could not deliver, with such grave consequences."
Contact Linn County reporter Alex Paul at 541-812-6114.