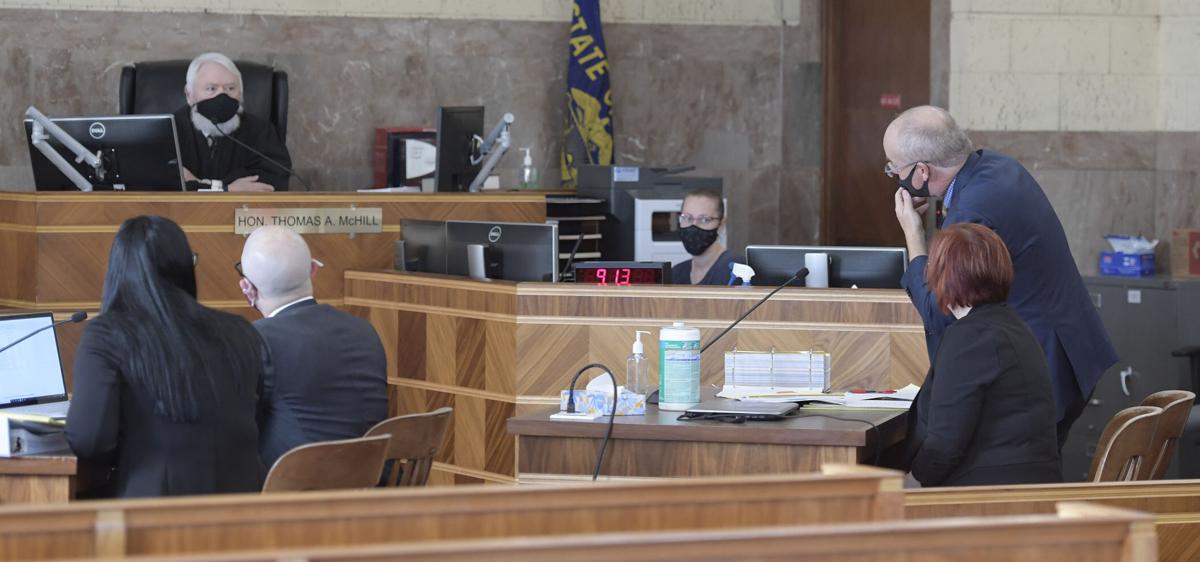 A jury heard opening arguments and the first testimony in a Linn County murder trial Wednesday.
Chad Cheever, 47, a Linn County resident, is accused of killing his relative Don Whisenhunt, 60, in September 2018. Cheever, the nephew of Whisenhunt's ex-wife's, was living with Whisenhunt at the time. Cheever is charged with murder by abuse and second-degree assault. He faces a possible life sentence if convicted.
Cheever's trial, presided over by Linn County Circuit Court Judge Thomas McHill, was originally scheduled for June 2020 but was postponed due to COVID-19.
During opening arguments, prosecuting attorney Julia Baker told jurors that Cheever was a dangerous and violent man who beat Whisenhunt and left him to die overnight outside his Tangent home. Baker said an autopsy showed Whisenhunt had a broken vertebra and a number of other serious injuries indicating he was severely injured prior to his death. The state is seeking an enhanced sentence for Cheever if convicted due to Cheever's criminal history, which includes assault and robbery.
Defense attorney Donald Scales argued that Whisenhunt was an alcoholic with a temper who initiated a physical altercation with Cheever after becoming angry about a family matter Cheever was discussing with Whisenhunt's daughter, Tami Jean Fulbright. Scales said he believes the evidence will show Cheever hit Whisenhunt with an uppercut after being "palmed" in the face by  Whisenhunt.
Fulbright, who pleaded guilty to first-degree criminal mistreatment in relation to Whisenhunt's death, was mentioned on several occasions Wednesday. Fulbright withheld necessary and adequate medical treatment from Whisenhunt, and the prosecution alleges Cheever was similarly neglectful — a prerequisite for someone to be convicted of murder by abuse.
Support local news coverage and the people who report it by subscribing to the Albany Democrat-Herald.
The court also heard from two of Whisenhunt's adult sons, Thomas Whisenhunt and Mark Whisenhunt, as well as his former romantic partner of more than 15 years, Laurie Brunson. Each said Don Whisenhunt had a drinking problem but denied that he was violent or physically aggressive, which Cheever's attorneys asked about on several occasions.
The defense also asked multiple witnesses about alleged incidents in which Don Whisenhunt had passed out intoxicated in strange places, such as a ditch or behind the wheel of his truck.
Thomas Whisenhunt testified that Fulbright brought Cheever to Thomas Whisenhunt's house after an altercation between Cheever and Don Whisenhunt. Cheever slept on Thomas Whisenhunt's couch the night Don Whisenhunt died, Thomas Whisenhunt testified.
Cross-examination by Cheever's attorneys was at times heated, as multiple witnesses said they had trouble recalling statements made to law enforcement in the days after Whisenhunt's death more than two years ago.
Cheever was not present in court aside from briefly appearing via video to affirm he had decided not to participate in the trial under his own volition.
K. Rambo can be contacted at 541-812-6091 or k.rambo@lee.net. Follow on Twitter via @k_rambo_.