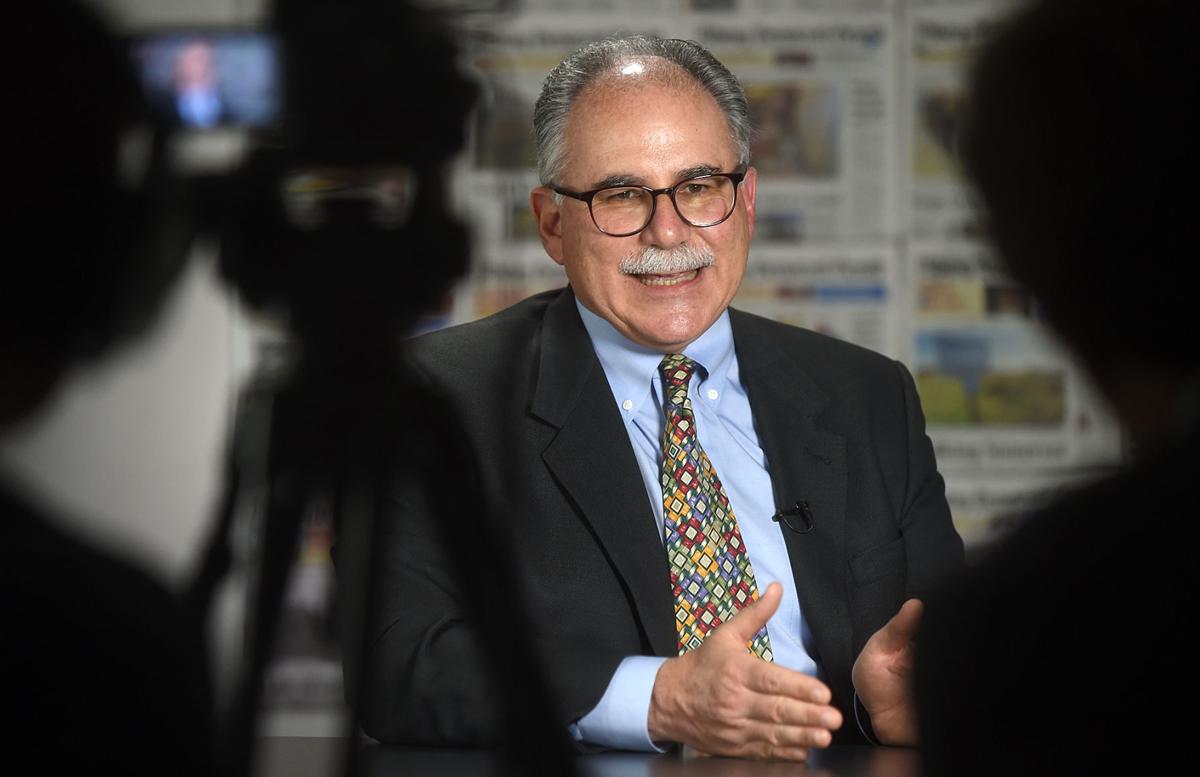 Republican businessman Allen Alley has had two failed attempts at being elected to state government positions — treasurer in 2008 and governor in 2010 — but he believes Oregonians have had enough with paying more to get less and are ready for a change.
If elected, Alley, the former CEO of Pixelworks, would become the first Republican governor since Victor Atiyeh in 1982, but he will have to get past the May primary first.
Although there'd been speculation that Alley would toss his hat into the race, he waited until the waning days of the filing deadline to make it official.
He made the decision while attending his 4-year-old grandson's birthday party.
"I looked at those kids, and I thought nearly every other kid in the country has a better chance of graduating from high school than they do," Alley said.
He brings the most business experience into the race, having spent his career with companies like Ford and Boeing, and he also has spent the most time working with Democrats.
Alley served as deputy chief of staff for former Gov. Ted Kulongoski and chaired the bipartisan Oregon Council for Knowledge and Economic Development. He also is the former chair of the Oregon Republican Party.
Alley said he has numerous defined philosophical differences to current governor Kate Brown. He said current clean air legislation will cost Oregonians considerably more money, but they will get little back on their investment. The same holds true for legislation that will ban the use of coal in Oregon by 2030.
Alley said these issues were shoved through the Legislature "without ratepayers being at the table."
Alley said he wants all Oregonians to make more money, but said the minimum wage legislation passed during the recent short session will increase the state payroll by 30 percent.
"This was a massive red flag and was done during the dark of night," he explained. "There was very little studying done about this bill's fiscal impact. It is going to cost millions, maybe billions."
Alley said Oregonians are spending $13,000 per student and getting little in return compared to other states in terms of K-12 education. He believes parents and teachers should be involved in determining where school funding priorities lie, starting in the classroom and then working their way into administration and other expenses.
"And we need to have hands-on programs, classes like shop, which is where I became interested in becoming an engineer," he added.
On the higher education level, Alley pointed to changes made at his alma mater, Purdue, for improving programs, while not making significant tuition increases.
"The university has looked at ways to get the biggest bang for the buck," he said. "I don't buy the concept that raising tuition is the only option."
Those changes include eliminating some classes that only had 20 or so students.
Alley believes the state's proposed business tax increase — a 2.5 percent sales tax — will greatly increase costs to consumers.
"I believe the governor needs to take a position on this issue," he said. "It is the largest tax increase in the history of the state."
Alley thinks the state's PERS (Public Employees Retirement System) funding issue can be fixed by replacing the current system with a 401K retirement plan for all new government employees and only hiring half as many people as retire each year.
"I would honor our current PERS contracts," he said. "But we could have a generous matching 401K program and in time, we could wipe out the unfunded PERS bill."
Alley said he would provide state employees with modern technology to make their jobs easier and to increase efficiencies needed due to decreased staffing.
There is a rural-urban divide in Oregon, Alley said.
He believes Oregon should capitalize on the fact that it is a perfect place to grow trees — what he called the "greenest of all building materials."
"Trees are natural carbon sequesters that produce oxygen," Alley said. "We should embrace our timber industry and talk more about this miraculous product."
Although Alley said he "doesn't aspire to kill people," he believes the governor should support the will of the people when it comes to the death penalty.
All legislation should come with a sunset clause, Alley said, forcing them to be reviewed at a certain time.
He calls himself a "strong supporter of the Second Amendment" — the right of citizens to own guns — and believes the country should spend more time focusing on the fact that violent crimes are actually decreasing in the United States, not increasing. Violent crimes are down 71 percent since 1994 nationwide.
"Things are actually getting better and we should celebrate the progress we're making," he said.
Alley believes Oregonians are reflecting the same discouragement faced by many other Americans across the country.
"Salaries, education and job opportunities are all down," he said. "People have gotten to the point where they have given themselves permission to say, 'Look pal, this stops now.'"
Contact Linn County reporter Alex Paul at 541-812-6114.