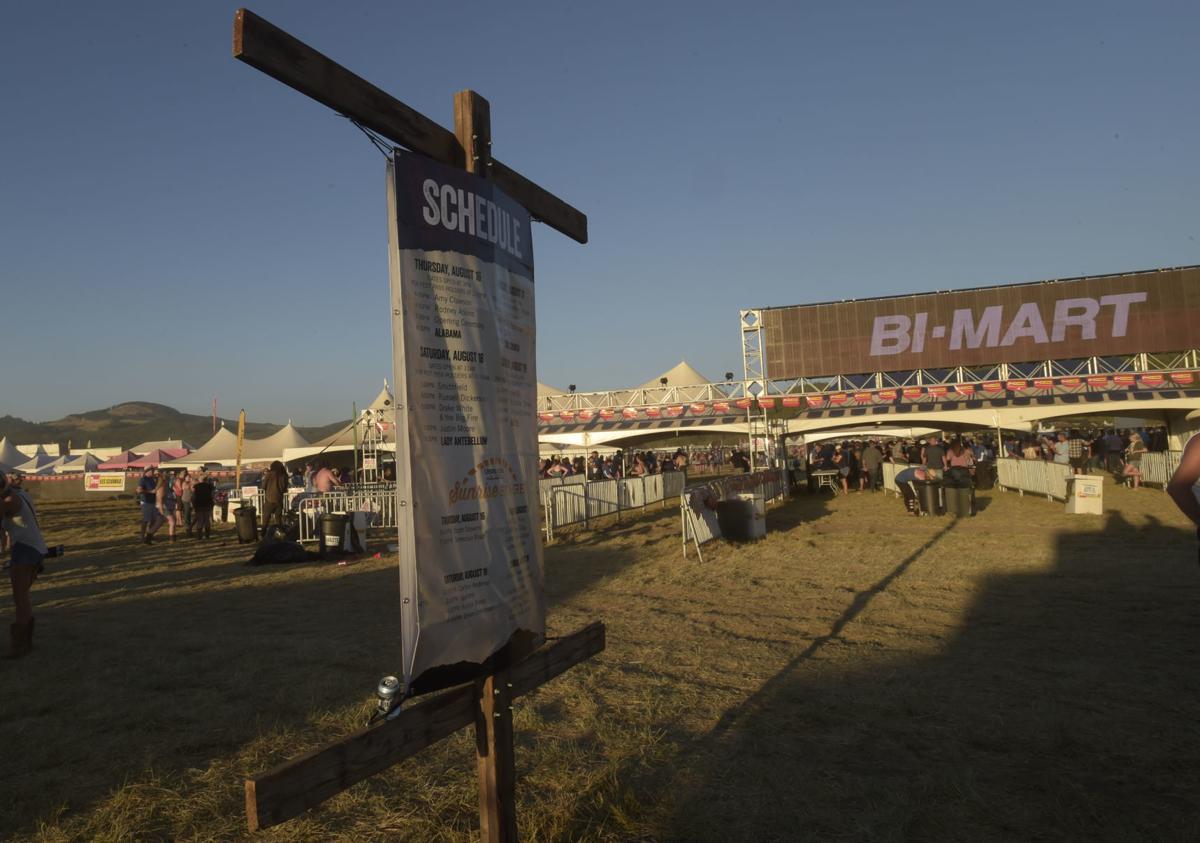 Calling it the worst year he's seen since the Bi-Mart Willamette Country Music Festival was founded north of Brownsville, Linn County Sheriff Jim Yon said the amount of intoxication at last month's event reached "an alarming level."
Yon's comments came during an annual review of the festival with the county's commission, part of the conditions for renewal of its mass gathering permit.
Usually, such reviews include input from festival representatives. But the Sheriff's Office was notified Monday evening that former event president Anne Hankins was no longer in charge and no one from the parent company, William Morris Endeavor Entertainment, would be at the meeting.
Representatives for the festival could not be reached Tuesday.
Lt. Michelle Duncan was the Sheriff Office' operations commander at the festival. She said deputies were so busy at the four-day event that they would have had difficulty providing adequate staffing in the event of a major crime elsewhere in the county.
Duncan said the Sheriff's Office contracted to provide 540 hours of staff time, another 162 hours of dispatcher time, plus the onsite Mobile Command Center.
But, due to the number of incidences at the festival that required staffing, the Sheriff's Office actually provided 556 hours of deputy time, plus extra dispatcher time and unknown hours that deputies spent completing reports after the event ended.
"We had to bring in two extra deputies on Sunday night because there were several fights at the same time," Duncan said.
She said calls for service began going up as soon as headline acts took the stage each night and until 2 to 3 a.m. the following days.
Duncan said that calls for service have tripled since 2013, when there were 55, to 136 this year. Of those, 28 reports were generated and six adults were arrested: one for escape; one for criminal trespass; one for a warrant served; one disorderly conduct; one fourth-degree assault; and one DUII.
Seven minors were cited for being in possession of alcohol, down significantly from 40 in 2017. There were 36 incidents at beer gardens, compared to 16 last year. There were 23 fights; one incident alone involved 15 people.
Duncan said there were three reported assaults in 2017. That jumped to 23 this year.
Duncan compared the amount of incidents at the music festival, which attracts about 25,000 people, to the rest of Linn County, which has a population of 125,000, over the same four-day time period.
In that time there were 136 total calls for service at the festival, compared to 473 calls countywide; there were 23 fights compared to 15 countywide; two sexual offenses compared to one in the county; and seven minors in possession of alcohol at the festival, compared to zero in the rest of the county.
Duncan said a major problem was that there appeared to be little private security enforcement of the festival's rules barring alcohol in the campgrounds.
"The resources of the Linn County Sheriff's Office were taxed beyond reason," Duncan said.
In addition to not being able to respond properly to other calls, Duncan said the event makes it difficult for staff to get time off.
Roger Nyquist, the chairman of the board of commissioners, said the event operates with a five-day permit from the Oregon Liquor Control Commission. He asked Sheriff Yon if he would support issuing a permit in 2019. Yon said he would not.
Nyquist added, "This is a bit awkward. We're talking to ourselves at this point."
Nyquist also said he would not approve a permit "without a property engineered traffic plan," which the county did not have this year.
Nyquist also asked County Roadmaster Darrin Lane to talk about this year's traffic plan. Lane acknowledged that the county had approved the plan, mistakenly believing it was the same as original one approved a few years ago.
"But they changed the plan in what looks like a deliberate attempt to make it look like the original plan," Lane said. "Key elements remained from the pertinent document."
Lane said the county discovered on the Friday of the event — which started on Thursday — that signs along major roadways used to direct southbound traffic from Interstate 5 to Highway 34 and Seven Mile Lane and northbound traffic to Highway 228, were missing.
Brownsville Fire Chief Kevin Rogers said that the Oregon Department of Transportation rerouted traffic to Kirk Avenue about 1 p.m. Thursday to relieve a growing backup near Interstate 5.
Rogers also said there were no fire issues at the event.
Commissioner Will Tucker said he did not attend this year's festival, but usually spends time with the deputies on-site. He was concerned about the amount of alcohol being consumed in private camps.
"It scares me to death," he said. "It's a real challenge if their security does not work with us."
Music festival organizers want to move the event to a farm near Harrisburg in 2019.
Organizers had attempted to obtain permits to move to a site in Marion County. But in June, that county's Board of Commissioners rejected the permit application, saying the festival would not conform to its farm-use conditions.
For several years, the festival has been held on the Reed Anderson farm about three miles east of Brownsville. Anderson told the Democrat-Herald last week that if the festival could not be moved to Harrisburg next year, he would allow it back on his property.
The commissioners plan to contact festival management to schedule another review hearing in coming weeks.
"We're not sure what they will want to do going forward," Nyquist said. "Our permit is not assignable, so there is a lot to work through."
Contact Linn County reporter Alex Paul at 541-812-6114.
Be the first to know
Get local news delivered to your inbox!