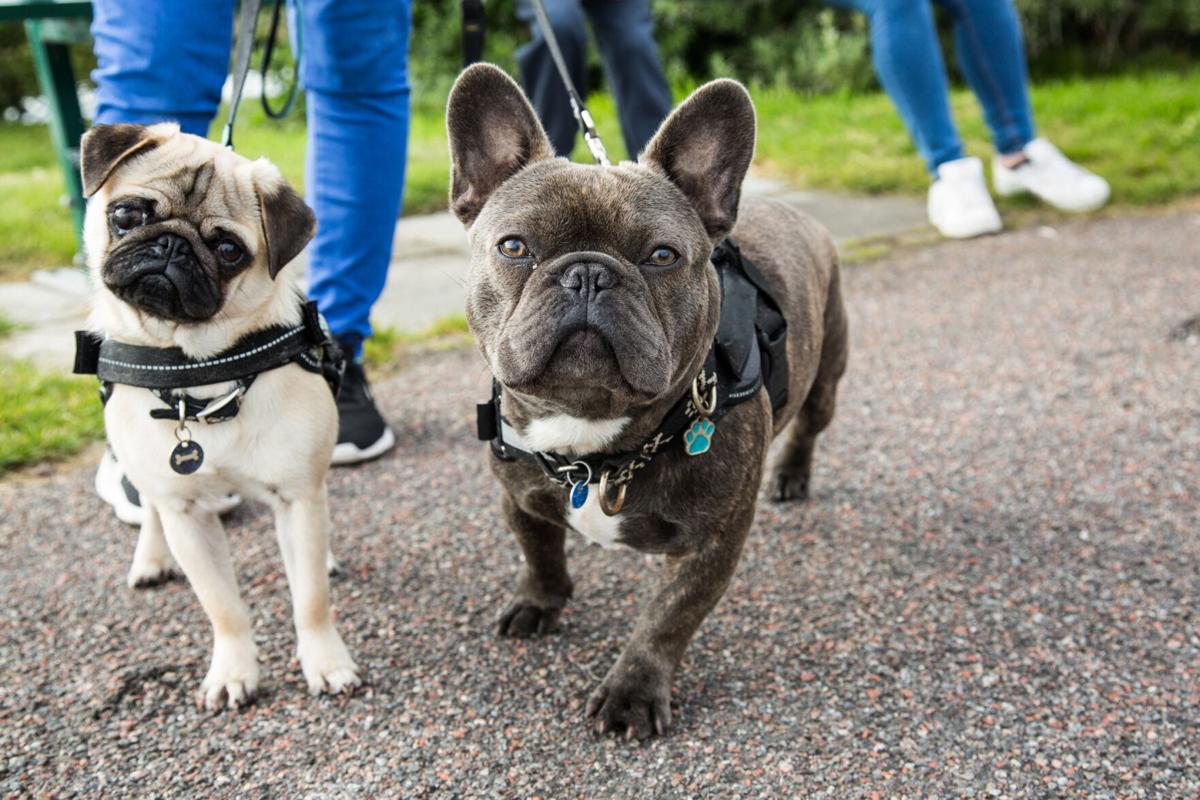 Whether you like ghoulish tales steeped in history, or exciting ghost hunts complete with spirit-sensing gadgetry, ghost tours across the country are waiting to welcome you and your pet with their spooky arms. Here are our picks for the most entertaining pet-friendly ghost tours in the United States. If we've overlooked a great one, let us know!
Old Bisbee Ghost Tours
Once a booming mining town, Bisbee, Arizona is now rich with ghostly lore, attracting two- and four-legged visitors alike.  On these tours, you and your furkid can sniff out the spirits of residents past, including Nat the Miner, who "gave up the ghost" to pay a debt; The Lady in White, who rescued three children from the clutches of death; and a cat whose spirit has lingered in town long after its nine lives expired. If you're looking for a family-friendly, educational experience, the Bisbee Historic Ghost Walk will take you on a spirited stroll through the Main Street district, where you'll learn about Bisbee's unique history.
Huntsville Ghost Walk
Explore the haunted heart of Huntsville on this eerie, yet fascinating series of tours. See the "Fraternity House for Ghosts," visit a haunted courthouse, and listen for the ghosts of children playing on Walker Street on the Old Town Historic Tour. Visit the Backwards House, the haunt of LeRoy Pope, and Antebellum mansions in all their former glory on the Twickenham Historic District Tour.  Or, take the Haunted Downtown Tour, and see where the spirits of long-gone Native Americans and Civil War soldiers are thought to dwell. Walking tours run every Friday and Saturday throughout September and October, and dogs are welcome.
Blue Orb Tours
Blue Orb was named one of the world's top 13 ghost tours, and for good reason. Its pup-friendly trips through Savannah's supernatural side are as fascinating as they are spooky. Brave the undead terrors of the adults-only Zombie Tour, or visit Savannah's most iconic haunted sites on the family-friendly Savannah Shadows Tour. 
It's important to note that dogs are prohibited on Blue Orb's motorized Bonaventure Cemetery Tours.
Saint Simons Original Ghost Walk Tour
This one-mile tour welcomes family and furkids alike on a lantern-lit journey to the waterfront and old town.  You'll hear spooky stories of the spirits that linger on St. Simons Island, as you're guided along the water and through the moonlit streets. 
It's important to note that dogs are not allowed on the Dinner and Ghost Tour.
Haunted Haight Walking Tour
Step back into the Victorian era on this two-hour exploration of San Francisco's famous Haight-Ashbury district. The founder of The San Francisco Ghost Society will take you and your pooch through more than 150 favorite architectural haunts that showcase the beautiful and spirited past.
Louisville Ghost Tours
Rich in history and rife with spooky spirits, Louisville is a great place to have a spine-tingling ghost adventure with your furry sidekick. Louisville Ghost Tours takes you on a 90-minute half-mile stroll through some of the city's most famous haunted hot spots. Visit The Brown Hotel, where the building's long-dead original owner is still said to reside; the Seelbach Hilton, where the Lady in Blue, who met an untimely end in an elevator shaft, still roams the halls; and the 1920s-era Louisville Palace Theatre, where the ghost of Fred, a kindly man who once saved the life of a construction worker, still wanders.
Providence Ghost Tour
The Renaissance City's storied past comes to life on this ghostly tour. Guides in period garb take visitors through some of the town's most iconic historical sites, expertly weaving folklore, history, and even a bit of poetry for an experience that educates, fascinates, and tingles the spine.  Providence Ghost Tour is dog-friendly through and through; the tour's proprietors have donated profits to Hurricane Harvey relief efforts, a portion of which went to Big Fluffy Dog Rescue, which took in four-legged evacuees during the hurricane crisis.
Nashville Ghost Tours
Music and ghostly mayhem make up this one-of-a-kind tour of downtown Nashville! Lantern-bearing guides take visitors on a search for spirits through iconic Nashville historic sites, including Ryman Auditorium, Printer's Alley, and the Tennessee State Capitol.
A Ghostly Encounter
The oldest established city in the nation, Saint Augustine's long and sordid past makes it a perfect place to find lingering spirits with tales to tell. A Ghostly Encounter takes two- and four-legged visitors on a trek through centuries of history and lore, as well as some the city's most active ghost sites, including two spooky cemeteries.
Red Cloak Haunted History Tours
Follow the Lady in the Red Cloak and her lantern through the mists of time. Experience the food, folklore, and ghostly legends of some of Maine's most beautiful and historic sites on a 90-minute tour of Bar Harbor, Wiscasset, Boothbay Harbor, Camden, Bath, Damariscotta, Rockland or Hallowell. Tours run from May through the end of October, and dogs are welcome.
Old Charleston Ghost Tours
A bastion of both the Revolutionary War and the Civil War, Charleston is rife with charm, history . . . and ghostly lore. At nightfall, you and your pooch can take a 90-minute spooky stroll through some of the town's most iconic sites in search of wayward spirits - including Poogan, a ghost dog who still roams Charleston's streets.
Spooks and Legends Haunted Tour
Of course Williamsburg has one of the country's most epic ghost tours. After all, some of the famed town's original inhabitants never left. The Spooks and Legends Haunted Tour takes people and their pooches on an apparition-seeking adventure, where their guide, dressed in Colonial attire, regales them with true stories of paranormal experiences that have happened in and around Williamsburg.
Looking for something extra-spooky? Sign up for the Dead of Night Ghost Tour, in which a "long-dead spirit" acts as your guide. Looking for something a little less spine-tingling? Embark on the Witches & Pirates Tour, or get a different kind of historical thrill on the Colonial Conspiracy Tour.
Sisters Grimm Ghost Tours
The spirits defending the Alamo are alive and well, and waiting to meet you and your pup. The Sisters Grimm Ghost Tours take human and furry visitors to San Antonio's three oldest sections, in search of ghostly encounters. The tours are as pet friendly as it gets!  Obi, The Sisters Grimm's Border Collie, was once a part of every tour, but has since retired from ghost hunting, leaving your pup to take up the charge.
About TripsWithPets
TripsWithPets has been helping pet parents find pet friendly accommodations since 2003. TripsWithPets provides online reservations at over 30,000 pet friendly hotels & accommodations across the U.S. and Canada. You'll find thousands of pet-friendly destinations like Richmond, VA, Salt Lake City, UT and Birmingham, AL. When planning a trip, pet parents go to TripsWithPets.com for all they need to book the perfect hotel for their pet -- including detailed, up-to-date information on hotel pet policies and pet amenities.
Get a dose of adorable in your inbox
Receive local adoptable pets PLUS updates for pet lovers in your inbox every week!