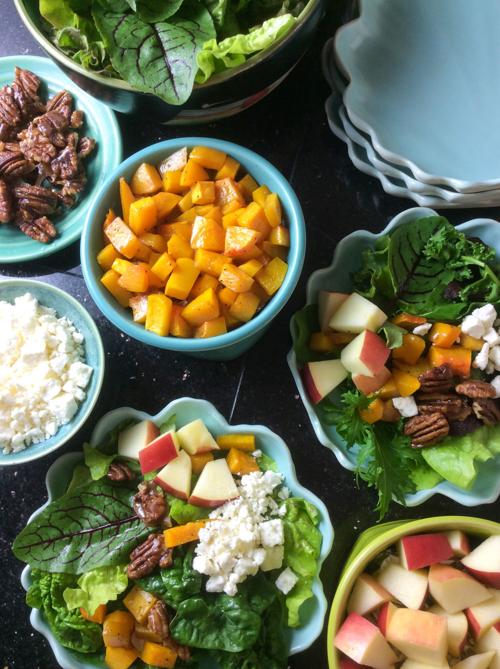 It was one of those Memo To Self moments, generated by the lovely salad that Dan and Pam brought to our house a few weeks ago. A genuine seasonal offering — mixed greens, punctuated with roasted chunks of butternut squash, sweet slender slices of red onion, sugar-glazed pecans and a zesty cranberry vinaigrette — my mind raced forward to the holidays. This, I told myself, would make the perfect Thanksgiving salad. Which had me plotting a column on that exact subject: Holiday salads that hum a happy tune next to competing flavors and textures such as delicate turkey and robust dressing and yams.
Reflecting back on my own successful crunchy side-kicks for holidays meals, they all tend to follow the same basic blueprint incorporating five components: a green, a fruit (or slightly sweet vegetable), a crumbly cheese, a toasty nut, and a tangy-yet-slightly-sweet dressing. The result is winter salad combos that truly dazzle during the holidays
You have free articles remaining.
Which fruits you might ask? Well, my favorites include juicy Comice pears, zesty oranges and grapefruits, crisp Fuyu persimmons, crunchy new-crop apples, and ruby-toned pomegranates.
Two regional nuts to consider from our own Willamette Valley are hazelnuts and walnuts, but if you cast your net a bit farther, some lightly roasted almonds, pistachios and pecans also work well in these sorts of offerings.
My three go-to crumbly cheeses are feta, goat cheese and blue cheese.
To get you started, I'm including Dan and Pam's salad recipe, the Roasted Butternut Squash Salad with Cranberries, Caramelized Pecans, Feta and Cranberry Vinaigrette. Dan found it on an intriguing blog called Carlsbad Cravings (carlsbadcravings.com). Plus, here are two recipes of my own that have tantalized a fair number of not-easily-impressed palates over the years.
Jan Roberts-Dominguez is a Corvallis food writer, artist and author of "Oregon Hazelnut Country, the Food, the Drink, the Spirit," and four other cookbooks. Readers can contact her by email at janrd@proaxis.com or find additional recipes and food tips on her blog at www.janrd.com.