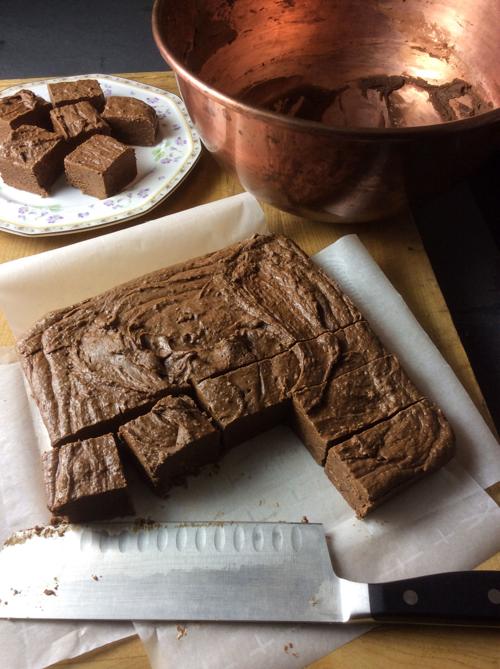 There's no deep, dark mystery to turning out a velvety-smooth batch of fudge. It's really nothing more than a fun activity you'd perform alongside Bill Nye the Science Guy in a beginning class focused on controlling the size of sugar crystals. If the sugar crystals get too large, you'll end up with grainy fudge. Not an entirely earth-shattering problem because most kitchens are equipped with one or more apprentices ready and willing to eat your failures.
But nice, delicate sugar crystal formation is definitely something to shoot for because it yields velvety-smooth fudge. So here are three basic concepts to keep in mind:
1. TEMPERATURE: Fudge is cooked to the "softball" stage. Unless you're a certified grandmother or experienced candy maker, there's only one reliable way to know when your fudge-to-be has reached this point, and that's by using a candy thermometer. So please use one. The ideal soft ball stage is 238 degrees F, but the acceptable range is 236 to 240 degrees F.
You have free articles remaining.
2. APPROPRIATE BLEND AND BALANCE OF INGREDIENTS: Like I said, your goal in making fudge is to end up with nice delicate sugar crystals so the mixture won't be grainy. Without some specific ingredients that are natural inhibitors of their size, the crystals tend to get too big. Ingredients that, for different reasons, help prevent large crystal formation include corn syrup, cream of tartar, milk, butter and chocolate. You don't need all of them in any given fudge recipe, but the interactions between those that are used form a high-wire balancing act that shouldn't be tampered with — unless you know what you're doing. So if you've got a tried-and-true fudge recipe, don't fiddle with it.
3. AGITATION — WHEN AND WHEN NOT TO DO IT: Some people think that at the point where you are beating the fudge (this is after it has reached the soft-ball stage and been removed from the burner), you are causing it to harden. But you aren't. Cooling does that. The beating is done to make sure that crystalization starts in as many places as possible. You are actually agitating the crystals into action. Then, as the fudge cools, the tendency for crystalization increases until a lovely network of small sugar crystals have all attached themselves to each other, forming an evenly smooth mixture. On the other hand, if the fudge is agitated too much while it's cooling — by jostling it on the counter, for example, or moving it around too much — then the crystalization process will start too early. The resulting crystals will be fewer in numbers and larger in size.
•Fudge recipes using marshmallows or marshmallow cream take advantage of the fact that the eggwhites and gelatin in marshmallows coat the sugar crystals as they form, which keeps them small and produces an unusually creamy fudge.
•You can also produce microwave fudge by melting together sweetened condensed milk, chocolate and butter (in specific proportions). The sweetened condensed milk is actually a boiled-down, concentrated sugar syrup, and by adding the acidic melted chocolate to that, the proteins in the milk become firm. Once the mixture reaches room temperature, these proteins are even firmer, resulting in a set fudge of creamy consistency.
Jan Roberts-Dominguez is a Corvallis food writer, artist and author of "Oregon Hazelnut Country, the Food, the Drink, the Spirit," and four other cookbooks. Readers can contact her by email at janrd@proaxis.com or find additional recipes and food tips on her blog at www.janrd.com.