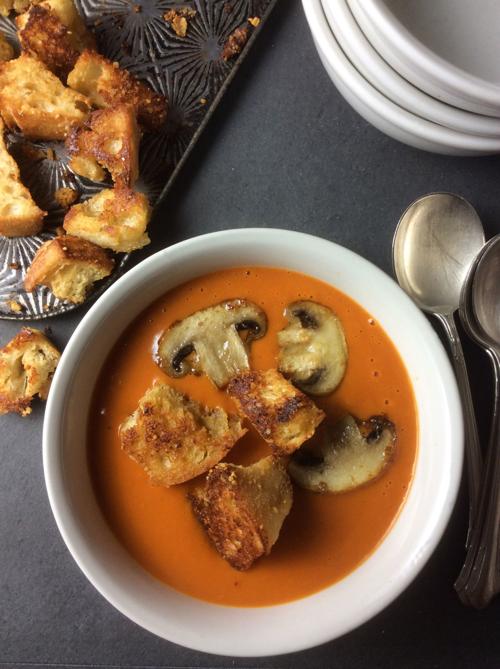 As a nod to January's official status as national soup month, and just in the nick of time to see us through our current chill, let's talk about soup toppers. At its most basic level of course, a soup topper would be the oyster crackers plopped atop a bowl of seafood chowder.
Nothing wrong with that. Crackers of most any sort are a noble counterpoint to said soup. But what if that same offering was served up with a scintillating garnish of candied bacon? Or crunchy homemade garlicky Parmesan croutons? Or a dollop of basil puree?
You get the picture. When it comes to the challenge of garnishing your winter soups the difference between a decent topper and an exciting topper — to paraphrase Mark Twain — can be the difference between a lightening bug and lightening.
If you're on board with a little soup drama and all you need is a bit of inspiration, let me throw out some concepts for you to ponder, running them past the cooking/creative side of your brain, picturing the style of soups they would compliment.
Parmesan Crisps: Line a baking sheet with parchment paper. Make tablespoon-sized mounds of coarsely grated Parmesan cheese, spacing about 2 inches apart. Bake in a preheated 350-degree oven for about 6 minutes, or until the cheese has melted and turned a golden brown. Remove from oven and let cool until crisp. Gently lift off the parchment and store in an airtight container until used.
Grilled Cheese Croutons: Make your favorite grilled cheese sandwich. Don't forget to experiment with different cheeses and breads! Remove from heat and cut into bite-sized chunks. Hint: these go particularly well floating on top of tomato soup!
Take a cue from French Onion Soup: Jazz up a serving of vegetable soup by topping with a toasty crouton, then piling on a handful of shredded cheese and running under the broiler (note: you must use oven-proof soup bowls) until the cheese is melty and golden brown.
Sauteed Mushrooms: Mushrooms can make a flavorful impact to a wide array of soup styles (from tomato and creamed potato, to seafood chowders and chili. (See my recipe below).
Toasted coconut: It is particularly wonderful on butternut squash and curry-style soups. Spread unsweetened coconut flakes onto a baking sheet and bake in a preheated 325-degree oven for about 10 minutes, or until the coconut turns a light golden brown.
Chopped apples: These are particularly complementary to a creamy winter squash soup.
Chunks of freshly cooked Dungeness crab: Float these on top of a seafood chowder.
Poached eggs: Try this heavenly finishing touch for Asian style and Indian soups.
A swirl of basil puree: Blend together olive oil, fresh basil leaves, and Parmesan.
Tortilla chips and avocado slices: Thee are great on top of bean soups.
Crumbled chunks of biscuits: Add texture to a creamy chicken soup.
Pea shoots: These contrast beautifully with light-colored creamy soups.
Pomegranate seeds: Add a lively punctuation to a butternut squash soup.
Cornbread and olives: A simple bowl of chili can be jazzed up with chunks of cornbread and sliced black olives
Fried tofu chunks or mini-potstickers and egg rolls: These offer texture and color to a broth-based Asian soup.
A nacho theme: Layer tortilla chips on a baking pan, sprinkle with shredded cheese and broil. Place a portion of this on top of each soup (such as a chili), along with a dollop of sour cream.
Chopped and sauteed salami: Perfect additions to Minnestroni.
Oven-roasted chickpeas (recipe follows)
Jan Roberts-Dominguez is a Corvallis food writer, artist and author of "Oregon Hazelnut Country, the Food, the Drink, the Spirit," and four other cookbooks. Readers can contact her by email at janrd@proaxis.com or find additional recipes and food tips on her blog at www.janrd.com.
Satisfy your cravings
With our weekly newsletter packed with the latest in everything food.