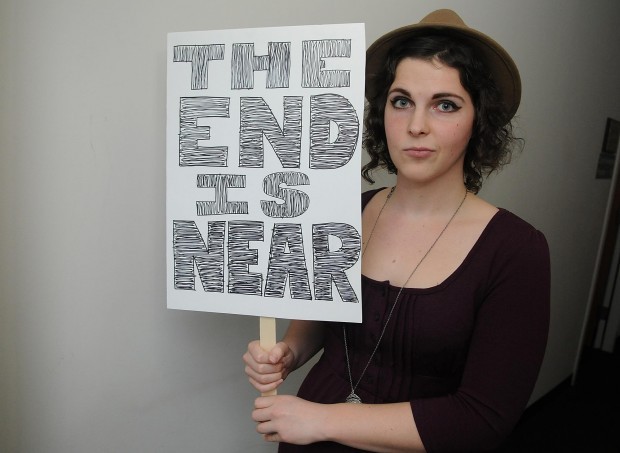 Doomsday is nigh, so they say.
Come hell or high water or zombie or plague, I plan to survive December and maybe even see the light of a January 2013 sunrise.
But in case I'm as incompetent now as I was twelve months ago when this endeavor began and I therefore die quickly and pathetically, I have drafted a short will, so those who remain will be able to legally apportion my many legacies. Because above all else, legality matters in the apocalypse.
If you don't know how to write a will, you can Google it. There are many formats online. I mostly ignored those formats.
I, Kate Schell, declare I am of legal age to write this document, and I also declare that it is legally binding, revoking all previously written wills, like the one I wrote when I was nine leaving my shell collection to my brother "to do with as he will." I repeated that phrase a lot. I believe in free will when it comes to inheritances and seashells.
I hereby leave all my stuff to those subsequently mentioned here:
You have free articles remaining.
All the journals I've written over the last fifteen years I bequeath to my mother. Yes, mom, you finally have my permission to read them.
My car I leave to nature to corrode into nothingness. I wouldn't wish that sucker on anyone.
My satire I bequeath to the readers who commented about how I was going to start a meth-addled burglary wave across the Northwest because I explained, rather poorly, how to pick locks. #everybodycalmdown
My spirit animal, Anders, I leave to the cat gods to protect and guide. He's such a small hungry animal, cat gods, in such a big world; keep him safe, well-fed and flea-free.
My book collection, which seems small when compared to a library but excessive whenever I move, I leave to those who are cold and need fuel for a fire in the midst of an apocalyptic winter. Except my childhood Bible, "Where The Wild Things Are" and "The Book Thief," don't you dare burn those or I'll haunt you and your children's children's children until the world ends again.
My modest, motley collection of survival gear: three (3) wood chisels, one (1) borrowed shovel, one (1) empty pipe cache, several bandannas of varying colors, some canned goods; these, in the spirit of resourcefulness, I bequeath to whoever finds them first. Or whoever is "fittest," as Darwin would say. Or whatever. I don't really care, I'm dead.
My gun — wait, I don't have a gun. But if I buy one between now and Friday then subsequently die, then I leave the firearm to my cat. He'll need it. He's a very small animal, after all.
Signed on this date in the presence of Anders and his many fleas, Kate Schell Dec. 16, 2012
P.S. If the newspaper somehow keeps publishing after the world ends, please don't write in my obituary that I was loved and will be missed by everyone. I will not be missed by everyone. I will be missed by my family, a few close friends and my cat at dinnertime, but only occasionally remembered by old classmates and neighbors who will wonder "What ever happened to that girl with the ugly red car?" I do, however, bring a smile to the face of everyone who meets me and will die "after a brief, brave struggle with the apocalypse," so you can write that.