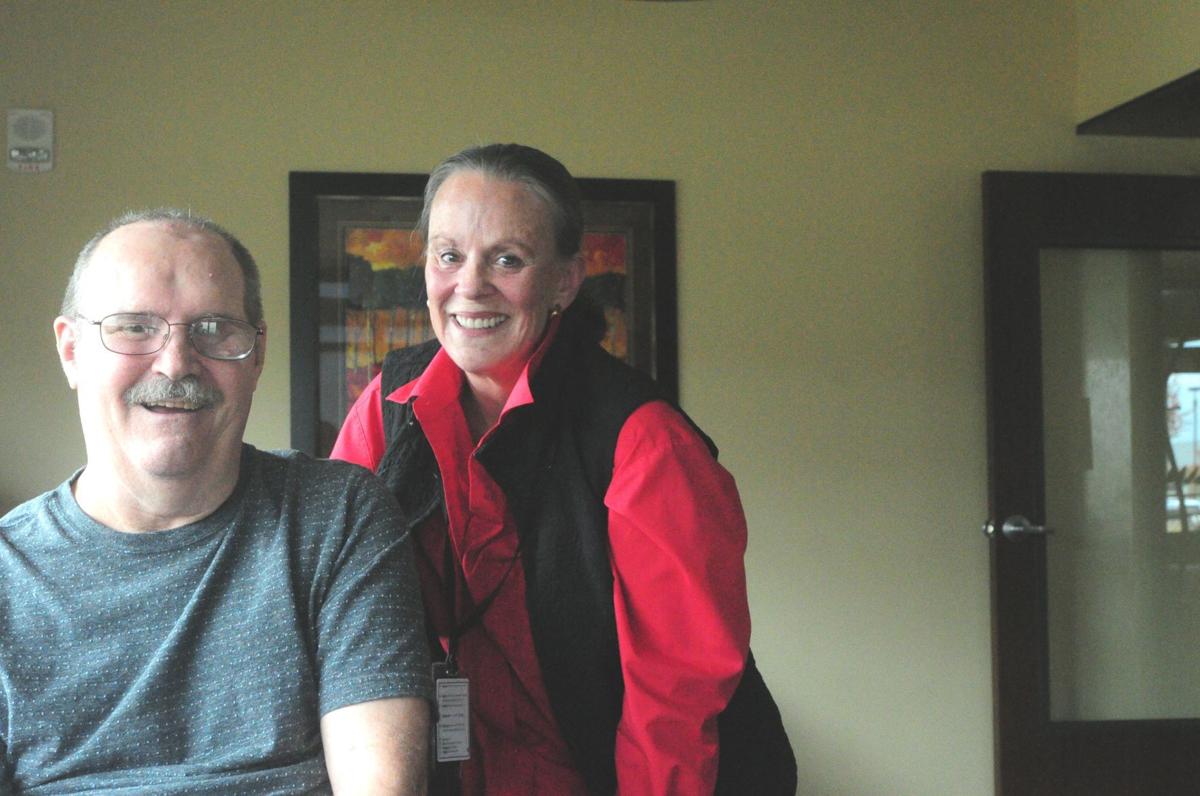 Randall Snider and Carol Christofero Snider have been married since August of 1970. They met while he was still recovering from wounds he suffered as a member of the United States Marine Corps while serving in Vietnam.
Randall Snider, 71, grew up in Bend and when it became clear that his draft number was coming up, he chose to enlist in the Marine Corps. After basic training, he went to an immersive Vietnamese language school and was then sent to Vietnam to serve as a radio operator.
He had been in Vietnam for less than a month when he was severely injured by a landmine while on a mission. The blast irreparably damaged his left eye, caused extensive spinal cord injuries, and resulted in an open brain wound caused by shrapnel.
After Snider was stabilized, he was transferred to a hospital in Japan and then to the Oak Knoll Naval Hospital in Oakland, Calif. He developed spinal meningitis and pneumonia during these long flights.
The focus of his treatment was on recovering from these illnesses, treating his spinal cord injuries and adapting to life with one eye.
In the immediate aftermath, his progress seemed amazing.
"He functioned very well. Played golf, skied, right out of the military," said Christofero Snider, 71. "He was young, he was strong, he had good family backing."
She had grown up in Lake Oswego and was attending Central Oregon Community College in Bend at this time. She knew his family and it didn't take very long until they decided to begin life together.
He took advantage of programs for veterans and went to Lewis & Clark College, graduating with a degree in business. It was after he completed college and entered the business world that the young couple began to realize that while his physical injuries appeared to have healed, everything wasn't right.
Cognitive difficulties made it extremely difficult for him to perform his tasks at a series of jobs he held during the early years of their marriage. Over the years, he worked for seven different companies, with each stint lasting two years or less.
"We didn't know at the time," Christofero Snider said. "It was the 1970s, we knew nothing about brain injury."
There was no one point in time at which things shifted, but Christofero Snider began to take on more of a caregiver role with her still-young husband.
They have two children, Heather, 43, who they adopted from Korea in the mid-1970s. Christofero Snider had been adopted and wanted to provide a home for a child as well. A couple of years later, their daughter Hattie, 40, was born.
But throughout this period, the effects of Snider's brain injury were becoming more apparent. Their daughters understood their father's struggles and learned how to be responsible for themselves, when necessary.
"They were taught early on to always have a couple of quarters in their pocket. They had a list of people to call if they got lost. Randall, unfortunately, a couple of times lost Hattie," Christofero snider said. "He ended up dropping her off, downtown Portland, at the wrong building. Luckily, they had been taught what to do."
It was difficult for Snider's parents to understand and accept the difficulties their son was having. They were just happy he was alive after undergoing such a traumatic experience in Vietnam.
"My dad, he was in World War II, he was over in Germany and everything else. He and I talked one time about it and that was it. He did not want to talk about anything being over there, what he did and why he was there," Snider said.
It was a difficult time for the family emotionally and financially. Christofero Snider was not able to work full time because she never knew when her husband would need assistance. She worked in the ski industry for many years and the seasonal nature of that field allowed her freedom to take care of her family.
"From there, it gets kind of dicey and that's where the caregiving business comes in," Christofero Snider said. "Randall's health and having to fight, I literally have fought with the VA to get him the best possible care that's available for brain injury."
It took them until 1986 to begin to receive some treatment for his brain injury and subsequent cognitive problems. Christofero Snider worked for two years with the office of Senator Bob Packwood to get her husband into an outpatient brain injury program at Emanuel hospital in Portland.
This was one of a very few treatment programs available at that time on the West Coast. The program lasted for one year and upon completion doctors weren't certain what to do next to help Snider.
You have free articles remaining.
Christofero Snider was beginning to realize the severity of their situation. Her husband was struggling to carry the responsibilities of being a husband and a father.
"With a brain injury, you kind of get stuck at the age that it happened. We're approaching 40 and I'm realizing that I really have three children, which is a terrible thing to say," Christofero Snider said.
So, after he got out of the year-long rehabilitation program, they bought a duplex in the Sellwood neighborhood in Portland. He moved into one half and they rented the other unit. Christofero Snider and their daughters remained in their home in Lake Oswego.
"Randall is a wonderful man and I wasn't going to leave him hanging out there," Christofero Snider said.
This arrangement allowed Snider to maintain his independence. He served as a volunteer at the VA hospital in Portland for about 10 years and enjoyed the opportunity to work with other veterans.
Christofero Snider went back to school. She earned a bachelor's degree from Marylhurst University and a master's degree in vocational rehab counseling with a specialty in brain injury from Portland State University.
Still, caring for her husband and making sure he got to all of his many appointments did not allow her to work full time. She worked on a contract basis for various entities, including the state of Oregon and she found the work very rewarding.
She also became active as a volunteer, lending her expertise to the Brain Injury Alliance of Oregon, on which she served as board president.
Snider continued to do well. He began using a walker in his early 60s as the effects of his spinal cord injuries and subsequent surgeries continued to be felt.
But on Good Friday, 2015, things took a turn for the worse.
"I fell in my bathroom. I caught my sweats on my walker and it tripped me," Snider said.
He broke his arm in the fall and was knocked out. Unfortunately, there was some miscommunication between caregivers that weekend and he wasn't found until early Sunday morning.
That was the end of living on his own, in part because after the fall he was not able to walk even with the assistance of a walker. They visited different homes in the Portland area but none of them were adequate. She learned a veterans' home was being built in Lebanon.
"I had heard about this place and actually Randall and I came down before it was even finished," she said.
They quickly became convinced this was the right home for Snider. He moved into the home in April of 2015.
"We got him here and it's been incredibly the best thing," said Christofero Snider. "It's a national model and it's run by the state of Oregon, it is not run by the feds. The feds would have screwed it up in six months. The state of Oregon has been amazing."
It took him a couple of months to feel comfortable but quickly became home.
"I wouldn't leave here for anything," Snider said.
Even as it took her husband a few months to get acclimated to his new surroundings, she had a similar experience. Knowing that he was fully cared for allowed her to decompress for the first time in years.
"It took me three or four months to stop waking up in the middle night worrying," she said.
They bought a small home in Lebanon where she could stay when she visited. At first, she thought she would spend most of her time in their Portland-area home and less time here. The opposite has happened. She loves Lebanon and spends most days here. This allows her to be near her husband and to help out at the veterans' home, where is the head of the family council.
"The community here has absolutely embraced this place," Christofero Snider said.
Be the first to know
Get local news delivered to your inbox!