Find Local Jobs. Get Hired.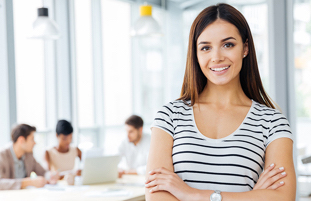 Find local jobs, receive personalized alerts and promote your profile.
Join our Talent Community
Here's advice on ways companies can ensure they interview and hire employees in a way that creates an inclusive, multicultural workplace.
With the new college year underway, students will be seeking careers with a steady income. Stacker lists the fastest-growing jobs paying over …
It's been a tough century for travelling salesmen and telephone operators.
Despite the overall decline, in some instances, construction activity has actually been able to ramp up as a result of quarantine measures thr…
With fall nearly here, schools across the country are solidifying their reopening plans amidst the pandemic. Teacher pay is lagging behind man…
Don't overthink it and, whatever you do, take a hard look in the mirror before you leave the house or sit down for that video call.
And don't forget to ask employers these pandemic-related questions either!
Months into working from home, it's time to check in with yourself. How is your work-life balance? Have you figured out when and how you work …
There are a variety of ways job seekers could use artificial intelligence to give them an edge in a very tough environment.
The skyrocketing cost of both undergraduate and graduate education is causing many to rethink whether or not the investment in an advanced deg…
Nationally, there are nearly 6 million female entrepreneurs who account for 7.7 percent of the female workforce. While big cities often come w…
Japan's labor practices are so entrenched that new words have cropped up to describe the idly employed, from calling them the "madogiwazoku" (…
Paying attention to how your salary does when factoring in the cost of living can help you save and invest for retirement.
While the pandemic has resulted in financial hardship for many Americans, housing affordability has been a persistent issue in several parts o…