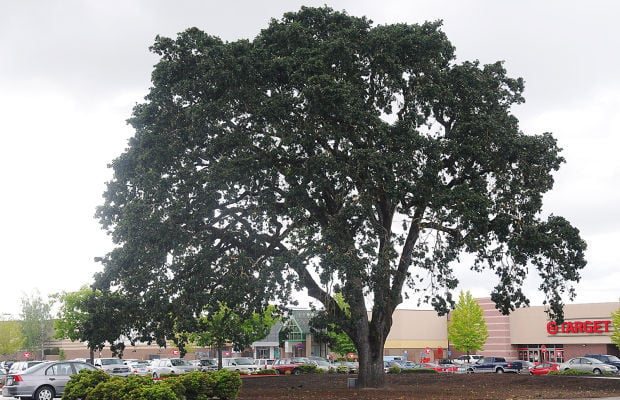 Stands of Oregon white oak trees impressed early settlers to the mid-valley, enough to make sure they were marked on Albany-area maps.
Mark Azevedo, a member of Albany's tree commission, has an 1850s map that describes the "open stands of mature oak trees" in what is now the historic Hackleman district. Another significant stand nearby was known as the Burkhart grove.
Some of those oaks have been lost to time, but several significant examples remain. One of the most prominent is growing in the parking lot of Heritage Mall, 1895 14th Ave. S.E.
Known as the "messenger oak" because of the notes people used to leave for one another in one of the tree's crevices, the landmark white oak is a remnant of the Hackleman grove.
Thought to be somewhere between 200 and 300 years old, it was designated as one of the city's Heritage Trees in 1999.
Arborists gave the tree a thorough pruning almost a decade ago after two large limbs broke off and a tree service removed numerous other rotten branches. But arborists at the time said they believed the tree was still in good health overall, and Azevedo said he's not aware of any significant health issues that have developed since.
Oregon white oaks once were plentiful in the Willamette Valley, and their acorns were an important source of food for Native Americans. Less than 10 percent of the original stands remain, according to Azevedo.
Other significant examples from the Hackleman grove can be found at the historic Keyhole House at 1638 First Ave. S.E. and in nearby Eleanor Hackleman Park. The oaks in the city's Talking Water Gardens water treatment plant are at the far edge of what was once the Burkhart claim.
The National Arbor Day Foundation has named Albany as a Tree City USA, recognizing the city's commitment to maintaining what it calls "a healthy urban forest."
Jennifer Moody is the education reporter for the Democrat-Herald. She can be reached at 541-812-6113 or jennifer.moody@lee.net.