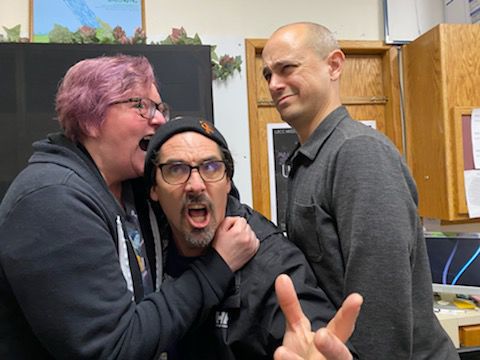 First off, what's this "Rando Extravagando" business?
Ask its writer/creators, Michael Winder and Dorrie Board, then brace for their replies. It carries an almost Victorian air, doesn't it, stamped across posters and plastered on poles through the 19th and early 20th century. In fact, it could very well be the name of a headline performer on such a bill — a magician, perhaps, "The Amazing Rando Extravagando." "You'll never know what comes out of his sleeve!" as Winder said.
But the truth exists elsewhere, firmly in the modern age: an electronic file Winder named "Junk Drawer," though it's hardly bogged with junk. He tucks ideas here, from character names to scenarios to potential show titles. His favorite of the latter: "Rando Extravagando."
"I think it captures the anything-goes aspect of a sketch comedy show, where you can take a weird left turn at any given moment," he said.
Expect an abundance of such moments Friday and Saturday night, when "Rando Extravagando" extracts various comic delights from its own sleeves at the Majestic Theatre in Corvallis. (See info box for further details.)
Winder and Board, both mid-valley theater mainstays, believe they first met through a mutual friend around 2013. But they didn't actually work together until the following year, when Winder cast Board in an original play he'd written, "Little Red Robin Hood," an improvisation-friendly cocktail of crossover fables and a plot to transform Sherwood Forest into a housing development.
"I was really excited," Board recalled. "He asked me if I wanted to play the grandmother or Little John. I opted for Little John. I brought a specific characterization of Little John to that first rehearsal. People laughed. That's when Michael and I realized we had the same sense of humor."
That's also evident in badinage captured for a 2014 story in this newspaper about the production, when Board and costar Gary Prince (the Sheriff of Nottingham) worked on fight choreography during rehearsal. At one point, Prince pondered a not-so-medieval foot sweep. "What would you do if you didn't hate me?" Board asked. "A left-handed kidney punch when she's walking by," came Winder's reply.
Happily, everyone survived "Red," and Winder and Board reunited in a pair of 2016 shows: the Majestic Readers' Theatre Company's "Intemperate Degrees" and the ensemble sketch comedy, "Idiot Box." Board appeared in both; Winder directed "Intemperate" and cowrote "Idiot."
"We had a shared interest in sketch comedy and specific shows," Winder said. "We could make references to relatively obscure sketches from shows that are decades old. We just clicked over those geeky shared interests."
"Even more obscure stuff that maybe lasted a year on television," Board added. "There's something about sketch comedy that attracts me."
A rattled-off sampling: Monty Python; Kids in the Hall; "The Goon Show," featuring Spike Milligan and Peter Sellers; Peter Cook and Dudley Moore ("Beyond the Fringe," "Not Only ... But Also"); Stephen Fry and Hugh Laurie ("A Bit of Fry & Laurie"); and "Mr. Show," the Bob Odenkirk and David Cross-fronted series that Winder declared, on the record, the "greatest sketch comedy show ever produced."
What became "Rando Extravagando" began germinating shortly after "Idiot Box," with a couple of sketches already in place. Riffs and ideas were swapped over meals. Concepts and dialogue took shape on Google documents. Other pieces came together over the last year. Interstitial videos, meant to run between the live sketches, were shot at Winder's house. A finished script was ready by October.
"I don't know the one pivotal moment when we called the Majestic," Board said, "but they were generous: 'Hey, here's two nights. They're yours.'"
On those evenings, audiences will enjoy up to 75 minutes (with an intermission) of multiple sketches featuring videos, links, callbacks and repeated motifs as connective tissue. There's also a third person, actor ("Idiot Box") and improvisational adventurer David Parrish, recruited when the duo realized the ambition of this undertaking — which in part involved, according to Winder, a question that's dogged live sketch comedy since the beginning: "How can we find 15 seconds here so this person can take off this ridiculous wig and put on another?"
The "Rando Extravagando" brain trust remains largely tight-lipped on specific sketch details. After all, you shouldn't know what's up anyone's comedic sleeve. But according to Dorrie Board, "This is not Neil Simon. In my humble opinion, folks are a little more tight these days and a little more easily offended. There should be no kids in the audience at all. This is an edgy night out."
One with glorious left turns aplenty.
Stay up-to-date on what's happening
Receive the latest in local entertainment news in your inbox weekly!