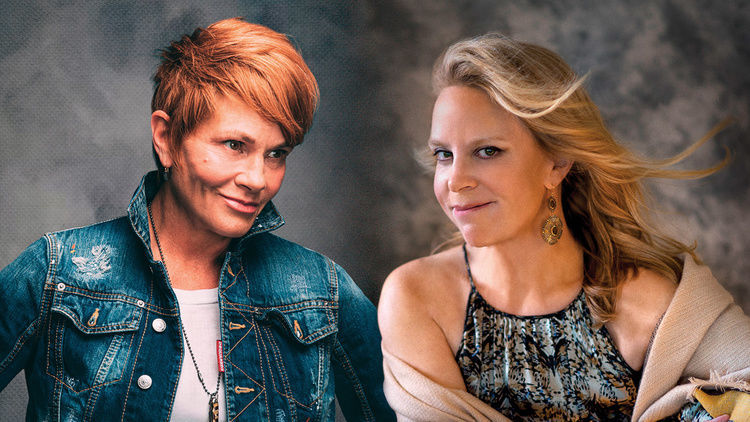 If you could hear a beautiful friendship, it might sound like Shawn Colvin and Mary Chapin Carpenter. But then, if you're familiar with their discographies, you probably have.
The two met early in their careers — the mid- to late '80s sometime — at an Alexandria, Virginia, club called The Birchmere, where many folk artists and singer-songwriters have built and maintained their reputations. Carpenter released her first record, "Hometown Girl," in 1987. Following stints in bands, Colvin had gone it alone to become an integral piece of the East Coast troubadour puzzle, distributing live cassettes to spread the word and showing up on Suzanne Vega's 1987 breakthrough, "Solitude Standing," a low-key — for the period, that is, unassuming, relatively unadorned — stunner led by the single "Luka," one of those rare character studies that penetrated the decade's otherwise stubbornly mechanized zeitgeist.
"[O]ne of the things that made us such fast friends," Carpenter told the News & Advance's Emma Schkloven in early November, "is that we discovered very quickly, the way you do with someone, that we loved so many of the same songwriters and singers and records."
They proved so simpatico they became fixtures on each other's albums, starting with Carpenter's "Hometown" follow-up, "State of the Heart"; those are Colvin's harmonies sweetening the jaunty "Quittin' Time" (a No. 7 Billboard Country hit) and bolstering Carpenter's display of personal strength on "Never Had It So Good" (No. 8). It was released in 1989, the same year Colvin joined her friend on the Columbia Records roster and issued her own crisply audacious debut, "Steady On," where the assured "Diamond in the Rough" flirted sonically past roots music's rustic borders and "Shotgun Down the Avalanche" sprawled in hibernal allure.
You have free articles remaining.
"I was pretty confident going into that record," Colvin recalled to Gary Schwind of Americana Highways earlier this year. "I didn't think anything would happen with it, but I was proud of everything. It hasn't changed for me. The songs are satisfying to sing and play."
Their careers continued to blossom unabated. In 1992, Carpenter unleashed "Come On Come On," an album so definitive it produced two years' worth of hits and has sold nearly 3 million copies. Colvin was there, too — as were Roseanne Cash and the Indigo Girls — lending power to the Grammy-winning "Passionate Kisses," the Grammy-nominated "He Thinks He'll Keep Her" and its final single, "I Take My Chances," released only six months before "Come On"'s full-length successor, "Stones in the Road," home to her biggest Country hit, "Shut Up and Kiss Me."
Emotional turmoil inspired Colvin's "A Few Small Repairs" (1997), and naturally it became her best-known and biggest-selling work, due in part, perhaps, to its fearless self-reflection and willingness to explore its own damage. The prickly "Sunny Came Home" alternates between darkness and light as its title character reduces her past to literal embers. It reached No. 7 on the Billboard Hot 100 chart and landed her two Grammys. (Also not to be missed: "You and the Mona Lisa," "Get Out of This House," "84,000 Different Delusions, "Nothin' on Me" and "Suicide Alley.")
These, of course, are but highlights, truncated for the demands of vanishing space. Both women can look back upon far greater accomplishments and continue adding to already expansive catalogs. This year Colvin revisited "Steady On" for its 30th anniversary in an experiment that imbues the original's exuberance with life experience. Carpenter did the same on 2018's "Sometimes Just the Sky," reflecting upon her previous work through a newer/older prism. Note the years accrued in a striking update of "Heroes and Heroines" from 1987's "Hometown Girl" — the wistfulness, the distance, the weight.
Carpenter and Colvin have returned to the road together, displaying their natural chemistry and swapping stories before audiences in a 27-date nationwide tour that includes a stop in Corvallis.
The show begins at 7:30 p.m. Tuesday, Dec. 10, at the LaSells Stewart Center, 875 SW 26th St., on the Oregon State University campus in Corvallis. Reserved seats are $35-$40 in advance or $40-$50 at the door, although tickets for this rare opportunity aren't guaranteed to be available much longer. For more information, visit https://bit.ly/2DGfvHy.
Stay up-to-date on what's happening
Receive the latest in local entertainment news in your inbox weekly!