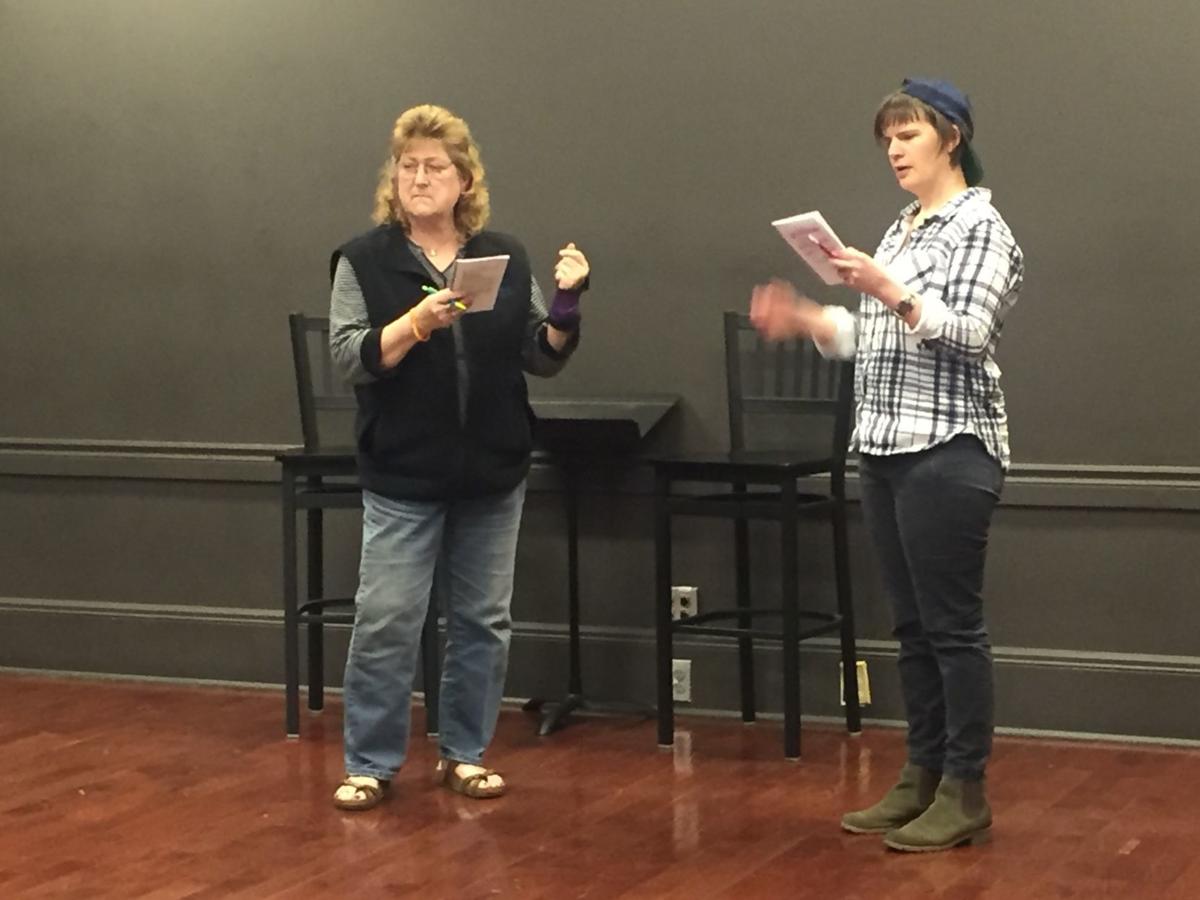 For director Don Taco, the power of Stephen Metcalfe's "Strange Snow" lies not in any anti-war sentiments, but in the universal human drama at its core. It's a story of possible redemption and, ultimately, love.
"There's a lot of anti-war material, and largely, it's gruesome and heavy-handed, slapping you in the face with the horror of it," he said. "For the most part, this is lighter. Wonderful things happen. It's a gorgeous piece of writing."
The Majestic Readers' Theatre Company's production of "Strange Snow" will be staged this weekend in the Community Room at the Majestic in Corvallis. (See info box for details.)
Even in its time, "Strange Snow" was an anomaly. First produced in 1982, it entered a culture still grappling with the Vietnam War, which had officially ended in 1975 with the fall of Saigon. The soldiers who had fought it, however, found little relief at home, perpetually haunted by its physical and psychological echoes. Most popular entertainment at the time focused on those aftereffects and occasionally indulged in outright fantasy, sending its veterans back to end the conflict definitively, as unquestioned victors.
"Snow," on the other hand, is quieter (sometimes) and often funny. It begins with an early-morning visit from an old friend and, over the course of a single day, ends with new possibilities for its three characters.
Megs (Kathryn Otten) drops in on an old war buddy, David (Billie Travelstead), for an early-morning fishing trip. Both have coped with their Vietnam service in their own way: Megs is loud, exuberant and charming, with a temper he works to control (he let it fly in the jungle); David is angry, brooding and often drunk — so drunk, in fact, he doesn't remember making the fishing date.
David lives with his sister, Martha (Wendy McCoy), in an arrangement that seems far more beneficial to him than to her. But Megs' arrival upturns the household in potentially life-changing ways for all three. Megs and Martha explore a connection that may become something deeper. David comes closer to letting go of many things, such as his dependence on his sister and the nightmare of his wartime experience, particularly the horrific death of Megs and David's comrade, Bobby.
"Bobby was the glue that held them together," Taco said. "They're having a difficult time dealing with that. They wind up discussing it and trying to reconcile the memories. One has been blocking them out; the other says, 'I embrace him. We have a s**tload of bad memories and he's not one of them.'"
Taco first discovered the play in the late 1980s, when the Albany Civic Theater staged a version in January 1989 (the same year "Strange Snow" was adapted into the film "Jacknife," starring Robert De Niro, Ed Harris and Kathy Baker as Megs, David and Martha, respectively). Due to its small size, director Pat Kight developed two casts: the main one, plus three understudies who doubled as "Snow's" tech crew. So Taco handled lighting and stepped in as Megs when needed and — for the first and only time in his career — lit himself for a single performance.
"The three understudies averaged seven rehearsals, but not at the same time," he recalled. "We were around all the time, doing the support work, so we were listening to the script the whole time. After the opening weekend, the next Thursday, you'd typically have a pickup rehearsal. What we did instead was a full-costume full version of the show with the actors in the audience and the understudies onstage. It was a really neat thing to have done."
The Majestic Reader's Theatre Company format works well for the play's intimacy, relying more on individual portrayals than on costumes or sets. According to Taco, the production draws no attention to its setting, which is to "Strange Snow's" benefit. The Vietnam War may be 40-plus years in our rear views now, but its themes still resonate, the battles abroad and at home presented here in stark terms, unadorned.
"Though the conflict is history to us," he said, "it's been endless war ever since. I feel the issues are as timely as they ever were. And that's another strength of the script: You don't feel like you're looking at a period piece. The characters still speak for themselves."
Stay up-to-date on what's happening
Receive the latest in local entertainment news in your inbox weekly!