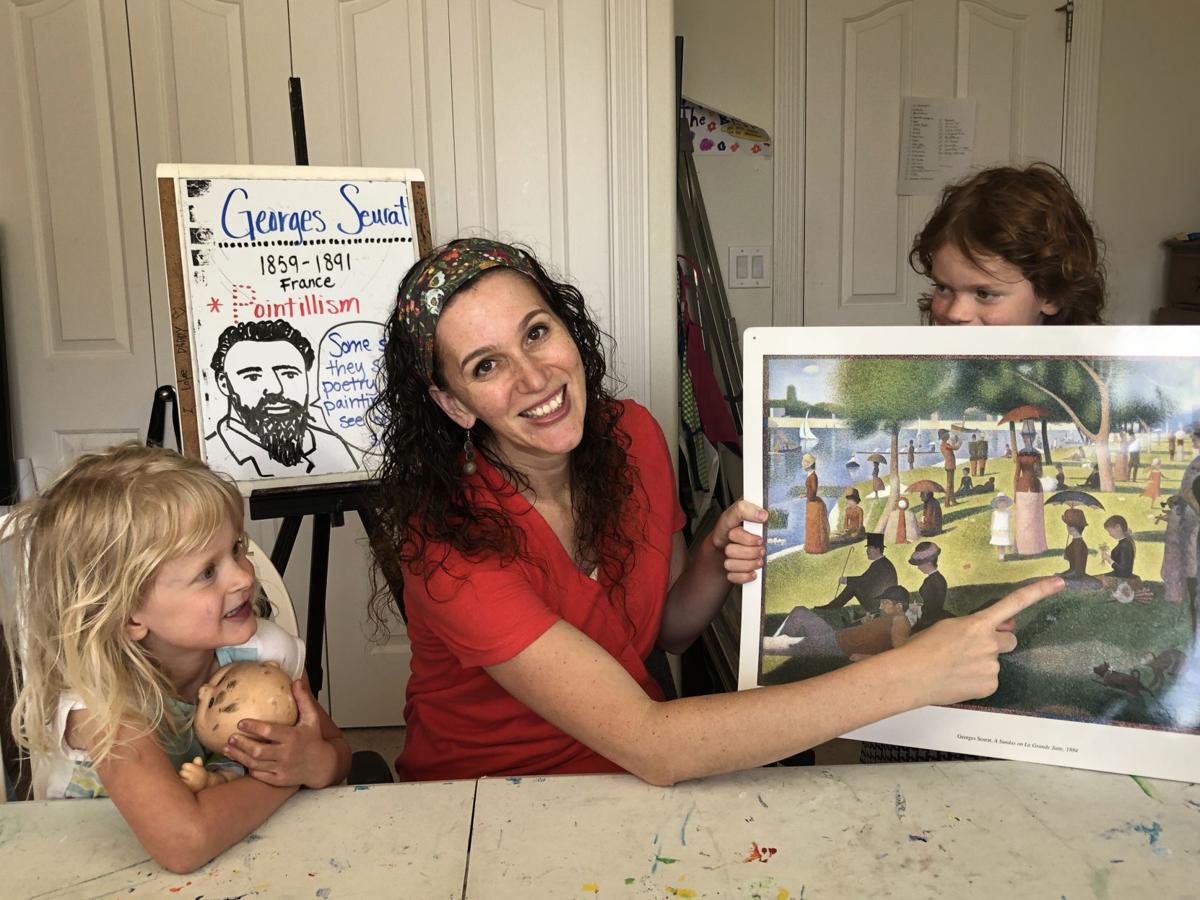 When COVID-19 caused all Lebanon schools to close in mid-March, many of Alisha Berne Whitman's friends panicked about how to keep their kids learning while home all day.
Whitman, a 39-year-old wife and mother of five children, wasn't as worried. The artist and reading specialist at the Sand Ridge Charter School had experience with homeschooling, teaching art classes online and as a volunteer.
She decided to give her kids art lessons each morning in her home studio. She would teach them about famous artists and have them create small projects inspired by the artists' works.
"Let's just stream this live and anybody who is at home and bored can join us, and my kids participate too," Whitman said.
She began streaming the 20-25-minute videos, loosely titled "Quarantine Art Lesson," at 10 a.m. daily on her YouTube channel "Art Immersion with Alisha" and her personal Facebook page. Whitman and her family have released around 20 videos, but recently cut back to Mondays, Wednesdays and Fridays.
She said she needed more time to help her children with their homework, because the school closure was extended through the remaining academic year.
Whitman is usually joined for the art lessons by her younger children: Isaac, 9, Grace, 8, and 6-year-old Lucy. Meredith, her 13-year-old daughter, hasn't appeared much lately. She is recovering from pneumonia, but she always creates an art project. Oldest daughter Jenelle, 14, who is a freshman at Lebanon High School, works behind the camera.
Whitman, who sits among her children at a long table, begins each lesson trying to get viewers to guess who is "the artist of the day." She will then show images of their work and give clues about their background.
"My kids are always dying to blurt out who it is," she said.
Whitman said she tries to have half of the artists she teaches about be women, to give the kids a balanced perspective.
Featured artists have included Emily Carr, Andy Goldsworthy, Katsushika Hokusai, Frida Kahlo, Franz Marc, Georgia O'Keeffe and Bridget Riley. Whitman's kids have made tempera and oil paintings, drawings of people and animals, worked with colored pencils and pastels and created environmental art by venturing outside and using natural objects.
They have also formed sculptures out of tinfoil.
"My son said that was the best," Whitman said.
While the projects are inspired by famous artists, she has the kids make their own work using their own creativity.
"I'm really big on not having an art project where all the kids' artwork looks the same," Whitman said.
She also prefers to keep the media simple for the viewers at home.
"I try to use materials people will have on hand, so people don't think they need to go out and buy art supplies," she said.
When the lessons involve paints, she will often present an alternative like colored pencils.
Whitman has seen a wide range of participants in the lessons, from kids as young as 2 or 3 with their parents to high-schoolers and adults regularly logging on.
"Some (people) have reached out to say they are sharing the videos with their grandkids," she said.
Her main goal with the video lessons is to expose people to more art and help parents who are struggling about what to do with their kids at home while schools are closed.
"(For) my kids, art is a part of their lives because they've grown up with me. They enjoy it," she said. "Each morning, they are asking who the artist is today."
Whitman said she doesn't have a full plan for the videos yet, especially now that school is closed indefinitely.
"I thought it was going to be a few weeks' thing, but here we are. I'll keep going," she said. "I won't run out of artists to talk about for quite a while."
Concerned about COVID-19?
Sign up now to get the most recent coronavirus headlines and other important local and national news sent to your email inbox daily.