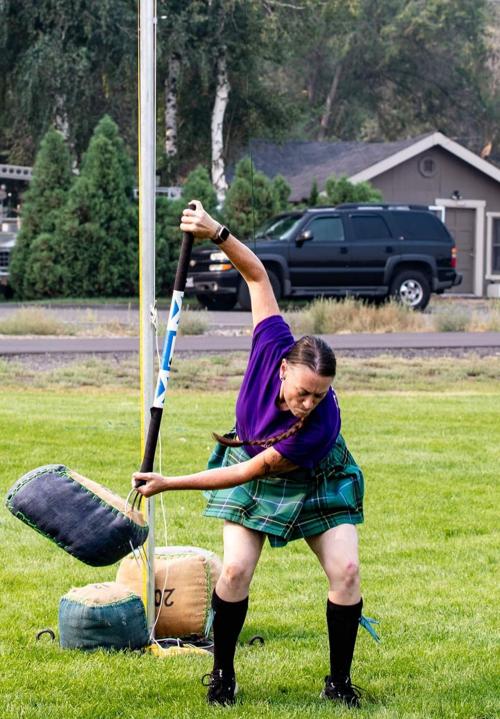 The first-ever Albany Scottish Festival & Highland Games is set for 9 a.m. to 6 p.m. Saturday, rain or shine, at Timber Linn Park, 900 Price Road SE in Albany.
The day will feature food, music and traditional Scottish heavy throwing events.
No admission will be charged this year. Participants are advised to bring a chair or blanket, as available seating may be limited. Although the festival takes place outdoors, due to COVID-19 regulations everyone attending will be required to wear a mask and participate in social distancing.
The festival is presented by Fire and Ice Celtic Events, a nonprofit agency founded in 2018 by Shelley Reed of Albany and her sister, Kindy Gregg of Terrebonne.
"It's been a long time in the making for this first one," Reed said of the Albany event, which she is organizing with the help of Klint Sheets of the Lebanon Police Department, Juston Alexander of the Albany Police Department and Scott Hutchison of Portland, who Reed describes as an "elite thrower" in the Scottish tradition.
Reed said the festival planning season in 2019 was too short, so a backyard games event was organized instead. COVID-19 made a 2020 festival impossible. However, the agency has presented two Central Oregon Celtic Festivals in Redmond, and is finally ready to hold an event in Albany, after a few hiccups with cancellations and rescheduling.
Reed has long had an affection for all things Celtic, and is excited to bring this cultural event to Albany.
"We try to keep it as Celtic-related as possible, with as many handmade things as possible," Reed said.
Vendors will offer Irn-Bru and other Scottish sodas, kilts, Celtic tapestries, family crest magnets and pins and Scottish foods, including canned haggis (sheep's heart, liver and lungs mixed with suet, oatmeal and seasoning and boiled in the sheep's stomach — no, we're not making this up).
An ax-throwing trailer will be on hand, and steel medieval fighting demonstrations will be given. A blacksmith will have a live forge in his booth. Celtic jewelry, handmade wood crafts, artisan soap, leather work, rocks/crystals and period clothing will also be for sale.
One vendor will do onsite research on the history of customers' family names, and provide printouts with the information. Eight Scottish clans and societies will be on hand to connect people with their ancestral history.
Food and drink from a broad spectrum of cultures will be available, including Mexican and Hawaiian cuisine, kettle corn, shave ice and coffee. One vendor will sell cotton candy in whisky and cranachan flavors; cranachan is a traditional Scottish dessert made of oats, cream, whisky and raspberries. Granny Fi's booth will offer Scottish shortbread.
A beer garden will feature beer and cider from 3 Sheets Brewery of Albany and mead from Oran Mor Artisan Mead of Albany. Also, 4 Spirits Distillery of Corvallis will host a whisky and vodka tasting.
A chaplain will offer an opening prayer for the athletes participating in the Highland games, which will incorporate nine events: Braemar stone, open stone, heavy weight for distance, light weight for distance, heavy hammer, light hammer, weight over bar, sheaf toss and caber. Classes will include Men's A, B, Masters, Lightweight and Novice; and Women's Open, Masters and Lightweight.
A children's area will include arm painting (so as not to interfere with face masks), glitter tattoos, henna and balloons. The festival will also feature a visit from a Highland cow; these distinctive cattle are known for their long horns and shaggy hair.
Three bands will play at the festival, starting at 9 a.m. The group Possibly Irish will perform from 9 to 10 a.m. and 10:30 to 11:30 a.m. Hills and Hollows is set for 12:15 to 1:15 p.m. and 1:45 to 2:45 p.m. Brigid's Crossing will give the last performance, starting at 3:30 p.m.
The Eugene Highlanders will play bagpipes and Scottish drums at the opening ceremony and during breaks from the other bands' performances.
"The athletes and vendors are so ready for something like this," Reed said. "It'll be a really authentic, fun family day."