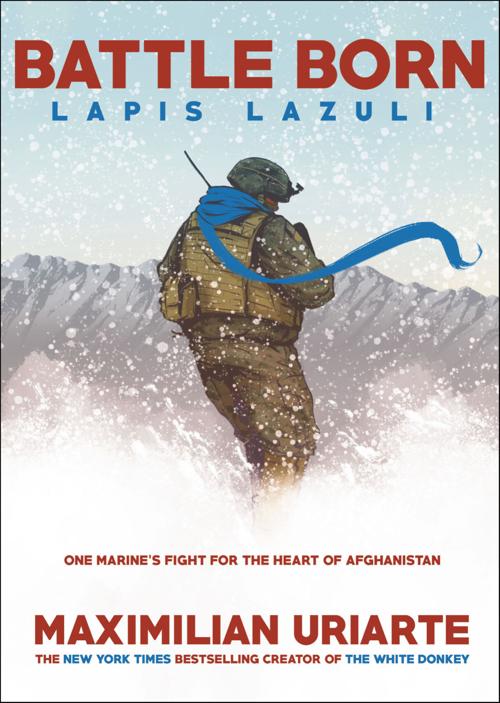 Growing up in Corvallis, Maximilian Uriarte always knew one day he'd be a professional artist.
So, naturally, he figured the quickest way to get there would be to join the Marines and serve in a war zone. Twice.
Here's the thing: It worked.
This week, Uriarte, now 33 and living in Santa Monica, California, is celebrating the release of his second graphic novel, "Battle Born: Lapis Lazuli."
It's not the most conventional way to go about pursuing a career in the art world, Uriarte acknowledged, and there were times he questioned his decisions.
It took years, he said, but he feels like he got what he wanted.
"It ended up working out," Uriarte said in a phone interview earlier this month from his California home. "It definitely had some perks. I got to travel all over the place."
As a teen in the Pacific Northwest, Uriarte hadn't done much traveling, which was partly what prompted him to look for opportunities.
"My mom was in Portland, my dad in Corvallis, and both of them knew I was an artist. And one day I came home and said, 'I'm going to join the Marine Corps. I just talked to a recruiter.' And they're both like, 'What? That's new.' I don't think anybody saw it coming."
Uriarte served from 2006 to 2010, including two tours in Iraq with the 3rd Battalion, 3rd Marines, first as an MRAP turret gunner with a jump platoon and then as a billeted combat photographer and combat artist.
He finished, or terminated, his enlistment as a lance corporal, which led to the title of the comic strip and website for which he is best known: "Terminal Lance."
The strip is a sly poke at the absurdities of military service as seen through the eyes of two grunt lance corporals, Abe and Garcia. The two characters made up the heart of Uriarte's first graphic novel, "The White Donkey: Terminal Lance," published in 2016.
"Battle Born," released Tuesday, is its own original tale. While also revolving around American involvement in the Middle East, the story has a much wider arc.
"Battle Born" is set in Afghanistan, which Uriarte himself has not visited. But the situation it describes is real.
Mining the gemstone known as lapis lazuli has been the livelihood of Afghanistan's Badakhshan province for generations. When the Taliban came, its members stole and sold the gems and imposed their own brutal rule.
In "Battle Born," the struggling Afghan government, seeking control, asks for help from the United States, which sends a platoon into the mountains to work with the local residents. Uriarte's characters then must wrestle with how American and British colonialism and imperialism play out in a culture with its own issues.
"What 'Battle Born' to me is really about, the challenge, is what does it mean to be civilized, and is that a virtue worth embracing?" Uriarte said. "These are things that get challenged in the story. It ties into the dark history of Afghanistan as it relates to the British and Americans and the shadow of colonialism and imperialism."
The details of the tale, Uriarte said, are ones he doesn't see people talking about but wishes they would.
"This story, the situation in Afghanistan right now, the real-life one with the Taliban and the gemstone trade, all of that is real. That's going on. It's part of the reason I wanted to set the story there, is kind of to draw attention to it," he said.
"I hope it gets in people's heads that this is a real thing going on — and it's all terrible."
Uriarte said he worked hard to convey the depth and richness of the culture of Afghanistan — to the point of filling several pages with dialogue in either Pashto (the language of the Taliban) or Dari (the language of the local residents) without providing a translation in English.
"I worked with a couple of interpreters from the Marine Corps that I had been in contact with, translating the dialogue in the book and putting it in there accurately. If it's wrong, you can blame them," he quipped.
It was an important creative decision, he said, to make sure the language stood alone.
"For me, it was out of respect for the language and out of respect for that culture, to not make it easy for someone who speaks only English," Uriarte said. "Like, you're not entitled to understand that language, you know what I mean?"
Uriarte portrays the Marine Corps the same way he feels about it: as two separate entities, "Marines" and "Corps."
"I love the Marines. I didn't really love the Corps. That's kind of how I've come to look at my time in," he said. "For the most part, I'm very happy not being active duty anymore."
As a veteran, the authenticity of his voice resonates with fans. "Terminal Lance" has almost 400,000 fans, and "The White Donkey" was a New York Times best seller.
Uriarte describes "The White Donkey" as an anti-war story, adding: "I think anybody in their right mind is anti-war, or at least they should be."
"Battle Born," he said, further explores the expectations of military service and the way it contradicts itself. It continues to challenge the typically Western-centric narrative.
"I try to stay true to that voice and to the Marine Corps experience as I know it," he said. "I think people like my honesty about the military experience."
In writing and drawing "The White Donkey," Uriarte said he ended up stumbling his way through the creation, trying to find ways to build visual scenes and carry them from page to page while still driving the narrative.
"It was a learning experience, to say the least," he said. "How do you organize a massive graphic novel? There's not a lot of resources out there."
He took what he learned and funneled it into "Battle Born," creating a story that, by his estimate, has less than half the dialogue of "Donkey" but easily 100 more pages of artwork.
"I think I was able to make a graphic novel that feels more like a graphic novel from start to finish," he said.
Uriarte's first works of art, starting as a preschooler, were dragons, followed by dinosaurs. He always liked comics — particularly "Conan the Barbarian" and "Captain America" — and is a huge fan of Yoji Shinkawa's "Metal Gear" style.
But while he names them as inspirations, he didn't really turn to comics for the sake of doing art. Graphic novels, he said, were more a vehicle to tell a visual story in a way that's more accessible than, say, raising millions of dollars to film a movie.
The visuals are the important part, he added. "The way I get into it is I listen to music and the images come. I don't even know what they mean at first. The ending of 'Battle Born' came to me and I didn't know what it meant. I just see this beautiful thing in my head, and how do I get there? … It all kind of coalesces."
(The 1982 "Conan" soundtrack provided the inspiration for "Battle Born," for those who want to re-create the experience.)
Uriarte said he hopes people will come with him on his visual journey, no matter how they might feel about the Marines, the Middle East or military service in general.
"I hope they enjoy 'Battle Born' and don't just write it off as a 'military thing,' like a cliche military story," he said. "To me, it's something really special.
"It's just an epic tale, and I hope people enjoy it."
Published by Little, Brown & Company, "Battle Born" is available in hardcover for $28.