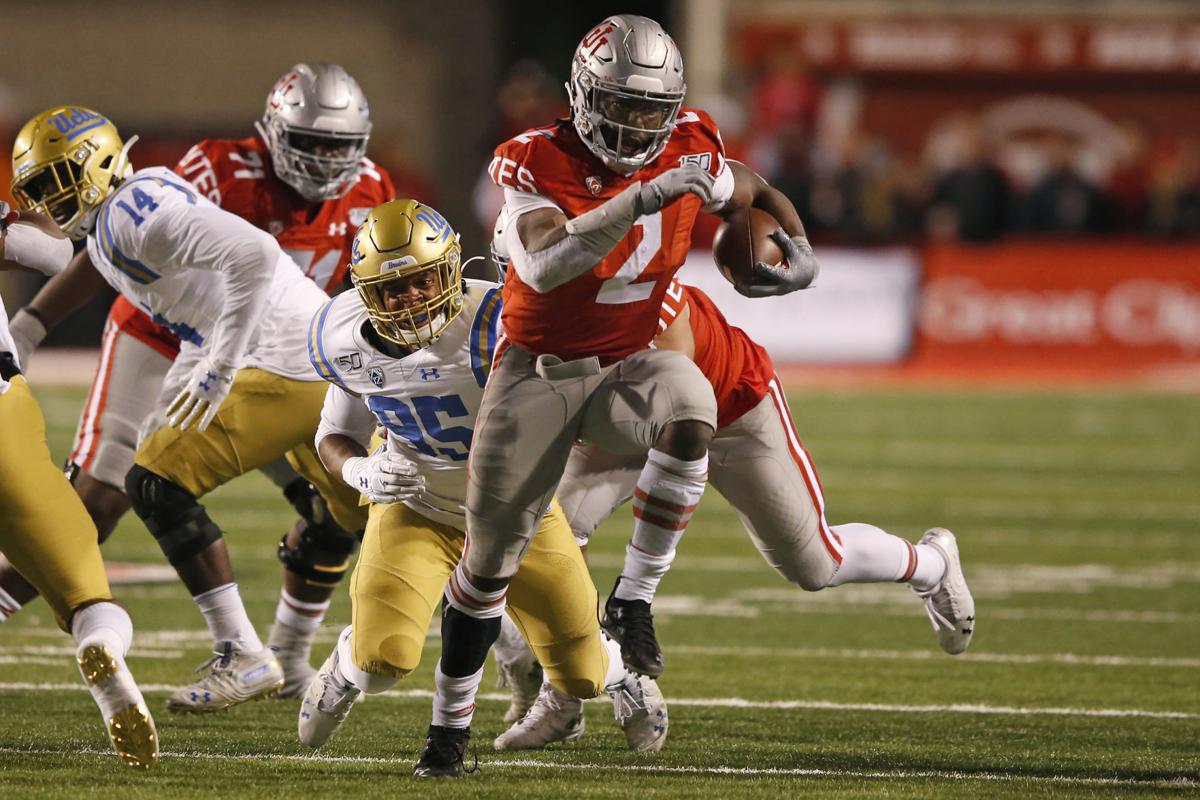 With a 34-6 victory over Arizona late Saturday night, the Oregon Ducks clinched the Pac-12 North Division title and will play in the title game in Santa Clara, California, on Dec. 6.
Their likely opponent, Utah, still mist win two games to earn a trip to the title game for the year in a row.
While the Utes have work to do — they hold a one-game lead over USC but the Trojans won the head-to-head battle and thus would get the nod if they end tied — they appear to be clicking on all cylinders.
Utah's defense continues to run roughshod over the opposition. The Utes held UCLA, which had scored at least 31 points in four straight games, to a first-quarter field goal in a 49-3 thumping that emphatically ended the Bruins' hopes of a South title.
"Really good players," Utah coach Kyle Whittingham said. "The front four is, I'm biased but I think is the best in the country. Linebackers are active and tough and making plays. Secondary is covering. (Defensive coordinator) Morgan Scalley is getting them in the right place spots and right locations and his staff is doing a great job with fundamentals and technique. You just add that all together and it's a pretty good defense."
In five of the last six games, the Utes have not allowed more than 13 points. Twice they gave up a field goal, pitched a shutout and allowed a late fourth-quarter touchdown in another.
The one exception was giving up 28 points to Washington in a crucial road win on Nov. 2, and the Huskies scored a late touchdown to get there.
Still, Utah needs to win at Arizona and at home against Colorado to secure a berth in the title game.
Bowl implications
Only four teams have reached at least six wins to become bowl eligible — Oregon, Utah, Washington and USC.
Either Washington State or Oregon State will join them this weekend as they square off in Pullman, Washington. Both teams are 5-5.
Arizona State and California are also 5-5 while Stanford, UCLA, Colorado and Arizona are all 4-6.
You have free articles remaining.
Matchups
UCLA at USC: Trojans need a win to either keep pace or move into a tie with Utah. After having three-game win streak snapped, Bruins need to win out for a bowl game.
Cal at Stanford: The Cardinal are in danger of a losing season and will suffer one with a loss to their Bay Area rivals. Cal was 4-0 and has gone just 1-5 since.
Oregon at Arizona State: Ducks look to stay in the hunt for a College Football Playoff spot while the Sun Devils will try to bounce back after a 35-34 loss at Oregon State on a failed two-point try in the closing minutes.
Oregon State at Washington State: This could be a high-scoring affair as both offenses can put points on the board. Weather appears that it will be decent.
Utah at Arizona: As stated earlier, Utes need to keep winning to earn a berth in the conference title game. Arizona could just use a win.
Washington at Colorado: Both teams are coming off a bye. The Buffaloes ended a five-game losing streak last time out.
In the polls
Oregon is No. 6 and Utah No. 7 in this week's Associated Press poll and are the only two teams ranked again this week. USC and Washington both received six points.
Power rankings
Utah and Oregon continue to be the class of the conference and remain 1-2, respectively, in this week's power rankings.
Washington and USC each move up a spot to three and four with UCLA falling to the Utes. Oregon State, thanks to stopping Arizona State's two-point conversion, move up to No. 5 with the Bruins at No. 6.
Washington State jumps up to No. 7 with the Sun Devils falling to No. 8.
The last four are Colorado, Cal, Stanford and Arizona.