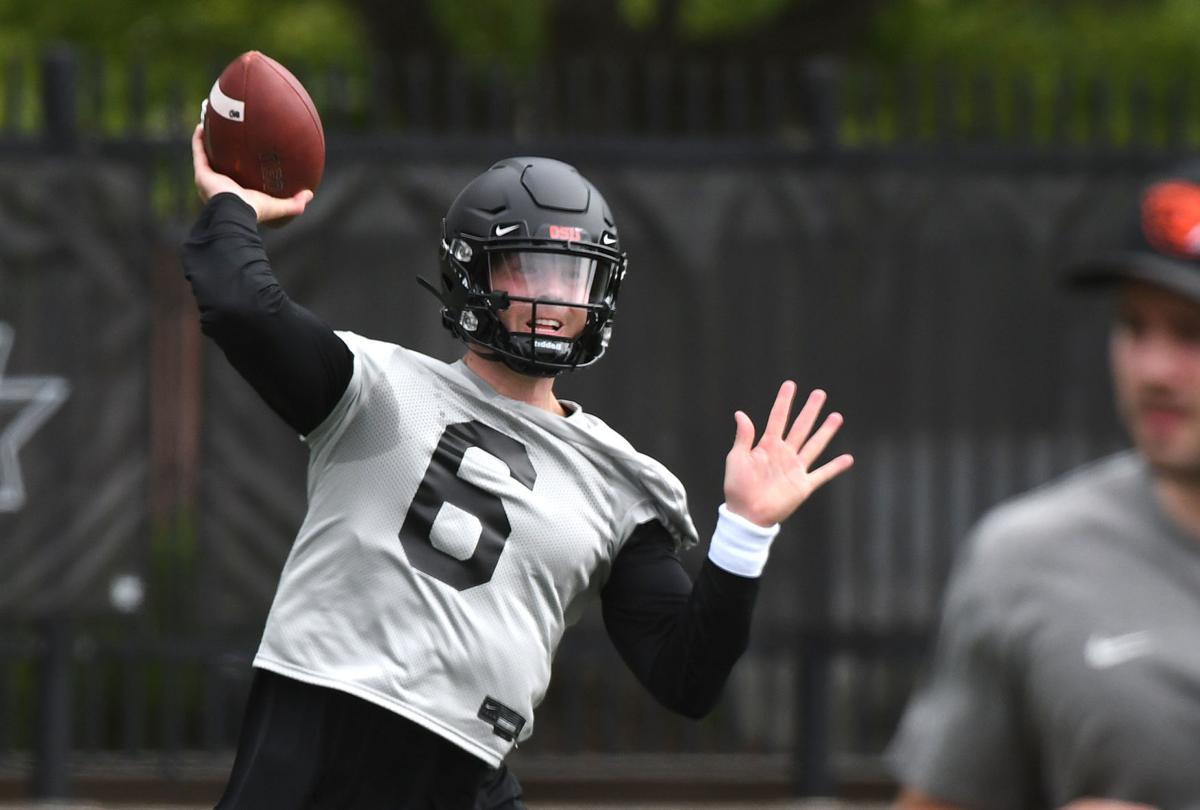 Quarterback Sam Noyer was a bit behind the curve when he decided to transfer from Colorado to Oregon State back in June.
If the Buffaloes' starter last season was to have a chance to compete for the Beavers' starting gig in 2021, he would need to catch up in a hurry.
Fortunately for Noyer, the playbook was similar in many ways to what he learned when Beavers' offensive coordinator Brian Lindgren was working with him at Colorado.
Still, Noyer admits it wasn't easy.
"Obviously coming here late is a difficult task trying to adapt to a new offense," Noyer said after practice Tuesday as he prepares to lead the Beavers into Saturday's 4 p.m. game at Purdue in the season opener. "I think that some of the terminology and some of the schematics are the same from when Lindgren and I were together at Colorado last, but there's a lot of change in it, too.
"They're throwing stuff at us every single day and it'd be like one day I get it down and next day they're putting in something else. But I've learned that that's how it works and it's fast and I know that it'll continue to get fast as you go up to the next level and so I think it was actually really good for me to just get used to that. I feel like right now I'm very confident in the whole playbook, I feel like I know it inside and out and continue to digest this game plan and just continue to work."
That's important because Noyer has announced as the Beavers' starter at the all-important position on Monday.
It was not an easy decision for Lindgren and head coach Jonathan Smith to make, but Noyer edged out last year's starter Tristan Gebbia, who is still battling back from hamstring surgery, Chance Nolan, who saw action last season after Gebbia went down, and freshman Sam Vidlak.
"It was a really tough decision for us and we didn't quite make it as soon as we initially thought," Lindgren said. "But in the end we like Sam, his experience playing at this level and starting experience. And then just his ability to consistently complete balls down the field with accuracy showed up again and again as we went back and watched clips through fall camp. Feel good about him and excited to watch him play."
Last season at Colorado, Noyer completed 55% of his passes for 1,101 yards with six touchdowns and seven interceptions as the Buffaloes went 4-2.
That experience and success last season played a role in the decision, especially opening on the road.
"I think it had a little bit to do with just the comfort level going out there the first time but we have a lot of confidence in Chance Nolan," Lindgren said. "I thought he really improved as the year went on last year and he really came on the last week and a half of training camp and made it a tough decision for us. Yeah we feel good about Sam and I like the depth of the position."
While Noyer is the starter for this Saturday, he knows that the competition to take snaps each week will be ongoing.
"It was a great competition and it will continue to be a competition, I think, as the season goes and that's exactly how I want it and how I know that they want it," Noyer said. "And so we'll continue to push each other and get better every single day."
Added Lindgren: "I just think the dynamic of the room is there's competition in the room and there's some talent in there that they will continue to work. So it's just going to force guys to be at the top of their game every day."
Noyer said he isn't concerned about possibly being pulled if he makes a bad decision, poor throw or if the offense sputters from time to time.
"I was in the same exact situation last year, I mean they told me if you aren't playing as well as you should be then we'll put the next guy in and so that's how this is how this game works," Noyer said. "You can't worry about that, you've just got to focus on the play and the task at hand and you can't worry about looking over your shoulder. You've just got to stay level headed and continue to grind, keep your head down and work."
The mindset won't change just because a starter has been named because you never know when your number might be called.
"I think all of us have been kind of in that starter mentality and that's what you need," Noyer said. "You need that from all your quarterbacks, because they're one play away from playing. I've been in that role and I've also been in the starter role so I think my mindset for both of those roles is just how are we going to put the team in the best position to win."